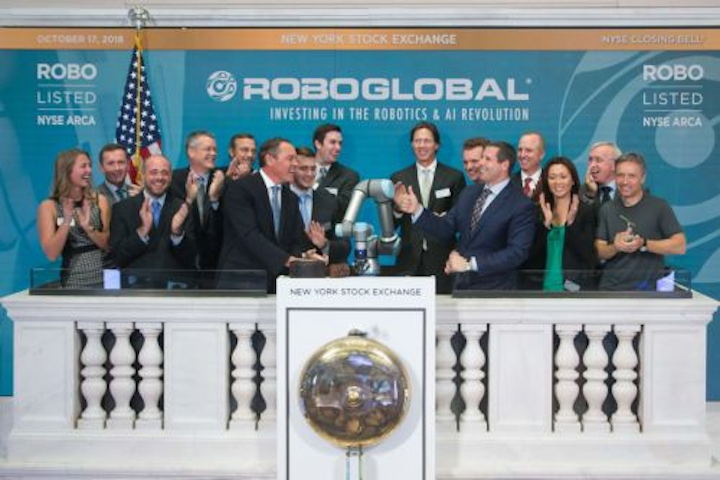 On October 17, a collaborative robotfrom Universal Robots rang the New York Stock Exchange (NYSE) bell.
The bell ringer was a UR5e robotic arm with a two-fingered gripper from Robotiq. The UR5e weighs 45.5 lbs (20.6 kg) and features a reach of 33.5 in (850 mm), and a payload capacity of 11 lbs. (5 kg). Universal Robots is credited with selling the first commercially-viable collaborative robot (or "cobot") in 2008, and reportedly has 60% of the global shareof the cobot market, selling more cobots than all competitors combined. This past fall, the company sold its 25,000th cobot.Cobots represent the fastest-growing segment of industrial automation, expected to jump to 34% of all industrial robot sales by 2025, according to the International Federation of Robotics.
This NYSE bell ringing celebrates the five-year anniversary of ROBO Global, the first-ever robotics, automation and AI index, according to Universal Robots. Launched in October 2013, ROBO invests in more than 80 companies across the globe, spanning 12 subsectors from manufacturing to healthcare to sensing.
"We have long admired UR as a pioneer and global leader in the collaborative robotics market," said Travis Briggs, CEO of ROBO Global U.S. "Since acquiring UR in 2015, Teradyne has been a key growth driver in the ROBO Global Index. We are thrilled that Teradyne generously agreed to join the ROBO Global team for this one-of-a-kind NYSE bell ringing."
Representing UR and Teradyne was Stuart Shepherd, Regional Sales Director of UR's Americas Division, who also commented: "With this event, we celebrate not just the success of robotics in empowering customers and investors, but also the successes of our customers in innovating and changing their workplace with cobots," he said. "The bell ringing reflects our continued commitment towards making cobots an easy-to-integrate piece of a company's operations platform."

View more information on Universal Robots.
Share your vision-related news by contacting James Carroll, Senior Web Editor, Vision Systems Design

To receive news like this in your inbox, click here.
Join our LinkedIn group | Like us on Facebook | Follow us on Twitter