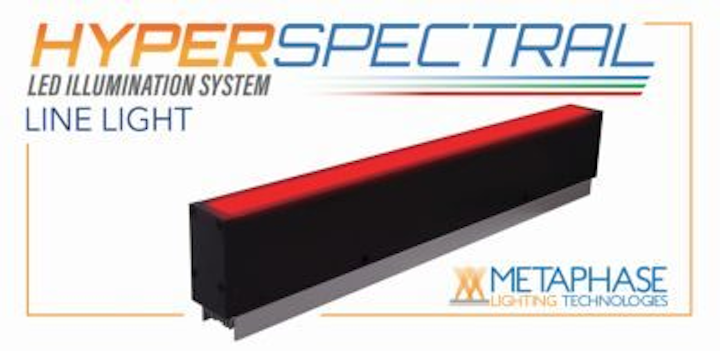 At VISION 2018 in Stuttgart, Germany; numerous demonstrations utilizing Metaphase Technologies latest lighting products will be offered. These demonstrations include the following:
Multiplexing demonstration: Includes a Teledyne DALSA 16k Linea camera and a 600 kHz quantum driver line light.
Polarized lighting demonstration: Includes a FLIR polarized camera with Sony polarization CMOS sensor and a Metaphase Exolight (which features a polarizer lens option).
Hyperspectral imaging demonstrations: One includes a Resonon Pika hyperspectral camera and a new Metaphase VNIR hyperspectral light, while the other includes a Specim FX17 hyperspectral camera and new SWIR hyperspectral lights with higher intensity SWIR LEDs.
Stereo imaging: Includes products from Silicon Software and Metaphase stereo illumination.
SWIR imaging: Includes cameras from Xenics and Princeton Infrared and SWIR illumination from Metaphase.
Integrated barcode illumination: Includes a Teledyne DALSA BOA Spot ID and Metaphase barcode lighting.
VISION 2018 booth number: Hall 1, Stand 1E51

To Learn More:
Contact: Metaphase Technologies Inc.
Headquarters: Bristol, PA, USA
Products: Hyperspectral lighting, quantum driver line light, Exolight lighting with polarization options, SWIR lighting, barcode lighting.

What Metaphase Technologies says:
View more information on the hyperspectral lighting.
View more information on the Exolight.
View more information on the SWIR lighting.
View more information on the barcode lighting.

View More Products| Locate a vendor or system integrator | Receive e-mail updates
Share your vision-related news by contacting James Carroll, Senior Web Editor, Vision Systems Design

To receive news like this in your inbox, click here.
Join our LinkedIn group | Like us on Facebook | Follow us on Twitter