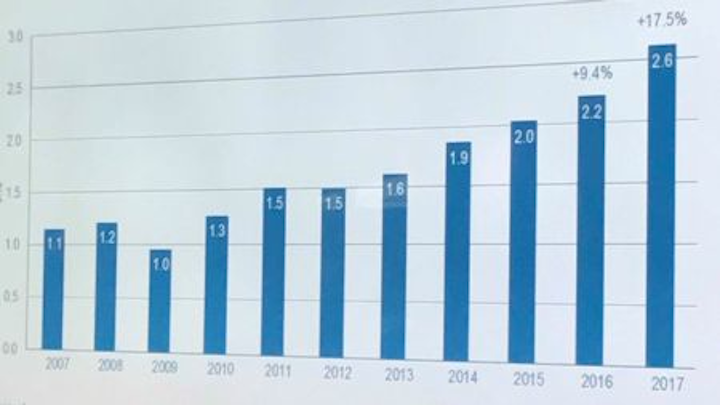 While VISION 2018 kicked off at 9:00 AM local time, the opening press conference kicked off at 11:00 AM upstairs in the press center.
Here, Dr. Klaus-Henning Noffz, CEO, Silicon Software and Chairman, VDMA Machine Vision, provided a detailed look at the machine vision market in Germany and Europe. As many may already know, business was good in 2017. Last year, the machine vision market in Germany grew 17.5% after growing 9.4% the previous year.
"2017 was a special year. We experienced over proportional growth, largely in part due to order in Asia, particularly in China. This was the turbocharger for this development and it brought our market enormous growth," said Noffz.
Exports were the main driver of machine vision growth in Germany, as two-thirds of products were exported. Forty-seven percent of these exports were to China, mainly for electronics production applications, according to Noffz. North America was also a major source for exports, having experienced a 25% increase in 2017.
In terms of the applications in which the products are mainly being deployed, automotive inspection is still the "main customer," said Noffz. In 2017, there was a 20% increase in turnover for automotive applications. For the products that are being sold, cameras saw 28% turnover growth in 2017, while vision systems and compact systems grew at 13%.
While the general outlook is positive going forward, some challenges exist, at least in the immediate future. The expectation, according to Noffz, is that growth will slow in 2018 due to lack of investments in Asia. After initially predicting 7% growth in 2018, a 0% growth rate for 2018 is now predicted. In 2019, however, the arrow could again begin to point upward.
"One problem we have in Germany is a lack of engineers, and a lack of manpower," said Noffz. "It is very difficult to find the right people. We need good planning to overcome this hurdle."
The major trend in the market right, suggested Noffz, is Industry 4.0, but the issue of having standards on the application level remains a challenge. Other notable trends include embedded vision and deep learning, which are expected to stimulate further growth, as well as non-industrial applications, which aer growing in importance. Additionally, there is a growing demand for machine vision in Asia, and China in particular, for quality control applications, concluded Noffz.
Reflective of these machine vision growth figures was the fact that VISION 2018 set a new record in 2018, achieving 7% growth over 2016. This year, according to Florian Niethammer, VISION Project Manager at Messe Stuttgart, 472 exhibitors from 31 countries are showing their latest innovations in machine vision and imaging on the exhibition floor. Sixty-percent of these companies are from abroad, including 44 from the United States, 35 from China, and 27 from France. Additionally, the show has grown 14% in physical size, having increased to more than 12,000 square meters of space. From here, Niethammer offered the press a tour of the show floor, which—of course—was full mere minutes after the floodgates opening at 9:00 AM.
Share your vision-related news by contacting James Carroll, Senior Web Editor, Vision Systems Design

To receive news like this in your inbox, click here.
Join our LinkedIn group | Like us on Facebook | Follow us on Twitter