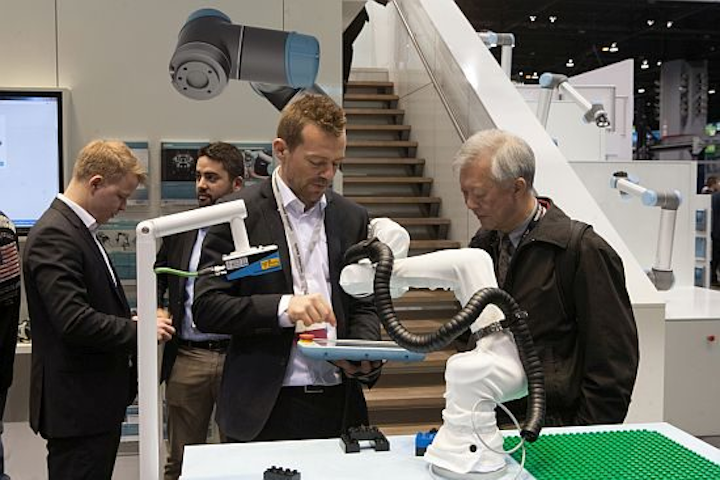 Esben Østergaard, Co-founder and Chief Technology Officer of Universal Robots is the recent recipient of the Engelberger Robotics Award for Technology. In this Q&A, Østergaard discusses the rise of collaborative robots, the role of machine vision in cobots, applications in which collaborative robots are being deployed, and more.
In 2005, you helped found Universal Robots. Flash forward to 10 years later, and you've won the Engelberger Robotics Award for Technology. Tell us a bit about what this means to you.
Of course, it's great and a lifetime achievement. Somehow, I think I'm too young for this. But I promise to do more. I'm not done yet. Mostly I'm proud of being a part of changing industrial robots from being these big machines sitting behind fences doing the same thing over and over again, to becoming flexible tools that any worker with no robotics experience can pick up and safely use in a collaborative fashion.
Universal Robots is one of the leaders in collaborative robots. Can you tell us why you think collaborative robots are so important and how you helped launch the first commercially-viable collaborative robot?

The invention of the UR robots actually started in the Danish food industry where I was working on a Ph.D. project on finding automation solutions for high mix/low volume processes. Back in 2003, the first task we wanted to automate was simply putting pepperoni on a pizza. When we started researching the market solutions, we found that the only robots available were unwieldy, heavy, expensive, very complex to program and had to operate inside safety cages.
That's when the idea of Universal Robots was conceived; we discovered a significant need in the market for lightweight, flexible, easy to program robots that could work right next to people with no safety guarding. Our first robot model, the UR5, became the first commercially viable collaborative robot, or cobot.
What are the types of applications and industries that are using collaborative robots?
It really runs the gamut; any imaginable application that features a repeated task with a payload less than 22 lbs. (the payload of our largest, UR10 robot) could potentially benefit from the UR cobots. A classic application is machine tending – meaning loading and unloading parts into a CNC machine or an injection molding machine for example.
The UR cobots are also increasingly deployed on assembly lines handling screw driving, gluing and welding, as well as other production processes such as polishing, laser marking, life cycle testing, packaging and palletizing.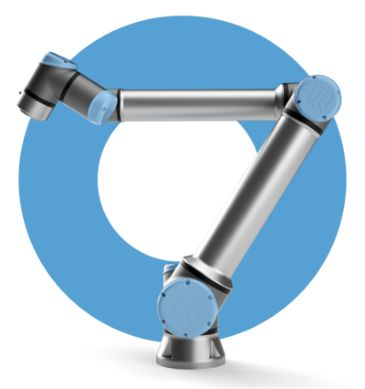 What is your most recent product, and what are some ways you've heard of people using it?

We just released our new cobot line, the e-Series. The e-Series (pictured) sets a new standard for cobots, adding built-in force/torque sensing, unrivaled safety features, and improved precision for faster integration in a wider range of future-proofed applications.
We start shipping the e-Series August 1, 2018, so no deployments yet but we expect users with applications that i.e. require force control right out of the box such as sanding, buffing, polishing and deburring where force-feedback is paramount to benefit. Increased repeatability of 30 microns (0.03mm) in the UR3e and UR5e models and 50 microns (0.05mm) in the UR10e also makes the new cobots suitable for precise finishing, assembly and electronics tasks.
What are some applications or industries that could benefit from using collaborative robots that haven't necessarily adopted them yet?

Generally speaking we're experiencing a lot of small to medium-sized manufacturers that still don't believe robotics automation is achievable due to cost and complexity. And it is true that the SME sector (companies with less than 250 employees), has not typically been able to afford industrial robotics due to lack on in-house programming capacities and limited capital spending budgets, but this sector is a prime target for cobots.
We typically experience a shorter sales cycle with this type of customer as their decision-making process is faster and they realize how easy the robots are to install and how quickly they pay themselves back.
Can you talk a bit about the importance of machine vision technology within collaborative robots both now and going forward?
We generally believe in an increased use of machine vision technology for automation. It will be more and more sensor driven as the control of robots will be more and more advanced. This is one of the drivers behind our new e-Series that now adds a 500 Hz system bus which is well above the mechanical eigenfrequency of the arm. That allows for advanced sensor driven applications. We calibrate the cinematics of each arm we produce which gives us industry leading absolute accuracy for all our arms. We do that because we believe that vision sensing will become big part of the future.
Are there any exciting developments on the horizon for Universal Robots?
We keep developing our UR+ ecosystemof plug and play products certified to work with UR robots. We're not just providing a cobot: With UR+ we have created a platform that leverages our innovative global ecosystem, which strengthens our tech leadership position.
This unique concept allows us to focus on delivering the best cobot on the market while working closely with third-party developers, which ensures that our partners and end-users can deploy quickly by choosing UR+ products optimized to work seamlessly with our cobots.
It's a shared business value model that we extend to our sales channel partners. Currently we have 94 certified UR+ products and 325 approved commercial developer companies in the UR+ program. Vision products are obviously a significant part of the UR+ product portfolio and I expect to see many new integration vision solutions for UR cobots in the near future.
Pictured above: Østergaard discusses the expanding UR+ platform with attendees at Automate 2017 in Chicago.
View more information on Universal Robots.