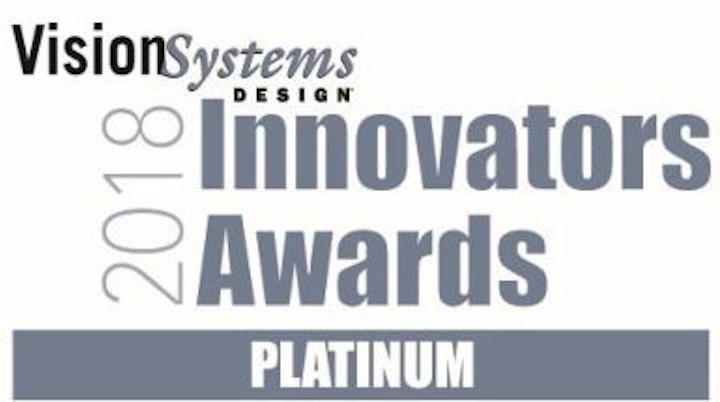 2018 Innovators Awards: Platinum-level honorees
Platinum-level award honorees of our 2018 Innovators Awards Program are as follows (categories in parentheses):
Photron: CRYSTA high-speed 2D polarization camera (Cameras-specialty). The Photron Crysta is a high-speed polarization camera for the two-dimensional analysis of birefringence measurements, film thickness analysis, and surface roughness inspection, and is a powerful tool to understand phenomena such as birefringence, retardation, stress and impact fracture mechanisms of materials and fluids. The 2D polarization camera is based on a 1 MPixel CMOS image sensor with a 20 µm pixel size and a pixelated polarizer array made from photon crystal affixed directly to the sensor. This photonic crystal lattice features pixels, in groups of four square, each having a different polarization axis at 0˚, 45˚, 90˚ and 135˚.
Kitov Systems: KITOV ONE (Research and development/start-up category). Kitov Systems' solution enables operators with no previous machine vision, robotics or programming to set up the system in just a few hours. Using robotics and sophisticated optical head, the system can inspect any 3D geometry and material and supports the automated planning of the inspection processing using CAD models or 3D scans of the product, according to the company.
Emergent Vision Technologies: 25 GigE 50MP Camera (Cameras-specialty). Being powered by the latest 25 GigE Vision interface, the HB-50000 provides more than two-fold increase in data transmission speeds over its predecessor, 10 GigE Vision and twenty-five-fold increase over the industry standard, the GigE Vision interface. Delivering an image resolution of 7920x6004 pixels, the HB-50000 can be used in environments where products/objects are moving at high speeds and/or the camera is placed at long distance from the image processing unit using fiber cable from 1M to 10KM without the need of fiber converters or repeaters, according to the company.
Keyence Corporation of America: Multi-Spectrum Vision System (Vision systems). Keyence's Multi-Spectrum Vision System uses monochrome cameras to capture 8 images with 8 different wavelengths of light, visible and non-visible, in the blink of an eye. So fast, in fact, that the images can even be captured and inspected for moving parts. On every trigger, each pixel captures an intensity value for every flash of color - ultraviolet, blue, green, amber, red, far-red, Infrared, and white, allowing for analysis to be performed based on 2568 levels of color differentiation, as compared to 2563 levels in conventional color cameras, without any loss of spatial resolution, according to the company
On behalf our team, a sincere thank you to all of the companies who submitted to our fourth annual Innovators Awards program, and congratulations to all of our honorees. We hope that this award program helped bring some of the most innovative products technologies in the market into focus, and we hope it will continue to do so moving forward.
First page | Bronze level | Silver level | Gold level | Platinum level