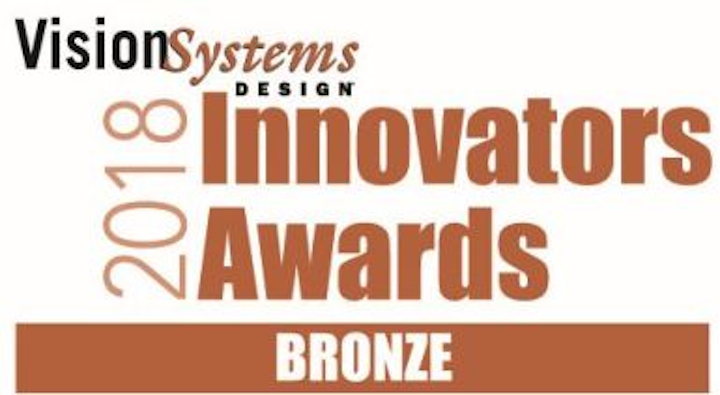 2018 Innovators Awards: Bronze-level honorees
Bronze-level award honorees of our 2018 Innovators Awards Program are as follows (categories in parentheses):
Epson Robots: T3 All-in-One SCARA Robot (Vision systems). The T3 is a powerful, low-cost automation solution designed for easy integration, which helps lower the total cost of ownership versus current products for manufacturers and system integrators. The all-in-one SCARA robot is ideal for customers looking to automate their factories without wasting time or money on complex slide-based solutions and features a built-in controller (conveniently housed in the robot's base), while running at 110 V or 220 V and requiring no battery, reducing factory downtime for maintenance.
Cyth Systems: Neural Vision (Software). Neural Vision allows a person with no machine vision experience to inspect and classify products. Through Neural Vision an operator simply clicks items of interest and these same operations are applied in millions of combinations behind the scenes, looking for any recurring pattern or key measurements that identify a good or bad product.
MORITEX North America, Inc.: 3D Pattern Projector System for Phase-Shift Measurement (Lighting, lenses, and optics). MORITEX has developed a 3D Pattern Projector System for Phase-Shift Measurement that allows system integrators with minimal prior 3D experience the chance to utilize this advanced technology for the diverse applications that come their way. The system achieves high brightness illumination with optimized optical design to couple state-of-the-art LEDs and DLP devices enabling improvements in imaging speed, among numerous other benefits, according to the company.
Photoneo: Photoneo PhoXi 3D Scanner (Cameras-3D). PhoXi 3D Scanners are available in sizes XS, S, M, L, XL, depending on a scanning volume and utilize a structured light technique. The scanners are resistant to ambient illumination and feature an extended depth of field, a durable and robust body made from carbon fiber, and are powered by the NVIDIA Jetson platform.
Baumer Group: Baumer SmartApplets (Cameras-visible). With the LX VisualApplets series, Baumer pioneered the approach of application specific industrial cameras with FPGA image processing to simplify setup, improve system performance and reduce overall cost. As a result of several customer projects it become clear that there are clusters of applications. Consequently, with SmartApplets Baumer became the first manufacturer to apply the successful smart phone app concept to industrial cameras, which the company says allows customers to master complex image processing tasks instantly at no extra charge via a simple firmware update at any time.
LMI Technologies: Gocator 3210 3D Smart Snapshot Sensor (Cameras-3D). The Gocator 3210 features a 2 MPixel stereo camera and achieves 3D snapshot scans at 35 μm. It also features a 100 x 154 mm field of view (FOV) for picking multiple features at once and according to LMI, is ideal for inline inspection of large parts such as automotive components and body assemblies.
Critical Link: MitySOM-5CSX Embedded VDK for Basler dart (Embedded vision). The MitySOM-5CSX Embedded Vision Development Kit (VDK) for Basler dart provides the fastest path to embedded vision application development. Users are given the advantage of features such as on-board image processing with FPGA fabric and dual core ARMs, rapid prototyping using Altera's VIP Suite and OpenCL, and integration with Basler's dart BCON for LVDS cameras.
Prophesee: Bio-Inspired Machine Vision (Vision systems). Prophesee has developed an innovative event-based sensing approach that dramatically changes the paradigm of traditional imaging technology, according to the company. With this method, developers will be able to improve the ability of machines to sense their environments and make intelligent decisions about what they see.
Opto Engineering: Focusing lens (Lighting, lenses, and optics). Opto Engineering has developed its own focusing lens which allows customer to resolve their problems of fast and precise focusing and save time and implementation costs. The integration of the focusing lens is simple and plug-and-play, since the module needs just to be placed in front of a standard fixed focal CCTV lens. The embedded electronic drive driver has been specifically developed to accurately control the piezoelectric elements. Connect the module to a power supply and to an ethernet port to start using the adaptive lens, suggests Opto Engineering.
Neousys Technology Inc.: Nuvo-6108GC Series (Embedded vision). Featuring an NVIDIA GeForce GTX1080 graphics processor (or TITAN X) and an Intel Xeon E3 v5 or 6th Gen Core processor with C236 chipset, the Nuvo-6108GC industrial grade GPU computer from Neousys supports up to 32GB ECC/non-ECC DDR4 memory and has GigE, USB 3.0, video ports, and serial ports.
Omron Microscan Systems: HAWK MV-4000 Smart Camera (Cameras-visible). The HAWK MV-4000 is Microscan's new high-performance smart camera, which has four times the processing power, and up to six times the frame rates over the previous generation of smart cameras from Microscan and exceeds performance of some competitive products. With near PC performance, there are virtually no applications beyond the reach of the HAWK MV-4000, suggests the company.
LUCID Vision Labs, Inc.: Phoenix Camera (Cameras-visible). The Phoenix camera from Lucid Vision Labs is specifically designed for OEMs. It is a full-featured, micro-compact camera measuring only 24 mm wide by 24 mm tall. This makes Phoenix the world's smallest and lightest GigE PoE camera, according to the company. It has a unique, transformable design that can be simply configured to fit into a wide range of OEM systems and also features Sony Pregius CMOS image sensors.
Chromasens: 3DPIXA 2.5µm dual HR (Cameras-3D). Chromasens' 3DPIXA stereo line scan camera is a unique combination of line scan technology with fast stereo algorithms running on a GPU. 3DPIXA HR cameras are available in two models: The 3DPIXA HR 5 µm has a larger field of view of approximately 35 mm and a scanning speed of up to 30 kHz, which allows for very short inspection times at a resolution of 5 µm. The 3DPIXA dual 200 µm HR, is designed for high-speed 3D inspection tasks requiring a maximum field-of-view of 1400mm (55 inches) for complete scans of large, complex and irregularly-shaped objects or textures.
JAI: Apex Series AP-3200T-USB Camera (Cameras-visible). The Apex Series AP-3200T-USB camera is a prism-based, 3-chip, RGB color area scan camera that utilizes a custom optical prism and patented alignment technology to overcome three primary issues that have previously caused many system designers/integrators to compromise the quality of their color vision system by choosing traditional Bayer color cameras over 3-chip prism technology.
McNaughton-McKay Electric Company: RDVRK - Rapid Deployment Video Recording Kit (Vision systems). Machine Vision Systems utilize 2D images to tell you what went wrong during production, but they do not tell the story of why. Our Rapid Deployment Video Recording Kit system (RDVRK), can tell you exactly why, how, and what went wrong in the process leading up to inspection, according to the company. RDVRK video system for production process monitoring and is capable of 4K High-Definition recordings.
AAEON Technology: BOXER-6640M (Embedded vision). Typically, companies involved with vision systems applications have to choose between either computers offering high-end processors but a limited number of LAN ports or devices with additional LAN ports but limited processors. With the BOXER-6640M, says AAEON, any need for compromise has been eliminated as users can enjoy the power of a 7th Generation Intel Core Desktop Processor and nine LAN ports. An additional eight USB 3.0 ports have also been built into the machine to meet the increasing demands for USB camera support.
XIMEA: Subminiature 18 Mpix USB3 camera (Cameras-visible). XIMEA'sSubminiature 18 Mpix USB3 camera features a 15x15 mm footprint and weighs only 5 grams. The camera is based on an 18 MPixel CMOS image sensor and its data and control interface is fully compliant with GenICam / GenTL and can offer full image processing pipeline on NVIDIA GPU in real-time. Additionally, the camera features an FPGA, USB3 interface, and a frame rate of up to 24 fps.
INFAIMON: InPhoto-4W (Vision systems). InPhoto-4W uses a dual or quad-sensor camera along with four different light sources with different wavelengths to get one image in one shot. With this technique, the four primary images are obtained in a single capture. It can be used in one line of production both stationary and moving, without the need for complex synchronization.
Trollhetta AS: DynamicImager (Software). DynamicImager is an image processing environment offering multi-dimensional, multispectral image processing. With a large and still expanding library of ISO 12087 (PIKS) based Image Processing modules, the users are "half way" solving machine vision problems.
NET New Electronic Technology: HDselect - multi-use board-level camera with real-time image processing (Cameras-visible). NET´s board-level camera HDselect, according to the company, is the most flexible camera solution for medical device manufacturers. The sum of features including a modular product for various hot-plugging image sensors, image sensors with a head footprint from 1/3" to 1 mm², remote image sensor capability, and unique real-time image improvement, also being available for single-use applications makes it stand out in the endoscopy market.
NET New Electronic Technology: Smart Vision System CORSIGHT featuring radar-aided Object Analysis (Embedded vision). NET utilized radar technology in combination with the CORSIGHT smart vision system with a unique line scan image sensor for remote object analysis which in comparison to current approaches (e.g. application of incremental encoders for triggering) is contact-less and independent of object distance and speed. This embedded vision solution can be applied especially in intelligent transportation systems, according to NET.
Pepperl+Fuchs: safePXV and safePGV (Vision systems). For the first time, safePXV and safePGV enable SIL 3/PL e-compliant safe absolute positioning with a single sensor. This new safety technology is based on a combination of 2-D read head and multi-color Data Matrix code tape. Red and blue LEDs allow the different color codes to be read. The plausibility of all data is then checked directly in the sensor before being sent to the safety PLC, where the data can be processed without additional plausibility checks.
Tichawa Vision: Diamond Image Sensor (Image sensors). The Diamond Sensor Chip for Line Scanning features up to a 1 MHz Line Rate. The sensor combines a pixel array with high performance signal processing, column ADCs and 16 serial LVDS outputs on a single chip. The Pixel array consists of 864 optical (plus 4 black) 4T Pixel cells sized 21 x 21 µm size and with approximately 60,000 electrons full well capacity.
Cognex Corporation: In-Sight 7000 (Vision systems). The In-Sight 7000 is a full-featured, powerful vision system that performs fast, accurate inspections of a wide range of parts across all industries. Its compact footprint easily fits into space-constrained production lines and the unique, modular design is highly field-customizable to fit the application requirements. The In-Sight 7000 is designed with Flexible Image Technology (FIT™), a wide selection of field-changeable and user-configurable lighting and optics that allow you to customize the system, optimize image formation, and minimize the need for external lighting.
Akcelita Innovation Labs: Artificial Sensing for Retail Banking Operations (Vision systems). Artificial Sensing for Retail Banking operations allows bank executives to make better sales and operations decisions based on customer behavior data captured by a grid of 3D sensors (structured light sensors + RGB and IR) placed in the ceiling at branch offices.
Senko: AOC USB 3.0 cable (Connectivity). Available in 5, 10, 15, and 20-meter options, the AOC USB 3.0 cable from Senko features a transmission speed of up to 5 Gbps while supporting the USB3 Vision standard. The optical fiber and power connection cable provides 900mA/5V to the device and features a Micro-B connection with lock screws, and hot plugging with no drivers necessary.
The Imaging Source: UC USB 3 to 10 GigE software converter (Software). USB offers an alternative to the limited bandwidth of GigE but has always been limited by short cable lengths. A solution to this dilemma is the IC USB 3 to 10 GigE software converter. A mini PC (e.g. Intel NUC) is connected to a high-resolution USB 3 camera which via the software functions as a converter - transmitting image data from the USB 3 camera to a 10 GigE interface which enables significantly more image data over one cable. The camera can then be controlled by any PC with a 10 GigE interface as a regular GigE Vision camera.
OPEX Corporation: OPEX 3D Overheight Detection (Cameras-3D). Using "infrared time-of-flight" camera technology, combined with proprietary algorithms within the software, the OPEX 3D Overheight Detect can identify a potential over-height situation, force a non-advancement condition of the vehicle and alert a human operator to inspect the grouping of one or more items being processed and reposition the items within the vehicle to correct the over-height.

Next page: Silver-level honorees
First page | Bronze level | Silver level | Gold level | Platinum level