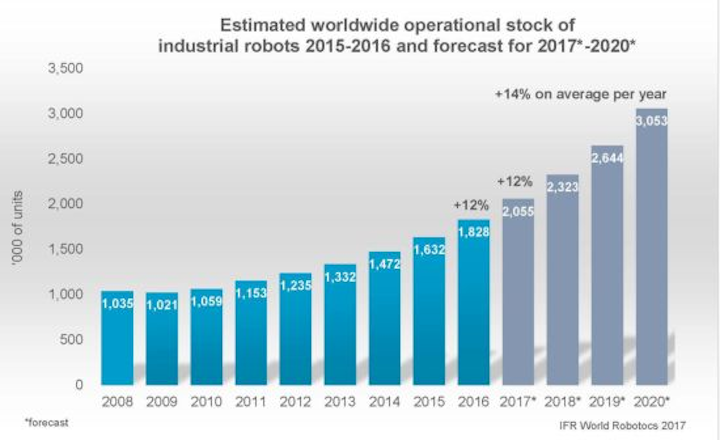 By the year 2020, the number ofindustrial robotsin use in factories around the world will have doubled from 1.47 million robots in 2014 to more than 3 million in 2020, according to the International Federation of Robotics (IFR).
The rise in the global deployment of industrial robots,according to the IFR, is a result of increased adoption of industrial automation by both companies and nations.
"Automation is changing the way we work and, to an increasing extent, the way we live," stated a position paper from the IFR. "Automation improves productivity and enables companies, and nations, to remain or become competitive. It enables new business models focused on providing new goods and services and helps companies improve the efficiency and flexibility of supplying those goods and services. Economists agree that increased productivity is key to improving Gross Domestic Product, the value of goods and services produced in a country, and in turn, jobs and wages."
Junji Tsuda, president of the International Federation of Robotics, also commented: "IT like robotics process automation is by far the biggest contributor in transforming people's jobs. "Companies and governments must collaborate to ensure workers have the skills that the technological change requires."
Another key indicator of the rise in robotics is an increased focus on training and education. An automatica survey (automatica trend index 2018) of 7,000 employees across seven countries (USA, China, Japan, Germany, France, Great Britain, Italy) shows that nearly 70% of workers believe that robotics and automation offer the opportunity to qualify for higher-skilled work—a technological shift that would require targeted training and further education for employees.
One such country that has placed an emphasis on this is Singapore, with its SkillsFuture initiative. Employers in Singapore are asked to spell out expected changes, industry by industry, that they expect to happen over the next three-to-five years, and to identify the skills that would be required. These answers are then used to create "industry transformation maps" designed to guide individuals on this path. Since January 2016, every Singaporean above the age of 25 has been given $345 credit that can be used to pay for any training courses provided by 500 approved providers, including universities and massive open online courses.
The IFR's position paper, "Robots and the Workplace of the Future," dives further into this concept, explaining why and how people will remain central to effective automation strategies that are key to improving productivity and economic growth.
View the IFR position paper here.
Share your vision-related news by contacting James Carroll, Senior Web Editor, Vision Systems Design

To receive news like this in your inbox, click here.
Join our LinkedIn group | Like us on Facebook | Follow us on Twitter