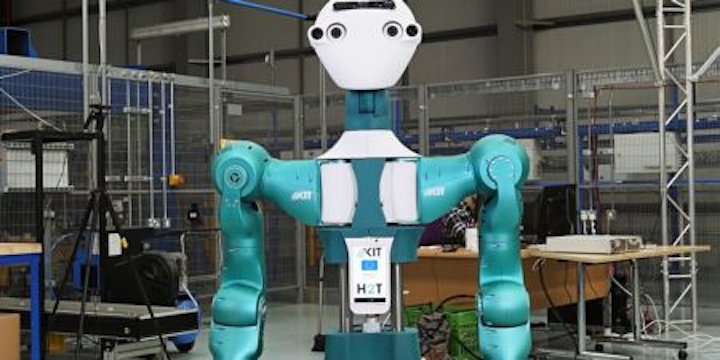 Developed by the SecondHands team of global researchers, the ARMAR-6 collaborative robot is designed to aid automation maintenance technicians in automated warehouse environments.
Funded by the European Union's Horizon 2020 Research and Innovation program, SecondHands "aims to develop a robot assistant that is trained to understand maintenance tasks so that it can either pro-actively, or as a result of prompting, offer assistance to automation maintenance technicians performing routine and preventative maintenance." The robot would theoretically provide a second pair of hands to the maintenance technician, such that once the robot has been trained, it can predict when can usefully provide help and knows which actions to take to provide it, according to SecondHands.
On January 11, a prototype of the collaborative robot was presented. This robot will act as the platform for testing and developing new technologies related to the maintenance and repair of automation equipment in Ocado's highly automated warehouses using a robot assistant. The prototype was developed at the Karlsruhe Institute of Technology (KIT) by Tamim Asfour and his team at the High Performance Humanoid Technologies Lab (H²T) of the Institute for Anthropomatics and Robotics.
Ocado—a UK-based online supermarket—along with its research partners École Polytechnique Fédérale de Lausanne (EPFL), Karlsruhe Institute of Technology (KIT), Sapienza Università di Roma, and University College London (UCL), are "working to advance the technology readiness of areas such as computer vision and cognition, human-robot interaction, mechatronics, and perception and ultimately demonstrate how versatile and productive human-robot collaboration can be in practice."
Below is a summary of how each project partner is contributing to the project:
Collaborative robots have become an increasingly important part of industrial automation and robotics over the past few years. This can be evidenced by the fact that, last November, the AIA and RIA introduced a new conference, "Collaborative Robots and Advanced Vision," which explored a range of current advancements in collaborative robots and advanced vision, focusing on technology, applications, safety implications, and human impacts. The show was met with positive feedback to the point where it seems likely it will be held again.
Collaborative robots today are driving one of the most transformative periods in the robotics industry. Advancements with sensors, software and end-of-arm tooling are expanding collaborative robot capabilities and applications, according to the AIA.
Robotics on a global scale have continued to grow in recent years. The North American robotics market, for example, had a record 2017. Orders valued at $1.473 billion were sold in North America for the first nine months of the year, which is the highest level ever recorded in any year during the same period.
Additionally, the German robotics and automation industry is hitting new high marks. According to an October press release, the VDMA raised its growth forecast from 7% to 11% because of strong growth. In German robotics, the initial projection of 8% growth was nearly doubled to 15%, with industry turnover projected at EUR 4.2 billion. These results, according to the VDMA, confirm recent statistics from the International Federation of Robotics (IFR), which indicate a global boom in robotics.
View more information on the SecondHands project.
Share your vision-related news by contacting James Carroll, Senior Web Editor, Vision Systems Design

To receive news like this in your inbox, click here.
Join our LinkedIn group | Like us on Facebook | Follow us on Twitter