Robot density rises with increased automation worldwide
With growth in automation adoption worldwide, the average of global robot density has risen to 74 robot units per 10,000 employees as of 2016, according to a new report from the International Federation of Robotics (IFR).
Feb 15th, 2018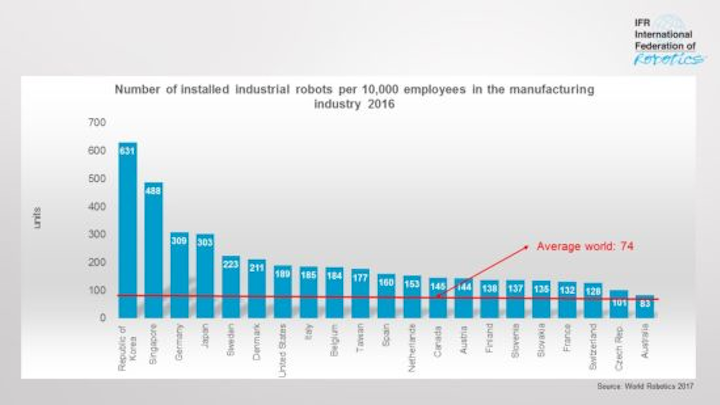 With growth inautomation adoption worldwide, the average of global robotdensity has risen to 74 robot units per 10,000 employees as of 2016, according to a new report from the International Federation of Robotics (IFR).
The top 10 most automated countries in the world, according to the 2017 World Robot Statistics from IFR, are South Korea, Singapore, Germany, Japan, Sweden, Denmark, USA, Italy, Belgium and Taiwan.
"Robot density is an excellent standard for comparison in order to take into account the differences in the automation degree of the manufacturing industry in various countries," said Junji Tsuda, President of the IFR. "As a result of the high volume of robot installations in Asia in recent years, the region has the highest growth rate. Between 2010 and 2016, the average annual growth rate of robot density in Asia was 9 percent, in the Americas 7 percent and in Europe 5 percent."
Here are the highlights from throughout the world:
China:In China, the development of robot density was the most dynamic in the world. With significant growth in robot installations, particularly between 2013 and 2016, density rose from 25 units in 2013 to 68 units in 2016. Overall, China ranks 23rd worldwide, but the government intends to bring it into the top 10 most intensively automated nations by 2020, according to the IFR. By then, according to IFR, the robot density is targeted to rise to 150 units. China's aim is to sell a total of 100,000 domestically-produced industrial robots by 2020 (2017: 27,000 from Chinese robot suppliers, 60,000 from foreign robot suppliers.
South Korea: By far the highest robot density in the manufacturing industry, a position the country has held since 2010. Robot density sits at 631 units per 10,000 employees. This growth rate is the result of continued installations of robots, particularly in the electrical/electronics industry and in the automotive industry.
Singapore:The second highest robot density, with 488 robots per 10,000 employees in 2016. Nearly 90% of robots are installed in the electronics industry in Singapore.
Japan: Fourth highest robot density in the world at 303. Japan remains the world's predominant industrial robot manufacturer, as production capacity of Japanese suppliers reached 153,000 units in 2016, the highest level ever recorded. Japan delivers 52% of the global robot supply.
United States: Robot density in the U.S. increased significantly to 189 robots in 2016, putting them at seventh in the world. The automotive industry still leads as the main driver of robot installations with about 52% of total sales in 2016. Robot sales will continue to increase between 2017 and 2020 by at least 15% average per year, according to the IFR.
Canada: Robot density has been on the rise and reached 145 units in 2016 to put them at 13th worldwide, with growth mainly driven by installations in the automotive industry.
Mexico: Predominantly a production hub for car manufacturers and automotive parts suppliers that export to the United States and increasingly to South America, Mexico has a robot density of 33 units.
Germany:Europe's most automated country, Germany ranks 3rd worldwide with a density of 309 units. Between 2018 and 2020, the annual supply in Germany will continue to grow by at least 5% on average per year due to the increasing demand for robots in general manufacturing and in the automotive industry.
France: France ranks 18th in the world with a density of 132 units, but relatively weak compared to other European Union counties such as Sweden(223 units), Denmark(211 units), Italy(185 units), andSpain (160 units.) Under the new government, however, France is reportedly in the process of regaining competitiveness in its manufacturing sectors, which may promote installations of new robots in the next few years. In 2017, the number of robot installations in France is expected to increase by about 10%, and between 2018 and 2020, by about 5 and 10%.
UK: With a robot density of 71 units, the UK ranks below the global average, putting them at 22nd overall. The general manufacturing industry is highly in need of investment to modernize and increase productivity, and the low robot density rate is indicative of this fact, according to the IFR.
View theIFR press release.
Share your vision-related news by contactingJames Carroll,Senior Web Editor, Vision Systems Design

To receive news like this in your inbox, click here.
Join ourLinkedIn group | Like us on Facebook | Follow us on Twitter