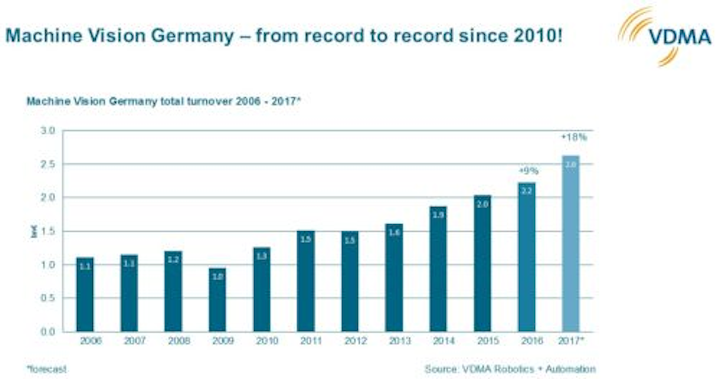 Sales within the German machine visionmarket rose by 18% in 2017, totaling 2.6 billion euros, but the upward trend is expected to continue, as the VDMAcurrently forecasts 10% growth in 2018.
"VDMA will present the exact figures in June. But one thing is already clear: The machine vision industry achieved record sales also in 2017 and will keep up its growth course," said Anne Wendel, head of the VDMA sector group Machine Vision, at the VISION CEO Roundtable.
For eight years in a row, the European machine vision market has seen record turnover and growth. This can be attributed, according to the VDMA, to the fact that machine vision technology continues to advance and grow to meeting the ever-changing needs of the global economy. The VDMA also identifies embedded vision, machine learning, standards, connectivity, and ease of integration as growth drivers in the market.
"Standards are the turbocharger of growth for our industry," commented Dr. Klaus-Henning Noffz, CEO, Silicon Software at theVISION CEO Roundtable, which brought together nine CEOs from machine vision companies in Europe to discuss trends and the future of machine vision. "Standards were one of the reasons for the boom of the machine vision industry over the last years and continue to be the key for further success. Components and systems with standardized interfaces are accelerating the market availability and development of new applications and solutions. The success story of machine vision will continue. An end of growth is not in sight."
Machine vision was also identified by Dr. Horst Heinol-Heikkinen, CEO, Managing Partner, ASENTICS, as the most important technology when it comes to Industry 4.0 and the Industrial Internet of Things.
"Machine vision is in my point of view the key enabling technology for mastering the challenges of Industry 4.0. No other component in the production process is able to gather and interpret as many data as machine vision," he said. "Machine vision evolves from a mere inspector to a production optimizer. The idea is to verify and to process what has been "seen" and to transmit the results to the systems of the value chain in every phase of production."
He continued, "This is not only about finding out whether a part is good or bad, but about triggering intelligent actions. And this is exactly why machine vision is perfectly suited: it is the "seeing element". Only machine vision is capable of delivering not only the above-mentioned primary information but also comprehensive and important secondary information to all systems operating in the process network. For example, regarding the state of machines, wear or possible maintenance cycles. Only extensive collection and evaluation of these data enables reliable, intelligent and autonomous action, giving industry 4.0 a real economic significance."

View additional comments from the CEO Roundtable here.
Share your vision-related news by contacting James Carroll, Senior Web Editor, Vision Systems Design

To receive news like this in your inbox, click here.
Join our LinkedIn group | Like us on Facebook | Follow us on Twitter