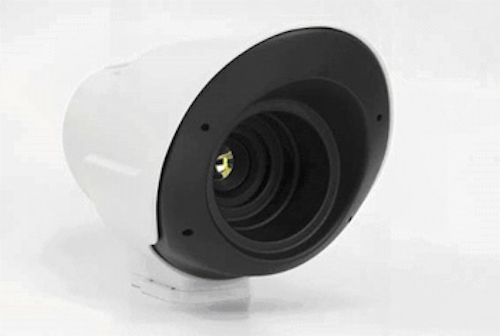 Uncooled thermal cameras equipped with an embedded fire detection video algorithm can now be used for the long-range detection of fires.

Opgal Optronic Industries (Karmiel , Israel) has added the capability to certain models of its EyeSec line of thermal cameras enabling users to not only sense a fire but also provide an automatic safety and security notification of the event.

Setting up a temperature threshold, the camera scans the area of interest and alerts an operator when any object in its field of view reaches the critical temperature; for example, when factory machinery reaches dangerous temperatures.

Upon determining that a fire or risk exists, the camera adds a visual alarm overlay to the outgoing video signal, and generates an alert using a standard dry contact relay and/or through serial or IP communication. Users can define up to five areas of non-interest, where fires or risk are ignored.

With its flame detection capability enabled, the camera can detect a 75cm x 75cm fire as far away as 840 meters within 5 seconds, with detection ranges increasing for larger-sized fires up to 6m x 6m and distances up to 6.5 km, day or night.
Facilities with flammable materials, transportation tunnels, combustible storage areas, and sites located near forests and greenery are all sensitive to fire danger.

These sites can now deploy an automated fire detection and alert tool that provides an additional layer of site safety integrated into a security and surveillance system.

-- by Dave Wilson, Senior Editor, Vision Systems Design