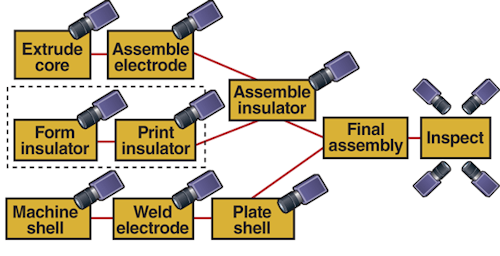 In a presentation aptly entitled "(There's no) accounting for machine vision," at NIWeek 2010, Nigel Holmes, vision systems development manager at Federal Mogul (Ann Arbor, MI, USA; www.federalmogul.com), spoke of the need for distributed machine visions and how to justify the cost. As an example, Holmes described how the inspection of Champion brand spark plugs had been automated in a distributed fashion.
"Manual parts inspection," says Holmes, "results in false acceptances in which a bad part reaches the customer or a false reject in which a good part is scrapped."
To increase the reliability of inspection, machine-vision systems can be deployed either at every point in the production process, in end-of-line inspection systems, or both. In the production of spark plugs, more than 83 different characteristics of the product must be checked. These include a 3-D measurement of the spark plug gap, checking the thread and the part's ceramic insulator for cracks, chips, and print integrity.
"Automating the inspection process using a single end-of-line inspection system may at first sound like a good idea," says Holmes. "However, this results in developing large, complex, time-consuming, and expensive systems that may not detect all the features of a spark plug once assembled." In such cases, the real return on investment (ROI) will often be less than the projected ROI.
Rather than take this approach, Holmes and his colleagues opted for a more conservative method to distribute machine-vision tasks at every step in the manufacturing process (see Fig. 1). Although this results in a large number of systems being deployed, each one can be optimized to measure a single characteristic of the spark plug.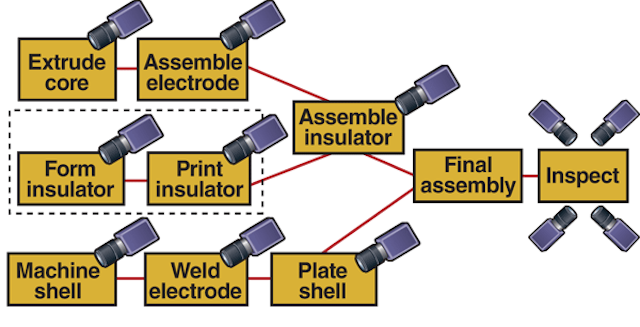 FIGURE 1. Rather than implement end-of-line inspection in the production of Champion spark plugs, Federal Mogul takes a distributed approach inspecting features at every point in the production process.
As an example, after the ceramic insulator emerges from the turning operation, the part is imaged and the width, rib, and length are measured. Any broken parts can thus be automatically recycled. Using these measurements, any shifts in the firing process can also be evaluated and feedback used to control the kiln temperature. After the parts are manufactured, the Champion spark plug logo and batch number are printed by rolling each ceramic across a high-speed rotary print head.
To automate print inspection, Holmes and his colleagues mounted a GigE-based camera from Allied Vision Technologies (Stadtroda, Germany; www.alliedvisiontec.com) to image the spark plugs as they rolled across the field of view of the camera (see Fig. 2). These images were then transferred to the host PC over the GigE interface. Using the MIL Library from Matrox (Dorval, QC, Canada; www.matrox.com/imaging), a sequence of images of different views of each ceramic as it rolled through the machine were then tiled and processed to inspect the print.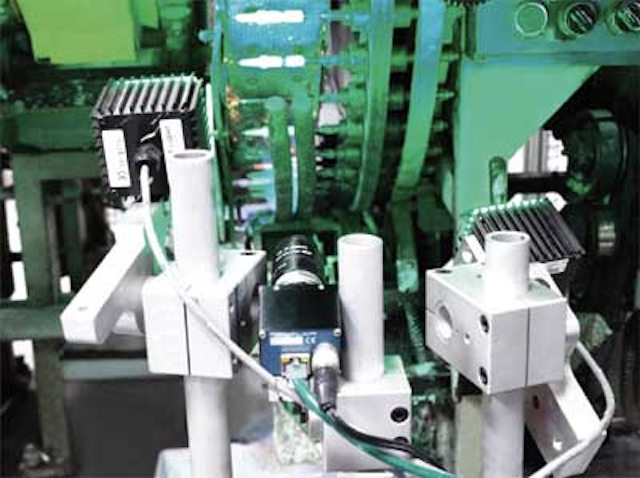 FIGURE 2. To inspect the print on spark plugs as they rotate past a print head, sequences of images are taken, stitched together, and analyzed for print quality.
"When the machine was built," says Holmes, "no one had thought of adding a vision system, so it was not equipped with a reject mechanism." So if poor quality print is detected by the vision system, the machine is simply stopped and the problem resolved.
In concluding his presentation, Holmes returned to his theme of how engineering managers must justify the deployment of such systems by evaluating the cost and results achieved. In an illustrative example, Holmes showed that, for a typical machine-vision system costing $37,350, the annual savings in good parts being scrapped, bad parts being assembled, and reduction in scrap waste could total as much as $20,000 per year.
"Because a distributed approach to parts inspection results in lowering the cost of systems at every point in the production process," Holmes says, "they can be more easily justified to management."
More Vision Systems Issue Articles
Vision Systems Articles Archives