Integrators and end users flock to Fall trade shows
In September, two seemingly disparate trade shows were held in the same week.
Nov 1st, 2005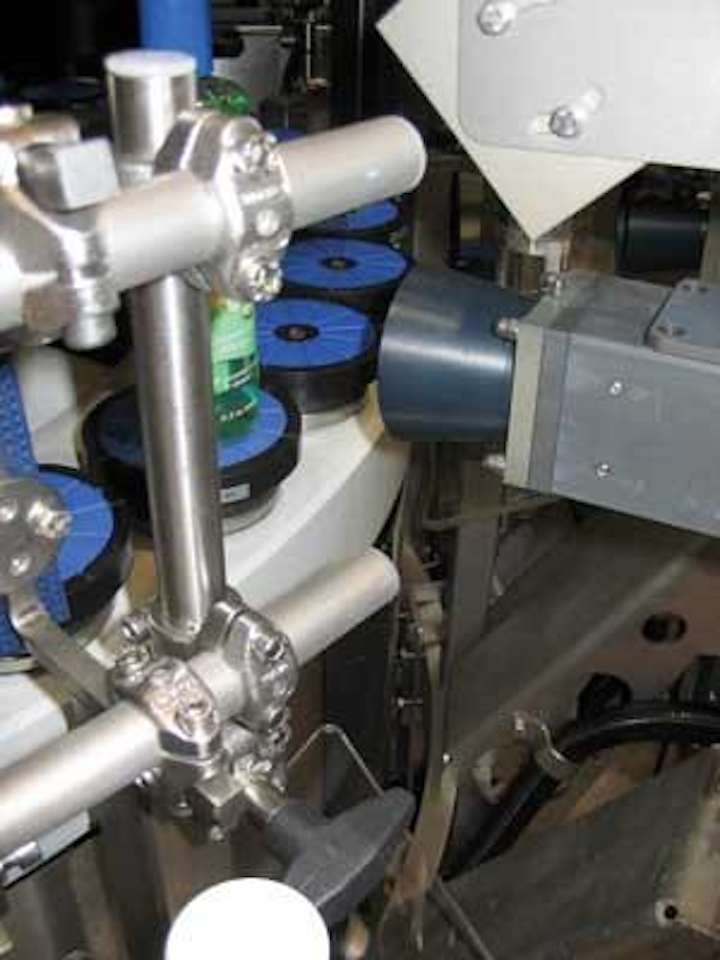 Andrew Wilson, Editor, andyw@pennwell.com
In September, two seemingly disparate trade shows were held in the same week. While PackExpo filled multiple halls in Las Vegas, NV, USA, the biennial International Robots & Vision Show was being held in Rosemont, IL, USA. Attendees at PackExpo were a different group from those at the Robots & Vision Show. Rather than specifying OEM components with which to build packaging systems, most of the attendees at PackExpo were from Fortune 500 companies looking to purchase complete filling, labeling, packaging, and inspection systems from companies whose booths dwarfed those at the Robots & Vision Show. What was perhaps most interesting was that many of the companies on the floor at PackExpo were showing systems with integrated machine-vision components from OEM vendors at the Robots & Vision Show.
Some vendors wisely exhibited at both shows. Among those, Banner Engineering (Minneapolis, MN, USA, www.bannerengineering.com), Cognex (Natick, MA, USA; www.cognex.com), and the ipd Division of Dalsa Coreco (Billerica, MA, USA; www.goipd.com) all demonstrated their latest smart vision sensors. Some of these companies were smarter than others. As well as demonstrating its line of PresencePlus sensors to OEMs, for example, Banner Engineering featured its products in numerous packing systems on the show floor (see "Vision sensors find automation applications," p. 18).
PACKING THEM IN
Interestingly, many of the vision companies that exhibited at PackExpo but not at Robots & Vision were touting products that could be easily integrated or used to inspect packaging systems. For example, Photron (San Diego, CA, USA; www.photron.com) demonstrated its high-speed camera system and showed how Yamato (Mequon, WI, USA; www.yamatocorp.com) was using it to optimize packaging systems
Other high-speed camera vendors were also present at Pack-Expo. At the booth of Monitoring Technology (Fairfax, VA, USA; www.monitoringtech.com), Jim Dechman, president, showed the company's latest 640 × 480-pixel color Gigabit Ethernet camera system-the 20/20 Hindsight. Capable of recording images at up to 2000 frames/s, the camera can stream image data (at a lower resolution) to a PC where image sequences of up to 6 h can be recoded onto a 1.4-Tbyte drive.
Monitoring Technology's system has already been installed by companies such as Procter and Gamble (Cincinnati, OH, USA; www.pg.com), where it is used to analyze a reject mechanism on a packaging line. And, the company highlighted how its systems are being used on the plant floor. At the booth of Brenton Engineering (Alexandria, MN, USA; www.brentonengineering.com), Lenny Fiore, chief engineer with Monitoring Technology, showed how an older version of the company's high-speed recording system is being used to monitor the orientation of oil filters, using a SDZ160 640 × 480-pixel NTSC color camera from Samsung interfaced to a MiroVideo PCI-based DC10 MPEG frame grabber from Pinnacle Systems (Mountain View, CA, USA; www.pinnaclesys.com). Running the same Hindsight 20/20 image-processing software, the system was shown capturing images from a production line at 60 frames/s. "By running the system 24 hours per day, seven days a week," says Fiore, "it can capture any mechanical failure of the production line, and the operator can recall image sequences to easily analyze the operation of the machine."
Gigabit Ethernet cameras were also at the booth of Krones, a developer, manufacturer, and installer of filling and packaging lines. Ron Wilson, technology specialist at Krones USA (Franklin, WI, USA; www.kronesusa.com) demonstrated how the company's Gigabit Ethernet cameras and frame grabbers are used in its Distributed Architecture for Real Time label-inspection unit. In the system on the show floor, labels were identified and checked for position, alignment, and quality (see Fig. 1). According to Wilson, the integrated camera/frame grabber/computer system provides the user with numerous options for image processing and code recognition that include correct label, label positioning, date code, and barcode analysis.
OEM COMPONENTS
While most of the products and systems at PackExpo targeted factory plant managers, the audience at Robots & Vision was much different. As in previous years, the show was exactly that-a robots AND vision show. Those who were expecting to see how vision systems could be integrated into robotic systems were faced with visiting half a show that contained robots and another half that contained OEM vision components.
In the hall populated by OEM vision components, system integrators could find the latest in lenses, cameras, and lighting equipment. Telecentric lenses were the focus of the Computer Optics (Hudson, NH, USA; www.computeroptics.com) booth, where the company showed its LenZilla, billed as the world's largest telecentric lens with a 10-in. field of view and a depth of field of 8 in. (see Fig. 2). According to company president Jonathan Kane, the 100-lb lens design is based on a patent currently held by Spencer Luster, president of LightWorks (Toledo, OH, USA; www.lw4u.com).
Camera vendors Photonfocus (Lachen, Switzerland; www.photonfocus.com) and Tattile (Bedford, NH, USA; tattile.com) announced new products. For its part Photonfocus demonstrated its latest 750 × 400-pixel, 60-frames/s Blizzard-60 CMOS camera featuring 120-dB dynamic range and selectable ROIs. Tatille announced a range of Gigabit Ethernet linescan cameras, which, according to managing director Robert Fenwick-Smith, will be complemented by a smart Gigabit Ethernet camera based on the Blackfin DSP from Analog Devices (Norwood, MA, USA; www.analog.com) that will be announced at the VISION 2005 trade show in Stuttgart, Germany.
ROBOTS AND VISION
Those determined to discover an overlap between robots and vision systems needed to search harder, since many companies exhibited both at Robots & Vision and the collocated Assembly Technology Expo. Companies that clearly demonstrated an understanding of the benefits of vision-based robots and inspection systems included Adept Technology (Livermore, CA, USA; www.adept.com), Conveyor Technologies (Sanford, NC, USA; www.conveyor-technologies.com), Phoenix Imaging (Livonia, MI, USA; www.phoeniximaging.com), Precise Automation (Auburn, CA, USA; www.preciseautomation.com), and Vitronic (Wiesbaden, Germany; www.vitronic.de).
At the show, Adept announced new products ranging from improved vision-guidance robots and motion controls to a cleanroom SCARA robot for disk-drive manufacturing and a line of six-axis robots for assembly applications. It also announced its Python linear modules and a Web-based tool that allows developers to configure the modules to their own specifications.
Adept founder Brian Carlisle, now president of Precise Automation, introduced his company's PrecisePlace 1400c Cartesian robot available in three- or four-axis configurations that can handle 1-kg payloads. Located inside the robot, the company's Guidance 3400 controller contains four motor drivers, eight encoder input channels, a 700-MIPS processor, digital and analog inputs and outputs, and Ethernet, DeviceNet, and RS-232 interfaces. According to Carlisle, this controller will also operate with other robots from companies such as Denso and will be offered to systems integrators for about $3000.
Complementing the controller, the company's user interface is based on a Web server and includes a set of motion commands, a continuous-path motion planner and trajectory generator, motion commands and an optional machine-vision package that can execute in the Guidance 3400 or remotely in a networked PC. The vision software, originally developed by Datacube (Danvers, MA, USA; www.datacube.com), contains measurement tools and a patented object locator that enables the robot to locate and pick up parts in any orientation and automatically adjust placement locations, even with cluttered backgrounds.
Vitronic showed its VIROwsi 3-D machine-vision system for the inspection of weld seams, brazing seams, and sealant beads. Richard Middelmann, project manager, explained how the system uses an integrated laser/CMOS imager combination to obtain 3-D profiles of seams of different types, shapes, and sizes. By building a seam profile in three dimensions and comparing it with a known good profile," he says, "the VIROwsi software can be programmed to set specific upper and lower limits depending on which part of the weld is being inspected. In this way, the system can automatically reject any parts that do not fall within these limits" (see Fig. 3).
Collocating Robots & Vision with AssemblyTech gave attendees an opportunity to visit with system integrators and to see how vision systems are being applied in practical systems. Two impressive demonstrations were by Conveyor Technologies and Phoenix Imaging, which revealed the development of its ParticleScope analyzer used in the pharmaceutical industry to detect foreign particles in drug vials. According to company president Gerald Budd, the system, which uses a combination of custom lighting, area-array cameras, motion-control systems, and robotics, was unveiled at the PDA Visual Inspection Forum (Sept. 2005; Bethesda, MD, USA; www.pda.org/PDF/Meetings/05-visual_inspection.pdf).
Conveyor Technologies demonstrated how industrial automation and machine vision can improve product quality. At its booth, sales manager Jason Vann showed an automated PCB-conveyor system that incorporates off-the-shelf laser-marking and barcode-verification systems. Under control of a user interface written in Visual Basic, operators can set the parameters of the motion of the conveyor, the setting of the barcode reader, and the laser marker.
While many of those at PackExpo showed how vision systems were being used to improve the throughput and reliability of packaging systems, it was the Robots & Vision show that held the interest of system integrators tasked with building the equipment. For the developer who wants to see OEM products deployed in working systems, it would be beneficial for OEMs at shows such as Robots & Vision to share their booth space with system integrators.