Wilson's Websites
Wilson's Websites brings you the latest information on what's new on the web.
May 1st, 2005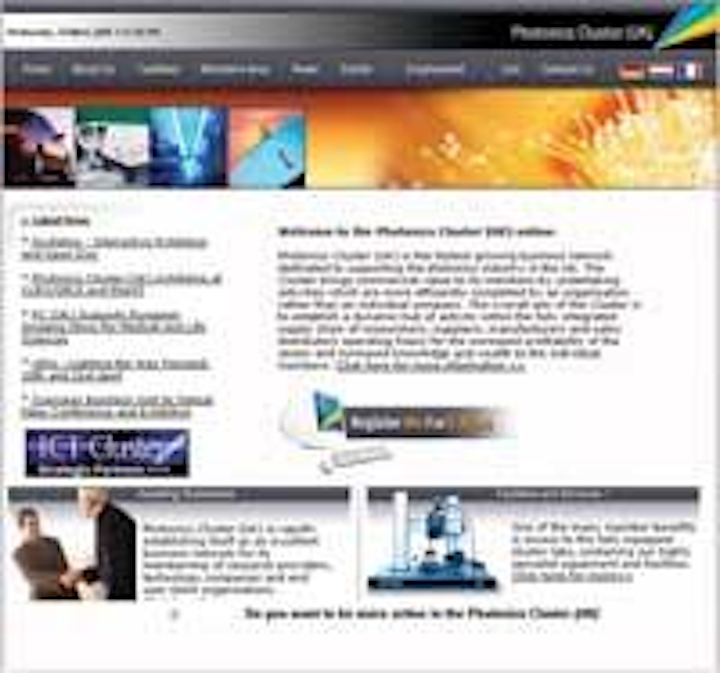 Wilson's Websites brings you the latest information on what's new on the web. To accomplish this, we provide links to tutorial information, hardware or software product developments, product database information, technical articles, associations, and on-line magazines. If you or your company would like to be considered for Wilson's Websites, please contact Andy Wilson at andyw@pennwell.com.
PowerPC processing
www.pixlock.de/exbem.html

Exbem is image-processing and analysis software designed for scientific, technical, and medical applications. It allows for the investigation of single images, as well as QuickTime movies or live video sequences.
Embedded networking
www.iosoft.co.uk

Developers of embedded networking systems should look at the IOSoft site for a range of products that include TCP/IP stacks and Internet appliance web servers and networking software for PIC microdevices.
Birds of a feather
www.photonicscluster-uk.org

For its clients, Photonics Cluster (UK) secures corporate finance and research funding and provides access to in-house research facilities for 3-D scanning, surface measurement, high-speed photography, and automated fiber alignment.
In the loop
www.looptechnology.com

Loop Technology provides development and integration services for automated processes involving motion control and machine-vision systems.
Take a picture
www.citiusimaging.com

Citius Imaging's first product, the C10 high-speed camera, can image more than 10,000 frames/s and transfer data via a USB connector to a host computer.
Focus on imaging
www.imagingfp.org.uk

The UK Imaging Faraday Partnership is designed to bring research, products, and processes to commercial markets, with special emphasis on the application of electronic imaging systems.
Vision expertise
www.rdgguys.com

Print inspection, barcode reading, glass inspection, robotic guidance, assembly, and package inspection are just a few applications that have been tackled by the Rack Design Group.
Quadrupole convolution
www.magma.ca/~davises/Vision/Convolution.html

Check out Ron Davis's web site on linearity detection by quadrupole convolution to discover ways in which human vision works and how machine vision could be improved.
Optical connections
www.stridedigital.com

Stride Digital Systems latest Foxy fiberoptic extender allows Camera Link connections to span distances beyond the typical limit of 10 m. Using one duplex LC-style fiberoptic cable, the transmitter and receiver modules can be separated by hundreds of meters.
X-ray specs
www.3dx-ray.com

3DX-ray provides x-ray tools, equipment, and experience for companies wishing to deploy to x-ray imaging in security and industrial inspection applications.
Semiconductor inspection
www.borealvision.ca

Check out the site of Boreal Vision Solutions for a low-angle ringlight especially suited to semiconductor applications.
Vision sensation
www.lensation.de

Lensation Web site features smart-vision products including a high-speed 3-D smart camera capable of 50,000 profiles/s and a smart-camera-based glue pattern-inspection system.
Help with design
www.yec.york.ac.uk

The University of York Electronics Centre offers an electronics design service. Past projects have included food inspection, CCD camera-system design, package inspection, and barcode reading.
Made of iron
www.RealTimeIron.com

In many machine-vision systems, it may be necessary simply to monitor industrial processes. Real Time Iron's camera-based Ethernet systems can perform multiple image capture, Ethernet distribution, and storage of digital video data.
Robot guidance
www.sensorcontrol.com

Sensor Control has installed more than 1500 vision systems for applications in depalletizing, robot guidance, measurement and gauging, and OCV.
Industrial automation
www.rts-group.com

RTS automation systems and robotics systems have been developed for the food industry and military and aerospace applications.
Smart cameras
www.diaplous.com

Diaplous is developing a line of smart cameras, the DMV family. The first product is the DMV01, a smart camera featuring a 1.3 M-pixel color CMOS sensor and a 130-MHz RISC processor.
Solving applications
raynoradams.com/

On the Raynor Adams and Associates site, you can see machine-vision systems that have been developed for package inspection and vision-based robotics.
Machine vision
wente-thiedig.de/en-index.htm

German-based Wente/Thiedig uses off-the-shelf optics, lighting, camera, and image-processing technology to build industrial machine-vision systems.
Parts handling
www.globalautomation.com

In the USA, Global Automation represents visicontrol (Weingarten, Germany), a company that offers machine-vision systems for testing, sorting, and parts handling.
Reconfigurable imaging
www.seldes.com

Founded in 2000 by Christian Visée, Seldes designs PCI-based reconfigurable frame grabbers and accelerator boards capable of 30 GOPs.
Front ends
www.exar.com

In the Video and Imaging section of Exar's site, you can find a number of single-chip analog front ends that can be used in video, still, and document imaging applications.
Scientific applications
www.sensovation.com

Sensovation's SamBa cameras are rapid multichannel detection systems for applications in spectroscopy and low-light imaging.
Machine-vision redux
www.falcon-vision.com

Falcon-Vision has developed its QualiLine series of machine-vision products for in-line inspection of parts in production-line applications.
Broadcast compatible
www.telecast-fiber.com

Although developed primarily for broadcast applications, Telecast's point-of-view fiberoptic video/audio/data transceiver modules can control either analog or HD robotic cameras.
Big in Japan
neasia.nikkeibp.com/index.shtml

Interested in what's happening in Asia? Check out Nikkei Electronics Asia on-line for the latest news, products, analysis, and market data.
VLSI for vehicles
www.mepcore.com

On the Toshiba Media Embedded Processor site, there's a description of Visconti, a MEP SOC that processes images for front obstacle detection and rear/side observation in automotive applications.