Snapshots
Video system finds packaging problems; Paper inspection system catches defects; Bionic eye could aid disabled and MORE.
May 1st, 2005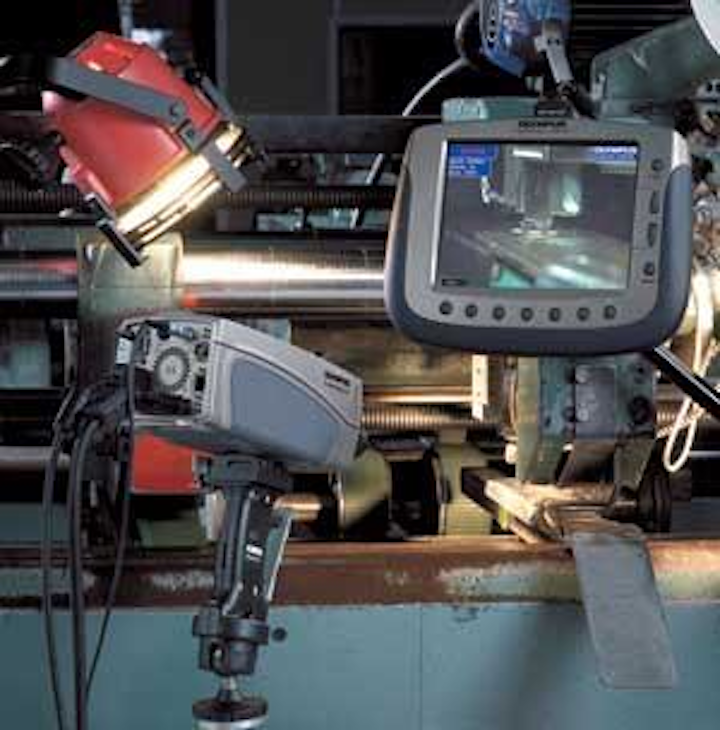 Video system finds packaging problems
High-speed assembly of cardboard packaging is subject to numerous problems difficult to diagnose. Turner Packaging (West Horndon, UK; www.turnerpack.co.uk), which produces custom transit packaging for manufacturers, had a costly and time-consuming problem with a cardboard-stapling machine. Managing director Geoffrey Carter says, "Finally we set up an Olympus i-SPEED camera and triggered it to capture the point in the machine cycle at which the fault was occurring. Playing the video in slow motion pinpointed the problem-insufficient tension on the staplehead-return mechanism resulted in misalignment and shearing." Turner resolved the problem by adding an extra return spring to the stapling mechanism, bringing output of the packaging system back to optimum levels.
The Olympus (Southend-on-Sea, UK; www.olympusindustrial.com) i-SPEED is a self-contained CMOS-based camera system capturing 800 × 600 pixels at 1000 frames/s. Turner used a version of the camera that incorporates an 8.4-in. LCD monitor and a remote-control pad. Olympus global-applications specialist Jonathan Hatton says it is possible to link multiple cameras, either to provide different angles of the same event or to provide a view of a high-speed event that may occur over an extended period of time. The cameras can be linked to a PC and operated through an Ethernet crossover cable or switch.
Paper inspection system catches defects
High-speed paper machines operate at faster than 4800 ft/min, yet operators must obtain clear, detailed images to enable classification of defects to reduce sheet breaks during paper coating. Two global paper suppliers have recently installed Advanced Surface Inspector Systems from ISRA Surface Vision (Norcross, GA, USA; www.isravision.com) for this purpose. The systems use 60-MHz linescan cameras and white LED illumination modules for red and brown spot detection.
By determining the types of defects within the paper, reels can be segregated for repackaging. In addition, specific defects that cause sheet breaks can be identified for removal. The machines also provide trend data for process improvement, roll data to optimize slitting, and rewind control for increased throughput. The classification of defects, when combined with the company's Rewind Manager System, enables automatic control of the reprocessing reeler, stopping it where there are preselected defects.
Bionic eye could aid disabled
Physicists and eye doctors at Stanford University (Palo Alto, CA, USA; www.stanford.edu) have teamed to design a "bionic eye" in the form of an optoelectronic retinal prosthesis system that can stimulate the retina with resolution corresponding to a visual acuity of 20/80. Researchers hope to bring artificial vision to those who are blind because of age-related macular degeneration and are testing their system in rats. The project is funded in part by the US Air Force and laser eye-care company VISX (Santa Clara, CA, USA; www.visx.com), which licensed the technology from Stanford.
Researchers plan to stimulate the layer underneath the dead retinal photoreceptors using a 3-mm2 chip covered with pillars; one side of each pillar is a light-sensing pixel and the other a cell-stimulating electrode. A pixel density of 2500/mm2 corresponds to 20/80 vision. A video camera sends images to a processor that sends a wireless signal to an IR LED-LCD screen mounted on goggles. The goggles reflect the IR image onto the retinal chip.
Aluminum car bodies benefit from vision
Increasingly, automobiles are being manufactured from aluminum rather than steel, requiring automakers to adjust their manufacturing processes. For its next XJ model, Jaguar (Coventry, UK; www.jaguar.com) needed to install a measurement system to develop and manage the new aluminum-body manufacturing process at its Castle Bromwich production facility in Birmingham. To meet the challenge, Jaguar purchased an AutoGauge System from Perceptron (Plymouth, MI, USA; www.perceptron.com) to measure more than 75 critical build points on every vehicle to ensure product quality and refine the manufacturing process.
The AutoGage system consists of an industrial PC, which acts as a station controller located inside an environmentally controlled enclosure, and multiple laser triangulation sensors mounted on both stationary structures and industrial robots. Each sensor contains a laser, CCD camera, and on-board processor. The software on the station controller configures the sensors for both measurement and reporting and analyzing measurement data collected in the PC database. The company's Intelligent Process Network platform provides local or remote access to the controller using a Web browser.
CMOS cells target sensor market
1st Silicon (Kuching, Malaysia; www.1stsilicon.com) and UniqueICs (Moscow, Russia; www.uniqueics.com) will produce color CMOS photoreceiver cells using 1st Silicon's 0.25-µm standard CMOS mixed-signal process. The technology allows sensors to receive three colors from one pixel using color separation on internal energy barriers. This technique does not use organic color filters or microlenses and allows matrix sensor structures of up to 4 Mpixels to be fabricated.
UniqueICs is offering sample production of 1.3-Mpixel sensors. 1st Silicon plans to collaborate with UniqueICs to migrate the color photoreceivers to its 0.18-µm technology for production of 4- to 10-Mpixel photoreceivers.