4-D imaging and real-time motion redefine ultrasound technology
A breakthrough ultrasound system, the Voluson 730, from GE Medical Systems is said to display clinical four-dimensional (4-D) images in real-time motion, allowing physicians and patients a new perspective inside the human body.
Jun 1st, 2002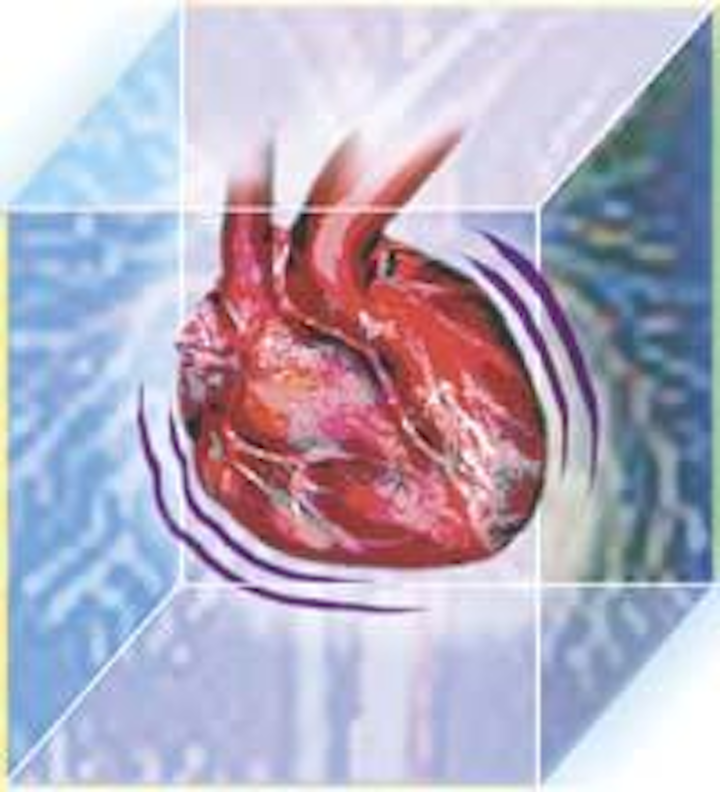 George Kotelly Editor in Chief georgek@pennwell.com
A breakthrough ultrasound system, the Voluson 730, from GE Medical Systems (Milwaukee, WI; www.gemedicalsystems.com) is said to display clinical four-dimensional (4-D) images in real-time motion, allowing physicians and patients a new perspective inside the human body. This ultrasound technology adds the fourth dimension of time to the medical imaging world. By obtaining 3-D images in real time, up to 16 volumes per second, this technology goes beyond the boundaries of traditional ultrasound. In real-time 4-D mode, the ultrasound system continuously scans the region of interest in three dimensions and simultaneously visualizes three orthogonal planes in real time. This method opens up a variety of new medical-evaluation opportunities to physicians in both diagnosis and therapy planning, as well as in ultrasound-guided minimally invasive procedures such as biopsies and fetal rendering. The breakthrough ultrasound system produces higher-quality ultrasound images of the human anatomy for physicians, sonographers, and patients than previously possible.
The Voluson 730 uses advanced signal processing for high-resolution 2-D, volumetric 3-D, and real-time 4-D imaging. Image quality is enhanced by tissue harmonic imaging; spectral, power and color Doppler imaging; volume contrast imaging; and advanced compound resolution imaging.

In addition, this 4-D ultrasound system provides a beamformer that processes four times more data than conventional systems. This approach increases the dynamic range of the system and contributes to higher-detail and quality images. Unlike conventional ultrasound systems, the Voluson 730 accumulates 3-D cubes or voxels of images as opposed to 2-D pixels. This method enables physicians to visualize the transverse, longitudinal, and horizontal image planes simultaneously. Because no external transducer movement is needed to obtain 3-D volume data, the imaging results are uniform and reproducible, and can be used to make volumetric measurements.
Volume rendering is the process of capturing ultrasound image information and compiling it into a three-dimensional image. It allows doctors to visualize internal anatomy in every direction. Displaying the entire volume of an object that is being examined makes it possible to analyze the human tissue of concern. The 4-D method allows doctors and sonographers to analyze fetal, organ, and tissue motion and perform examimations previously unavailable.
In contrast to 3-D imaging diagnostic processes, the 4-D system allows doctors to visualize internal anatomy moving in real time. For example, the movement patterns of fetuses allows conclusions to be drawn about their development. They also increase the accuracy in ultrasound-guided biopsies thanks to the visualization of needle movements in real time in all three planes. Therefore, physicians and sonographers can detect or rule out a number of issues, from vascular anomalies and genetic syndromes.
Other medical-imaging applications include real-time 4-D interventional imaging that facilitates biopsies with visualization in all directions. Volume contrast imaging in 4-D enhances contrast resolution while the transducer automatically scans multiple adjacent slices. Fetal 3-D rendering and fetal vasculature provide improved depiction of anatomic anomalies and lesion and vascular structure visualizations. Compound resolution imaging correlates three to nine beams to form a single image line.
Alliances accelerate
PPT Vision Inc. (Eden Prairie, MN; www.pptvision.com) and Electroglas Inc. (San Jose, CA; www.electroglas.com) have formed a partnership to develop high-precision, high-speed 3-D bump-wafer inspection systems for the semiconductor industry. PPT Vision will design and manufacture a custom SpeedScan 3-D sensor, incorporating the company's patented scanning moiré interferometry technology, for integration and commercial deployment into Electroglas' QuickSilver 2- and 3-D wafer-inspection systems.
Cognex Corp. (Natick, MA; www.cognex.com) has entered into a $1.3 million OEM agreement with Alphasem AG (Berg/TG, Switzerland; www.alphasem.com), a manufacturer of die-bonding and die-sorting equipment for the semiconductor-assembly industry, to supply Cognex MVS 8100 machine-vision systems for die inspection.
Viisage Technology Inc. (Littleton, MA; www.viisage.com) has formed a strategic alliance with Hummingbird Defense Systems Inc. (HDSI; Phoenix, AZ; www.hbird.net) to integrate Viisage face-recognition technology with HDSI Pecos command and control software environment to form the Viisage biometric command and control platform. This platform can control an array of security devices throughout a large facility.
Technology trends
Visionics Corp. (Minnetonka, MN; www.visionics.com), supported by Motorola Inc. and Wirehound LLC, has demonstrated FaceIt Argus facial-recognition system capabilities on JAVA-technology-enabled phones for law-enforcement agencies. This system finds faces in the field of view and searches against a face-matching database. Upon a face match, a wireless image is delivered in color to the phones.
TransChip Inc. (Bothell, WA; www.transchip.com) has unveiled its miniature camera-chip technology for multimedia devices that can capture, process, and deliver single images and streaming video over cellular networks.
Peco Controls (Fremont, CA; www.pecocontrols.com) has unveiled its Scan-trac x-ray system for on-line inspections of pharmaceutical and consumer products. Five system configurations are targeted at specific packaging applications such as finding glass, foil, metals, plastics, and pills, including single-tablet inspection of 100,000 tablets per hour.
Siemens Corporate Research Inc. (Princeton, NJ; www.scr.siemens.com) has demonstrated its augmented reality image-guidance technology, or in situ visualization, for surgeons that use a head-mounted display (HMD) with three miniature video cameras. Two cameras capture a stereoscopic view of the surgical site. The third camera is used for viewpoint tracking in combination with optical markers framing the surgical site. A computer superimposes 3-D images taken from the patient's data onto the video view for display by the surgeon's HMD.
MechVisual Inc. (Park City, UT; www.mechvisual.com), a provider of 3-D robotic vision guidance systems, has released its MechVisual software that delivers 3-D positioning information to robot systems without the need for calibration, setup, or maintenance. The guidance systems use software-directed ceiling-mounted lasers and cameras to identify the object for robot operation and variable height and position of the object's target destination.
ChipWrights Inc. (Newton, MA; www.chipwrights.com) has unveiled its CW4011 32-bit, fixed-point visual-signal processor for image and video processing. This ViSP processor includes a vector array of pipelined DSP units that support 32 multiply-accumulates/cycle, 4000 MIPS, and Windows- and Linux-based software platforms.
Adept Technology Inc. (San Jose, CA; www.adept.com) has released Adept HexSight 3.1 vision software. The updated version includes a geometric locator tool and supports optical character recognition, data matrix and barcode readings, as well as IEEE 1394 (FireWire) cameras.
DRS Infrared Technologies (Dallas, TX; www.drs.com) has received the 2002 Herschel Award for its vertically integrated photodiode and high-density vertically integrated photodiode infrared detector technologies at the annual meeting of the Detector Specialty Group of the Military Sensing Symposia. These two technologies have led to the development of large, staring, focal-plane arrays and two-color and avalanche photodiode infrared platforms for the emerging needs of future government missile warning and defense systems. The Herschel Award is presented annually by members of the infrared scientific and user community to the company that promotes the development and application of both radar and electro-optic sensor technologies, primarily for military applications.
Management moves
Messe Stuttgart International (Stuttgart, Germany; www.messe-stuttgart.de) has changed the dates of VISION 2002, the 15th International Trade Fair for Machine Vision and Identification Technologies. The trade fair will now be held at the Stuttgart trade fair center from 12 to 14 November 2002.
PennWell Corp. has named Michael Wolf publisher of Lightwave Europe magazine (London, UK; www.lightwave-europe.com). He was most recently the international sales director-technology for McGraw-Hill's Business Week magazine.
Edmund Industrial Optics (Barrington, NJ; www.edmundoptics.com), a supplier of optics and optical components, has hired Joe Delfino as a sales representative for the company's OEM customer base in New England and part of the Midwest.
Imagis Technologies Inc. (Vancouver, BC, Canada; www.imagistechnologies.com), a developer of facial-recognition software platforms, has appointed Murray Jamieson vice president of product development and services and Earl van As director of marketing. Jamieson was previously manger of wireless information business at Telus Communications; van As was recently director of marketing for Multiactive Software Inc.
Planar Systems Inc. (Beaverton, OR; www.planar.com, a supplier of electronic information display systems, has completed its acquisition of Dome Imaging Systems (Waltham, MA), a supplier of image-intensive health-care displays, for $61 million.
Canesta Inc. (San Jose, CA; www.canesta.com), a provider of electronic perception technology, has named Joep van Beurden senior vice president of sales and marketing. He was recently managing director and vice president of business unity connectivity at Philips Components.
AMI Semiconductor Inc. (Pocatello, ID; www.amis.com), a supplier of mixed-signal ASIC products for the automotive, industrial, medical, and telecom markets, has agreed to purchase from STMicroelectronics (Geneva, Switzerland; www.st.com) the recently acquired mixed-signal ASIC business activities of Alcatel Microelectronics.
Radstone Technology Corp. (Woodcliff Lake, NJ; www.radstone.com), a supplier of embedded computer technology, has appointed Roy Keeler as national sales manager. He was recently director of sales at Dy 4 Systems.
Mercury Computer Systems Inc. (Chelmsford, MA; www.mc.com), a producer of digital-signal and image-processing systems, has acquired Myriad Logic Inc. (Silver Spring, MD), a provider of data-recording and serial and parallel input/output applications, for $7.5 million.
Illumination Technologies Inc. (E. Syracuse, NY; www.illuminationtech.com) has named Darryl Thomas operations and sales support manager.
Panasonic System Sales Co. (Secaucus, NJ; www.cctv.panasonic.com) has promoted Frank De Fina to president of the newly created Panasonic Digital Communications & Security Co. The new company will market video security and surveillance systems products, industrial and medical imaging products, and-iris recognition systems, among others.
VJ Electronix (Bohemia, NY; www.vjt.com), a supplier of x-ray inspection systems and services for the semiconductor industry, has opened a new service and support center in Manteca, CA.
Intel Corp. (Santa Clara, CA; www.intel.com) has resumed construction of its Fab 24 manufacturing facility in Leixlip, County Kildare, Ireland. Expected to be operational in the first half of 2004, the $2 billion facility will produce advanced semiconductor components on 300-mm (12-in.-diameter) wafers and initially use 90-nm process technology.
Market vision
According to the Semiconductor Industry Association (SIA; San Jose, CA: www.sia-online.org), worldwide sales of semiconductors increased to $10.8 billion in March 2002, a rise of 7% over February 2002's $10 billion. Compared with March 2001's sales of $14.4 billion, however, March 2002 sales were down approximately 25%. The SIA predicts that semiconductor industry sales will total $150 billion in 2002.
Semiconductor Equipment and Materials International (SEMI; San Jose, CA; www.semi.org) reports that the March 2002 book-to-bill ratio of worldwide semiconductor manufacturing equipment sales climbed above 1.0 to 1.04 for the first time in 16 months. This ratio means that manufacturers of semiconductor equipment received $104 of new orders for every $100 of orders shipped. March 2002's three-month average of worldwide bookings of $839 million was 14% above the revised February 2002 level of $737 million, but 30% below the $1.2 billion in orders of March 2001.
IPC-Association Connecting Electronics Industries (Northbrook, IL; www.ips.org) reports that the US printed-circuit-board (PCB) industry book-to-bill ratio for March 2002 was 0.98. Sales billed (shipped) decreased 33.6% from March 2001, and orders booked decreased 14.8% from March 2001. The IPC PCB shipment index (based on 100.0 in base year 1992) in March 2002 increased 12.5% from 134.8 in February.
---
Contracts committed
Visionics Corp. (Minnetonka, MN; www.visionics.com) has received orders worth $1.35 million for 31 TenPrinter 1133S live-scan fingerprint systems from the US Immigration and Naturalization Service Office of Inspections. These systems capture, print, and transmit fingerprint images electronically for search against the FBI's database. The company also has received orders worth $650,000 for 21 FingerPrinter CMS live-scan systems from the US Marine Corps and $285,000 for a live-scan system to be installed in Lambert International Airport (St. Louis, MO).
Kopin Corp. (Taunton, MA; www.kopin.com) is shipping its CyberDisplay 640M imaging systems to Diversified Optical Products Inc. (Salem, NH; www.diop.com) for incorporation into two government products: the HH750 hand-held thermal imager for nighttime surveillance and the TADS 850 thermal augmented day sight for enhanced target recognition.
Intercon 1 Division of Nortech Systems Inc. (Baxter, MN; www.nortechsys.com) is delivering proprietary InterFlex Camera Link cable assemblies to Visionics Corp. (Minnetonka, MN; www.visionics.com) for use in Visionics' FingerPrinter CMS fingerprint capture and transmission systems.
Toshiba American Medical Systems Inc. (Tustin, CA; www.tams.com) has signed a three-year agreement with Magnet Inc. (Mechanicsburg, PA; www.magnetgroup.com) to supply computed tomography, x-ray, magnetic resonance imaging, nuclear medicine, ultrasound, and vascular x-ray systems. Magnet is a not-for-profit group purchasing organization comprising 1200 health-care members in 20 states.