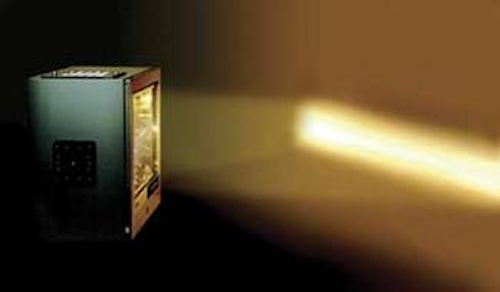 Light shines brightly
Opsis LightRanger light source uses high-pressure sodium-vapor lamp technology to provide 100,000 lux at 4 ft with a uniform 2-in. illumination line across an entire web. Due to the wide light band produced, the light source neutralizes the effect of web bounce. Optical feedback from the sodium lamp to the 60-kHz lamp power supply stabilizes incident light throughout the estimated 40,000-h lamp life. Wintriss Engineering, San Diego, CA; www.weco.com.
enter 100 at www.onlinecenter.to/vsd
Module combines functions
A software-programmable analog front end capable of processing analog signals in real time, the Heron-IO4 module combines a 14-bit A/D input, supporting up to 65 Msamples/s; two 14-bit D/A outputs, each supporting up to 125 Msamples/s; and an on-board Xilinx Virtex-II FPGA. The FPGA processes data in real time with software-programmable functions such as digital filters, decimators, FFTs, and downconversion algorithms. Data can be output via the two 14-bit D/A channels or forwarded via a FIFO interface to Texas Instruments TMS320C6000 DSP processors or other I/O modules within a Heron DSP System. Traquair Data Systems, Ithaca, NY; www.traquair.com.
enter 102 at www.onlinecenter.to/vsd
Boards run on PCI
ImPact line of 3U Compact PCI boards includes the IMP1A SBC and its companion PMC carrier card, the IMPCC1. Both support PMC boards on a CompactPCI backplane of up to eight slots, featuring single or multiprocessor solutions. The IMP1A features a PowerPC 7410 processor, one or two Ethernet ports, two high-speed sync/async serial ports, and 12 bits of discrete digital I/O. The ImPact line comes in five air and conduction-cooled ruggedization levels. Radstone Technology, Woodcliff Lake, NJ; www.radstone.com.
enter 103 at www.onlinecenter.to/vsd
Displays are sunlight readable
Sunlight-readable MPD displays feature brightness to 1750 nits, screens from 12- to 17-in. diagonal, cast-aluminum NEMA 4 sealed front panels, and optional resistive or capacitive touchscreens. The front panels protect against typical industrial and laboratory contaminants such as water, oil, and dirt. Sealed front-panel controls allow picture adjustments. All models can be mounted on display swivel arms or brackets via rear-panel 75- and 100-mm VESA-standard mounting holes. CyberResearch, Branford, CT; www.cyberresearch.com.
enter 101 at www.onlinecenter.to/vsd
Cameras target standards EDC-2000S, EDC-1000S, and EDC-104S CCD computer cameras feature 1000 X 1000-pixel resolution and 8- or 10-bit (EDC-2000S) precision. They use the 2/3-in. format, frame-transfer TC281 CCDs from Texas Instruments. All cameras include camera head, interface card, cable, and software for camera control and image acquisition. A Windows NT application program and a software-development kit are available for the PCI bus model (EDC-2000S). Electrim Corp., Princeton, NJ; electrim.com.enter 104 at www.onlinecenter.to/vsd
ASIC interfaces PCI-DSPs A single chip that interfaces the Analog Devices ADSP-TS101S DSP with the 64-bit, 66-MHz PCI bus, the SFIN-101 SharcFIN allows designers to integrate TigerSHARC DSPs onto PCI boards and eliminate FPGAs when developing standard interfaces with the DSPs. It couples ADSP-TS101S DSPs to other interfaces, including I2C serial ports, flash memory, and a general-purpose expansion bus. The SharcFIN also provides a set of DMA functions and interrupt options to support data flow with minimum processor overhead. BittWare Inc., Concord, NH; www.bittware.com.enter 105 at www.onlinecenter.to/vsd
CPU board serves PCI Aimed at the medical-systems and industrial-automation industries, the Eurocom 238 CompactPCI CPU card is a 6U, one-slot form ..factor CompactPCI board. It supports the Intel Socket 370 Pentium III and Celeron CPU families. Peripherals include an on-board 2.5-in. hard drive, 128 Mbytes SDRAM, Ethernet 10/100-Mbit/s card, serial and parallel ports, and PMC slots. American Eltec, Las Vegas, NV; www.eltec.com.enter 106 at www.onlinecenter.to/vsd
IR camera is portable Designed for predictive and preventive maintenance, quality control, and new product-development applications, the digiCamIR, Model 100P uncooled infrared camera uses a 120-element linear-array thermopile detector, which, when scanned, creates a two-dimensional image. Sensitive to thermal radiation in the 8- to 12-µm infrared region, it delivers accuracies within 2%, or 3°C of reading, whichever is higher, for temperature-measurement applications and provides a 0.1°C resolution for imaging applications. With a dynamic range of -10°C to +350°C, the digiCamIR enables temperature measurements of target differentials varying by tenths of a degree to be read on a built-in 4.0-in., high-luminance, color LCD display. Ircon, Niles, IL; www.ircon.com.enter 107 at www.onlinecenter.to/vsd
Reader checks label quality LVS-3200 reader inspects barcodes and documents. Inspection of barcode labels includes checking for contrast, blemishes, and bar height (truncation). A quality number is assigned to each label read. The reader continually checks for mismatches or sequential label validation. Checked barcode data are archived. Reader can inspect 60 labels per second, in any orientation, with any bar height. Label Vision Systems, Peachtree City, GA; www.lvs-inc.com.enter 108 at www.onlinecenter.to/vsd
Cameras are IP addressable When used in an Ethernet configuration, the WV-NM100 network pan/tilt camera and the WV-NP472 network camera can be accessed by their IP address from a standard Web browser. The WV-NM100 features MPEG4 and JPEG compression. MPEG4 provides 30 frames/s at QCIF and 7.5 frames/s at CIF under limited bandwidth conditions. JPEG provides 640 X 480-pixel-resolution still images (480 TV lines). The WV-NM100 features a fixed lens with eight preset pan/tilt positions. Additional features include a 1/4-in. CCD with low-light operation (10 lux at 30 frames/s). The WV-NP472 features JPEG compression to still images with a refresh rate that can be set at four selectable levels. Built-in motion detection with alarm output provides notification via e-mail to four different users. Panasonic Security Systems, Secaucus, NJ; www.panasonic.com/cctv.enter 109 at www.onlinecenter.to/vsd
Camera runs at room temperature Employing a 640 X 480-pixel InGaAs focal-plane array, a short-wavelength infrared imaging system operates at room temperature for laser profiling, emission microscopy, and imaging spectroscopy applications. The 4 X 4 X 6-in. camera uses a sensor that detects short-wavelength (0.9 to 1.7 µm) energy. It can be used with National Instruments LabView software and features a snapshot mode exposure with multiple computer-controlled integration times. Sensors Unlimited, Princeton, NJ; www.sensorsinc.com.enter 110 at www.onlinecenter.to/vsd
IR camera targets tests Able to find and document faults in electronic components, assemblies, and mechanical systems, the ThermaCam E2 infrared camera includes a maintenance-free, uncooled microbolometer IR detector that produces thermal images that can be viewed on the camera's 2.5-in. color LCD. Imaging at TV rates (60 Hz) allows moving targets to be scanned and temperature changes recorded in real time. Built-in Laser LocatIR helps to associate displayed IR images with the exact physical location on the target. Images captured in the field can be easily transferred to a computer via USB and serial port connections. FLIR Systems, Portland, OR; www.flirthermography.com.enter 111 at www.onlinecenter.to/vsd
VME board packs processors MPC7410 6U VME board comes with four MPC7410 PowerPC processors that deliver up to 16 GFLOPs of floating-point signal processing. Each of the four nodes includes a Galileo GT-64260 node controller for connecting the PowerPC to local memory, application-specific I/O modules, and sharing global resources. Three types of local memory resources are provided for each node: a fast 2-Mbyte level-2 cache, a 32-Mbyte AM, and a nonvolatile 4-Mbyte Flash memory. Used in conjunction with Wind River's Tornado II, the company's VxWorks provides an API for accessing the processor board's memory and communication resources. Pentek Inc., Upper Saddle River, NJ; www.pentek.com.enter 112 at www.onlinecenter.to/vsdlluminator runs cool Model 21 AC fiberoptic illuminator suits microscopy and machine-vision applications with a 150-W halogen illuminator that supplies cool light when configured with standard fiberoptic components and accessories. It features a 0% to 100% intensity control that, when set at maximum output, provides a 3200K lamp color temperature using a standard EKE lamp. The V-port design with a three-point contact provides a nonslip coupling to industry-standard fiberoptic components. StockerYale, Salem, NH; www.stockeryale.com.enter 113 at www.onlinecenter.to/vsd
Board supports multiple monitors Argus/PMC dual-channel PCI mezzanine-card graphics board simultaneously supports multiple monitors and dual digital/analog video input channels. It comes with a USB 2.0 hub. The graphics controller supports independent 2-D, 3-D, OpenGL, and DirectX-compatible displays in Solaris, Linux, Windows, VxWorks, and LynxOS environments. Each dual-display channel is powered by a Borealis graphics accelerator and supports screen resolutions up to 1920 ¥ 1200 pixels with as many as 16.7 million colors. Each processor is supported with 16 Mbytes of high-speed SGRAM display memory for storage of image and off-screen data such as texture maps, Z-buffer, and backing store. Peritek, Oakland, CA; www.peritek.com.enter 114 at www.onlinecenter.to/vsd