Business Vision
Late last year, approximately 400 surgeons attending the Third Annual International Workshop on Advanced Digestive Oncology in Rome, Italy, viewed the world's first integration of robotics, vision, imaging, networking, and computer technologies for a minimally invasive laparoscopic surgical revision.
Feb 1st, 2002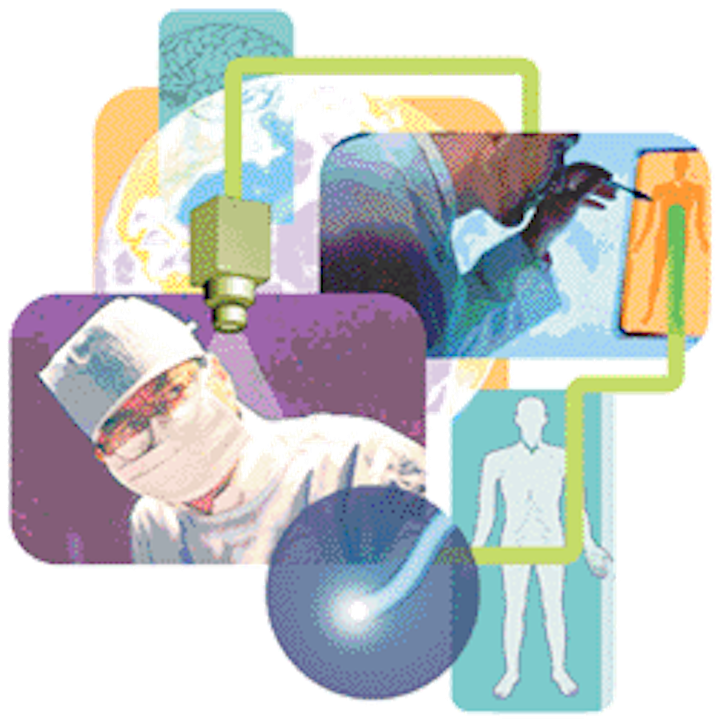 George Kotelly,Editor in Chief
georgek@pennwell.com
Vision-guided robotic imaging achieves medical breakthrough
Late last year, approximately 400 surgeons attending the Third Annual International Workshop on Advanced Digestive Oncology in Rome, Italy, viewed the world's first integration of robotics, vision, imaging, networking, and computer technologies for a minimally invasive laparoscopic surgical revision. Prof. Cristiano G. S. Huscher, chief of surgery at Ospedialiero Complesso San Giovanni-Addolorate (Rome, Italy), performed the procedure while telecollaborating with Dr. Alberto Montori, chairman and professor of surgery at the University of Rome "La Sapienza." The surgery was successfully completed, and the patient is recovering without complications. Prof. Huscher says, "There are many beneficial uses for this technology, including the opportunity to train surgeons in new and complex minimally invasive surgical techniques."
Robert W. Duggan, chairman and chief executive officer of Computer Motion Inc. (Santa Barbara, CA; www.ComputerMotion.com), says, "The combination of advanced technologies and medical knowledge is making the proliferation of advanced surgical techniques more cost-effective every day." Used in the surgical revision were the company's US FDA-cleared products, such as the Zeus robotic surgical system for minimally invasive microsurgery, the Hermes control center that enables surgeons to voice-control a network of smart medical devices, the Aesop robotic endoscope positioner, and the Socrates robotic telecollaboration system that allows surgeons to collaborate using video and audio conferencing, share control of the endoscope camera, and video annotate on the surgical image in the operating room.
The Socrates system transmitted endoscopic and external video images from the operating room to an auditorium at the hospital where the workshop attendees watched the surgery. During the operation, Dr. Montori provided video annotation of the surgical images and moderated discussion among the attendees.
Representing the first FDA-cleared surgical robot to be registered in the newly created category of Robotic Telemedicine Devices, the Socrates system allows a surgeon, located at a remote sight, to interact with another surgeon located in an operating room down the hall, across the country, or around the world. With this system, the surgeon can converse with the operative surgeon as well as view video images generated by an overhead camera or an endoscope. Moreover, the remote surgeon can access status, share control of networked surgical devices, and converse with the operative surgeon.
The integration of advanced computer, vision/imaging, and robotic technologies for surgical systems is greatly enhancing surgeons' operating capabilities, improving and saving patients' lives, and reducing medical costs.
Market vision
Semico Research Corp. (Phoenix, AZ; www.semico.com) reports that the semiconductor industry is on the cusp of recovery to 20% growth in total semiconductor sales during 2002. By analyzing quarterly semiconductor sales during 2000 and 2001, the company finds that total semiconductor sales in the first month of each quarter increased from January 2000 to October 2000. Then, a decline started that lasted until July 2001. However, sales in October 2001 increased compared to July 2001 sales, indicating that a recovery has begun, according to the researcher.
Dataquest Inc., a unit of Gartner Inc. (Stamford, CT; www.gartner.com), expects that 50% of the leading software companies will become the subjects of merger, acquisition, and divestiture over the next three years. Most segments of the software industry will experience declines in 2001 and 2002, but the security software segment is projected to rise 12% in 2001, followed by an 18% growth in 2002, and a 16% increase in 2003. The worldwide infrastructure software license industry is forecast to decline 3% in 2001, rise 6% in 2002, and climb 8% in 2003.
Semiconductor Equipment and Materials International (SEMI; San Jose, CA; www.semi.org) reports that worldwide semiconductor manufacturing equipment shipments totaled $5.63 billion for the third quarter of 2001, a 55.6% decrease from the $12.98 billion posted for the same quarter in 2000. Shipments are down 20.2% from the second quarter of 2001. Worldwide equipment orders of $3.92 billion for the third quarter of 2001 represented a 75% drop from the same quarter of 2000.
Alliances accelerate
AuthenTec Inc. (Melbourne, FL; www.authentec.com) has partnered with Novell Inc. (Salt Lake City, UT; www.novell.com) to integrate AuthenTec's EntrePad fingerprint sensors with the Saflink Corp. (Bellevue, WA; www.saflink.com) SAFmodule 2.1 software to deliver a reliable and secure fingerprint biometrics-enabled platform for Novell's Access and Security systems
Indigo Systems Corp. (Santa Barbara, CA; www.indigosystems.com), a supplier of infrared cameras, and Autoliv ASP (Ogden, UT; www.visionics.com), a supplier of automobile safety systems, have agreed to participate in a strategic partnership to develop miniature infrared cameras that will extend a driver's night-vision capability as much as three times farther than present high beams allow. Night infrared views will be displayed on a transparent television-like screen that rises into position in front of the driver when activated.
Technology trends
Cognex Corp. (Natick, MA, www. cognex.com) has developed the CDC-100, claimed to be the world's smallest high-resolution (1280 x 1024-pixel) digital CMOS camera specifically aimed at machine-vision applications. This camera is said to be approximately half the size and weight of conventional machine-vision cameras. For high-speed applications, the company offers the CDC-50, 640 x 480-pixel resolution, digital camera that captures full-frame images at 60 frames/s with little or no pixel jitter.
Light Works (Toledo, OH; www.LW4U. com) has been granted a US patent for its telecentric lens invention. The reflective design of this gauging lens serves as the basis for the company's Wide Eye large aperture telecentric lens, as well as for other custom designs. Near achromatic performance, low distortion, and long working distances can be achieved by Wide Eye lenses and its variations.
nLine Corp. (Austin, TX; www.nline. com) has introduced its patented Fathom wafer-defect inspection tool. This tool uses direct-to-digital holography technology to find flaws within high-aspect-ratio wafer structures. This technology enables the digital recording of a hologram of the wafer surface using a CCD camera. The hologram image encodes information about the amplitude (into a monochrome image) and phase of light (into a topographic map) reflected from the wafer surface.
Data-Ray Corp. (Westminster, CO; www.data-ray.com) has unveiled what it claims is the first digital 20.1-in.-diagonal, 1-Mpixel, gray-scale, liquid-crystal flat-panel display (FPD). The result of a codevelopment venture between Data-Ray and Spectra Tech Inc. of Japan, primarily for medical-imaging applications, the Precision 1M FPD delivers 1280 x 1024-pixel resolution, 1554 visible gray-scale levels, 175 ft-L of luminance, a contrast ratio of 700:1, and a 170° viewing angle.
Stanford University Medical Center, Department of Radiology (Stanford, CA; www.med.stanford.edu) has successfully transferred radiological images from a GE Medical System's picture archiving and communications system (PACS) to a hand-held personal digital assistant (PDA) via the Clarinet Systems' (Milpitas, CA; www.clarinetsys.com) EthIP Star wireless infrared connectivity platform. This linkage allows images, overlays, and radiological reports stored in PACS to be transferred by wireless technology to PDAs running a Palm OS or a Pocket PC.
Lucent Technologies' Bell Labs (Murray Hill, NY; www.lucent.com) has fabricated an individually addressable transistor whose channel consists of just one molecule, a technique never before accomplished. This nanotransistor, which is made of a class of organic (carbon-based and containing hydrogen and sulfur) semiconductor material known as thiols, is only one-billionth of a meter (nanometer) in size. Three electrodes are attached to each transistor using a gold-based self-assembly technique that is relatively inexpensive and easy to do. Two nanotransistors have been combined to build a voltage inverter circuit.
Intel Corp. (Santa Clara, CA; www.intel.com) has developed a new terahertz transistor structure and materials that improve transistor speed, power efficiency, and heat reduction. One element of the novel depleted-substrate transistor is a CMOS device built in an ultrathin layer of silicon on top of an embedded layer of insulation. Another element is a high-k-gate dielectric layer that decreases gate leakage by more than 10,000 times compared to silicon dioxide.
JVC Professional Products Co. (Wayne, NY; www.jvc.com) has introduced the VR-510U digital video recorder that can record 720 x 480- or 360 x 240-pixel MPEG-2 compressed images. A built-in 80-Gbyte drive can record one frame per second for 1700 hours.
DVT Corp. (Norcross, GA; www.dvtsensors.com) has added Web-enabled diagnostics and application sharing, called Doc, to its line of SmartImage Sensors Ethernet-ready machine-vision systems. The Doc feature permits secure global collaboration among multiple participants to make changes or add information to any SmartImage Sensor inspection running on any participant's machine.
TeraRecon Inc. (San Mateo, CA; www.terarecon.com) has released VolumePro 1000, a real-time, 3-D volume-rendering medical-imaging software platform for imaging workstations, computed-tomography (CT), magnetic-resonance, positron-emission tomography, and ultrasound-imaging equipment. Key features include patented gradient lighting and ray-per-pixel ray-casting algorithms; up to 512 CT slices; 2 Gbytes of volume data; 32-bit data for multichannel rendering, image fusion, and data segmentation; and seamless integration of surface and voxel information.
Matrix Semiconductor Inc. (Santa Clara, CA; www.matrixsemi.com) has announced a low-cost, manufacturable technology for building semiconductor products in three dimensions using standard materials, equipments, and processes. It optimizes the use of a semiconductor wafer's area by building "up" as well as "out" for higher bit density. The first product is scheduled to be a 3-D memory chip with archival memory that can store information securely for decades. The technology has been awarded two US patents and has more than 60 patents pending.
Management moves
AuthenTec Inc. (Melbourne, FL; www.authentec.com) has promoted Dave Esto to vice president of business development and Jim Martin to director of European sales and has hired Bill Dennehy, CP Clare vice president of sales and corporate marketing, as vice president of worldwide sales.
3D Systems Corp. (Valencia, CA; www.3dsystems.com) has promoted senior vice president of worldwide marketing and sales Grant R. Flaharty to executive vice president of global business operations and chief financial officer E. James Selzer to senior vice president.
The Optical Society of America (OSA; Washington, DC; www.osa.org) has elected Peter Knight, head of the physics department at Imperial College (London, England), vice president in 2002, president elect in 2003, and president in 2004.
Semiconductor Industry Association (SIA; San Jose, CA; www.sia-online.org) has bestowed the industry's highest honor, the Robert N. Noyce Award, to Ray Stata, chairman and cofounder of Analog Devices Inc. (Norwood, MA; www.analog.com). This annual award recognizes individuals for their outstanding achievements and leadership in support of the US semiconductor industry.
Hand Held Products (HHP; Skaneateles Falls, NY; www.handheld.com) has filed legal action against the Lemelson Foundation, asserting that Lemelson has breached the 1989 License Agreement that HHP entered into with Lemelson to settle a 1988 patent-infringement lawsuit. The action, which is pending in the Northern District Court of New York, was filed in response to a series of lawsuits brought by Lemelson against several HHP customers, who were accused of infringing seven patents owned by Lemelson. HHP insists that all of its barcode systems and components are licensed under the 1989 license agreement.
Photon Vision Systems Inc. (Homer, NY; www.photon-vision.com) has opened its new $4.6 million corporate headquarters. Financed by venture-capital funding and state grants, the facility includes 11,500 sq ft of office space and a 1440-sq ft clean room. The company also appointed Michael Sullivan test engineer. He previously served as a senior test engineer at Motorola's Wireless Subscriber Systems Group.
Motion Analysis Corp. (Santa Rosa, CA; www.motionanalysis.com), a manufacturer of computer-based optical motion-capture systems, has named Jeff Thingvold vice president of application engineering and Napoleon Hambrick vice president of new media sales for North America, South America, and Japan.
Panasonic Security & Digital Imaging Co. (Secaucus, NY; www.panasonic. com), a supplier of CCD cameras, has promoted Jim Roselius national sales and marketing manager for the vision systems group/OEM. He retains his role as group manager of product development and engineering. The Panasonic Vision Systems Group/OEM has promoted Frank Foster to sales applications engineer and appointed Ray Edwards business development manager.
Omega Optical Inc. (Brattleboro, VT; www.omegafilters.com) has hired Barry O'Dwyer as general manager. He previously served as director of sales and engineering at Janos Technology Inc.
StockerYale Inc. (Salem, NH; www.stockeryale.com), a supplier of illumination products, has named Francis J. O'Brien executive vice president and chief financial officer. He was previously director of finance and business development for Analogic Corp.
eMagin Corp. (Hopewell Junction, NY; www.emagin.com), a supplier of organic light-emitting diode-on-silicon display technology, has promoted Webster Howard to chief technology officer.
DVT Corp. (Norcross, GA; www.dvtsensors.com) has appointed Gary Kosken director of business development-midwest. He recently held various engineering and management positions at PPT Vision.
Mercury Computer Systems (Chelmsford, MA; www.mc.com) has promoted systems engineer Mark F. Skalabrin to vice president and general manager, OEM solutions group.
CyberOptics Corp. (Minneapolis, MN; www.cyberoptics.com) has named Kathleen P. Iverson president and chief operating officer. She was previously vice president at Rosemount Inc.
Contracts committed
Imaging Automation (Bedford, NH; www.imagingauto.com) has been selected by Massport to deploy its BorderGuard document and identity verification system at multiple locations at Logan International Airport (Boston, MA). This system uses pattern- and facial-recognition technologies to check documents, such as passports and driver licenses, and passengers to create an electronic flight manifest.
Sanyo Electric Co. Ltd. Semiconductor Co. (www.semi.sanyo.co.jp) in Japan has purchased an IP750 Image Sensor Test System from Teradyne Inc., Japan Division, (www.teradyne.com) to test low-power CCD image-sensor devices. The test system uses a parallel-processing architecture and PC-based software processing for image data processing instead of dedicated hardware to measure four CCD or CMOS sensor devices simultaneously.
Cognex Corp. (Natick, MA, www.cognex.com), supplier of machine-vision systems, has sold a SmartView web-inspection system to Pacifica Papers Inc. (Vancouver, BC, Canada; www.ppc.ubc.ca), a North American paper producer, for installation at its paper mill in Powell River, BC, Canada. The system is being used to automatically inspect the production of soft calendered papers for a variety of defects. In another installation, Norske Skog, the world's second largest supplier of newsprint, has integrated two web-inspection SmartView systems at its Saugbrugs Mill (Halden, Norway).
FLIR Systems Inc. (Portland, OR; www.FLIR.com) has received contracts valued at more than $25 million for delivering Star-Q and Star Safire II multisensor airborne imaging systems, ThermoVision Sentry perimeter security systems, and MilCam XP and MilCam Recon hand-held reconnaissance and surveillance systems to the UK Ministry of Defense, the Royal Australian Air Force, and various other government agencies.
Philips Medical Systems (Palo Alto, CA; www.medical.philips.com) has installed an XMR 1.5T Intera I/T magnetic-resonance-imaging (MRI) system in the University of California, San Francisco Medical Center (xmr.ucsfmedicalcenter.org). This system is integrated with an Integris vascular angiography system in the same room at the center's radiology department. Diagnostic x-ray and MRI interactive-scanning images gained from both modalities can be viewed on ceiling-suspended displays
Quantum Magnetics Inc. (San Diego, CA; www.qm.com) has sold I-Portal-100 imaging detection systems worth $445,300 to the US Federal Aviation Administration and Milestone Technology Inc. These weapon detection systems display the precise locations of concealed guns and knives, among other threats, as colored dots superimposed on a digital image of each traveler passing through the systems' sensors.
Visionics Corp. (Jersey City, NJ; www.visionics.com) has received multiple orders worth $763,000 from the US Customs Service to deliver 20 FingerPrinter CMS live-scan fingerprint systems for installation at 16 major international airports.
Imaging Automation (Bedford, NH; www.imagingauto.com) has signed a $5-million contract with the Dominican Republic to furnish its BorderGuard document authentication and identity verification technology and create a National Center for Classified Information.
American Science and Engineering Inc. (Billerica, MA; www.as-e.com) has received an order for five BodySearch personnel x-ray inspection systems from the Federal Aviation Administration. These systems are expected to be installed in US airports for quickly and safely detecting metallic and organic materials such as drugs, plastic weapons, and illegal contraband.
Viisage Technology Inc. (Littleton, MA; www.viisage.com), along with LAU Technologies, is installing its patented FaceFinder real-time face-recognition system at an undisclosed major US airport. It is being used to verify identities of domestic and international travelers and in a variety of airport investigative and security applications. In another similar installation, Viisage has integrated its FaceFinder system with the Pelco Inc. (Edmond, OK; www.pelcoinc.com) PelcoMatch video surveillance system at the Fresno Yosemite International Airport (Fresno, CA).
Melles Griot (Rochester, NY; www.mellesgriot.com) is providing an automated, ribbon-fiber-pigtailing workstation system to a leading photonics component manufacturer, as part of a $500,000 contract. The system uses the company's Invaritar telecentric machine-vision optics in combination with optical distance-measuring software to prealign components.