New Products
Camera adds Camera Link, Vision sensor controls four cameras, LED spots light, X-ray system sits on benchtop, Fiberoptic camera link, Board cameras see color, MORE...
Aug 1st, 2002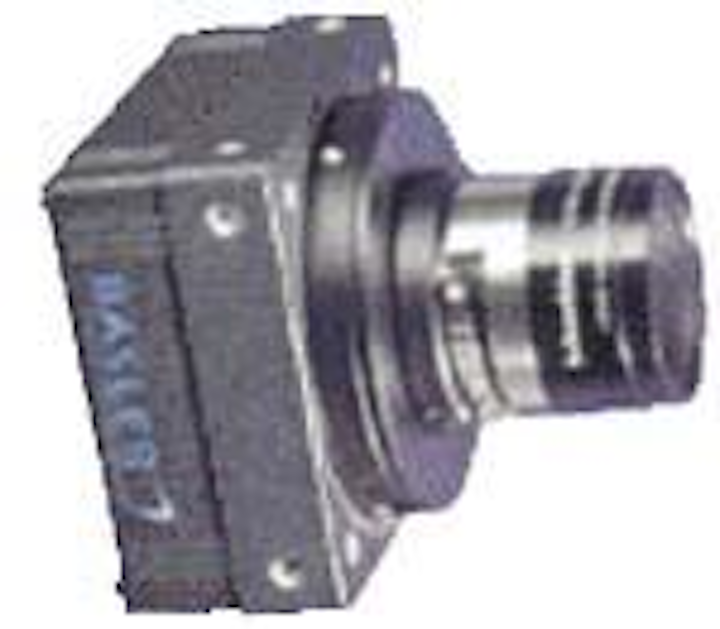 Camera adds Camera Link
Basler A102k is a monochrome, 1392 X 1040-pixel, progressive-scan CCD camera with a Camera Link interface. It provides 6.45 X 6.45-µm pixels, delivers 14.8 frames/s, and offers a C- or F-mount lens adapter and an internal 12-bit, analog-to-digital converter. Pixel clock runs at 28 MHz, and gain and offset are programmable via a serial link on the frame grabber. Key features include electronic exposure time control, antiblooming, selectable LVDS 8- or 10-bit output, a flash/strobe trigger output, binning, smear suppression, and test images. Basler Vision Technologies, Exton, PA 19341; (610) 280-0171.
Go to www.onlinecenter.to/vsd and enter 56
---
Vision sensor controls four cameras
F250 vision sensor comprises a controller unit, one to four F160 1/3-in. interline CCD double-speed cameras, lenses and lighting devices, cables, keypad console, and a 5.5-in. NTSC color LCD monitor. The camera provides 659 X 494-pixel resolution, eight electronic shutter speeds from 1/120 to 1/20,000 s, 1/60-s noninterlace frame mode, and 1/120-s interlace field mode. The controller can store 35 images; offers various filtering, operations, and screen-customizing functions; and comes with two 128-Mbyte memory card slots. Communications capabilities include Ethernet, RS-232C/422A, 21 inputs and 46 outputs, and four strobe interface channels. Sensor can image 6000 parts/min. Software incorporates edge-code positioning technology, Quest optical character recognition and verification, and defect fine-matching function. Omron Electronics LLC, Schaumburg, IL 60173; (800) 556-6766.
Go to www.onlinecenter.to/vsd and enter 57
---
LED spots light
White LED spotlight assembly contains a circuit board that removes ripples caused by 24-Vdc power supplies for a stable light output. Housing is made of a solid piece of anodized aluminum, sealed to withstand harsh environments, and measures 1.75 X 1.75 X 2.25 in. A 6-ft NEMA 4x quick-connect cable comes standard, and other lengths are available. Nebula Inc., Valparaiso, IN; (219) 531-5617.
Go to www.onlinecenter.to/vsd and enter 58
---
X-ray system sits on benchtop
Benchmate x-ray inspection system is a configurable, entry-level, x-ray inspection and failure-analysis tool that comes in a 25 X 17.3 X 21.7-in. cabinet that can be placed on a benchtop. It includes a 90-kV microfocus tube with a 6 X 6-in scanning area that weighs just more than 1 lb. The cabinet accepts plug-and-play add-in modules and options that deliver five axes of motion (x, y, z, rotation, and tilt), an image intensifier, high-contrast detector, and an image processor that runs under Windows NT/2000 with 8- or 16-bit gray-scale imaging. A variety of company image-processing tools are available. The system can analyze such board errors as missing solder balls, voids, and shorts. phoenix|x-ray Systems +Services Inc., Camarillo, CA 93012; (877) 749-9729.
Go to www.onlinecenter.to/vsd and enter 59
---
Fiberoptic camera link
LyteLink fiberoptic link multiplexes camera pixel data, sync signals, serial port, and generic user bits onto a single serial fiberoptic cable. It can extend camera cable lengths up to 1 km while reducing cable size. Data transfers run up to 1.5 Gbits/s. The link supports most digital camera interfaces using TTL, RS-422, and LVDS data formats. Connector interfaces are pin-to-pin compatible with most Matrox and Coreco frame grabbers. Link comes in compact commercial and industrial designs with optional IRIG-B time stamps. Factory programming accommodates a variety of custom cameras and instrument designs. Control Systems Research Inc., Crestview, FL 32536; (850) 689-3284.
Go to www.onlinecenter.to/vsd and enter 60
---
Board cameras see color
Panther 20D479 NTSC and 21D479 PAL color video board cameras measure 42 sq mm. They deliver 490 TV lines of resolution, offer horizontal and vertical lock, and output SVHS and YUV in either digital or analog modes; RGB is available in analog output mode. Controlled features include gain, gamma, mirror mode, and vertical and horizontal contour enhancements. White balance function can optimize imaging under low-lighting conditions. Other features include positive-negative mode with high contrast for true black-on-white or true white-on-black backgrounds, two-color modes, standard interface and non-interlace, and 75 Hz in interlace mode. An open-architecture CPLD permits application-specific customizing. Videology Imaging Solutions Inc., Greenville, RI 02828; (401) 949-5332.
Go to www.onlinecenter.to/vsd and enter 61
---
Board acquires multiple images
NI PXI-1409 multichannel monochrome image-acquisition board offers user-configurable resolutions of 8-bit (256 gray scale) or 10-bit (1024 gray scale) acquisition. It is compatible with analog double-speed progressive-scan cameras up to 60 frames/s. Four video inputs allow connections to multiple cameras. Compatible NI-IMAQ driver software uses one set of function calls for a variety of cameras, including analog linescan cameras and cameras with slow or variable pixel clocks ranging from 2 to 40 MHz. National Instruments, Austin, TX 78759; (800) 258-7022.
Go to www.onlinecenter.to/vsd and enter 62
---
Camera shrinks size
GP-CX261V color CCD camera module measures 5.4 X 6.0 mm. It provides a 1/4-in. flexible printed-circuit-type CCD that can be extended for approximately 85 mm. Camera head connects to a 50 X 11-mm camera-control unit. Features include 512 X 494-pixel or 330-line NTSC resolution; composite and S-video outputs; a 346-dB signal-to-noise ratio; minimum illumination of 6.5 lux; and AGC, electronic lighting control, and autotracking white balance. External control for mirror mode, gamma, chroma gain/matrix, red/blue gain, and contrast is achieved via a serial interface. Panasonic Vision Systems, Secaucus, NJ 07094; (845) 358-1801.
Go to www.onlinecenter.to/vsd and enter 63
---
Camera enhances features
CV-M7+ color and CV-M4+ monochrome cameras offer a higher resolution to 1.45 million pixels, increased sensitivity by 6 dB, and reduced smear by 2 dB. Both cameras come with the JAI serial interface protocol and the LVDS or Camera Link interface, 1392 X 1040-pixel resolution, proprietary sample/hold, and correlated double-sampling techniques to achieve double-speed readouts. Other features include asynchronous trigger, partial-scan function, 8-bit video output, RS-232C camera controls, and Camera Link 10-bit video output. JAI America Inc., Woburn, MA 01801; (978) 957-8587.
Go to www.onlinecenter.to/vsd and enter 64
---
Lens is miniature
DSL712F low-profile hybrid, plastic/glass lens serves 1/4-in. CMOS and CCD imagers with 640 X 480-pixel resolution. It suits embedded digital cameras with a total optical path length of 6 mm. Features include a 4.5-mm focal length, an aperture of f/2.7, a 56° diagonal field of view, and a maximum image circle of 4.5 mm. Total optical path length is 5.9 mm, and distortion is -7%. An infrared coating filter is applied to the lens element. Sunex Inc., Carlsbad, CO 92008; (760) 602-0988.
Go to www.onlinecenter.to/vsd and enter 65
---
Frame grabbers digitize 64
bits X64-CL series of Camera Link digital frame grabbers comprises an ACU-Plus acquisition control unit and a Data-Transfer Engine (DTE). The ACU-Plus unit consists of two sets of grab controllers, pixel packers, and timing generators. Acquisition runs to 256 Kbytes per horizontal line and to 16 million lines per frame and supports pixel-clock rates to 66 MHz (85 MHz optional). The DTE consists of multiple independent DMA units, tap descriptor tables, and autoloading scatter-gather tables. The series supports all standard Camera Link configurations from 8- to 64-bit pixels and up to eight taps of 8-bit pixels. Single-slot series is a PCI 2.1, 64/32-bit, 66/33-MHz, 5-V/3.3-V frame grabber. Compliant with Windows NT 4.0/2000/XP, the series supports the company's Sapera programming package and application development using C/C++ DLLs and ActiveX controls with Microsoft Visual Studio or Visual Basic, version 6.0 or higher. The X64-CL Dual frame grabber supports two Base or one Medium Camera Link camera, and the X64-CL Full frame grabber supports one Full Camera Link camera. Coreco Imaging Inc., Billerica, MA 01821; (978) 670-2000.
Go to www.onlinecenter.to/vsd and enter 66
---
Illuminator is rugged
Model 10XI Circular Fluorescent Vision Illuminator is an industrial-grade fluorescent lighting system. It is constructed of a rugged, black anodized-aluminum extrusion, is powered by a 25-kHz driver, and provides 360° of bright, uniform, shadow-free, and flicker-free illumination. A supplied adapter fits nearly every microscope or camera type. Standard, 1/4-20 threaded mounting holes ease unit installation. Standard lamps come in various white color temperatures and wavelength specific colors. A polarizer kit allows the control of transmitted light in applications requiring the illumination of reflective materials. Custom designs are available. StockerYale Inc., Salem, NH 03079; (603) 893-8778.
Go to www.onlinecenter.to/vsd and enter 67
---
Software is updated
DT Vision Foundry 3.5 includes several upgraded tools. The 2D Data Matrix Tool analyses 2-D barcodes in a 360° rotation, no matter if the images are distorted, blurred, or water damaged, in 2 to 9 ms. Applications can network with other DCOM-based applications using the company's Information Exchange (DTiX). Polar Unwrap Tool remaps images with round objects into linear or rectangular objects for fast computation. Point and Click Script Tool features 38 algorithms to graphically create scripts. Match Tool correlates a percentage score between two images (such as product and golden) and compares that score to the golden standard. Enhanced Digital I/O Tool enables external pass/fail event control. Device Manager feature lets users set up device settings for all input devices in one central location for easy maintenance. Dockable toolbars allow users to place the tools anywhere within the application for easy access. Data Translation Inc., Marlboro, MA 02032; (508) 481-3700.
Go to www.onlinecenter.to/vsd and enter 68