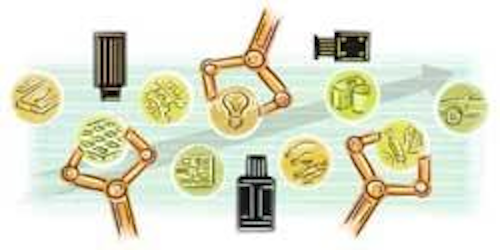 George Kotelly, Editor in Chief
georgek@pennwell.com
Trade shows abound
Attendees and exhibitors alike judged the 2003 International Robots & Vision Show and Conference (Rosemont, IL; June 2–5) as exceeding expectations, despite about a 15% downturn in attendees and exhibitors from the previous show two years ago. Industry analysts blamed the still weak high-technology economy, the SARS threat, and dormant company investments. The exhibit floor for all three show days was steadily filled with highly interested visitors from 30 countries, especially in the separate Vision Exhibit area.
Most exhibitors were pleased with visitor quality and interest and the upbeat business activities carried out in the booths. Indeed, the number of new vision-related products, technologies, and applications was decidedly higher than at the last show. In addition, some 30 tutorials, conferences, and workshops were presented by industry professionals from around the world.
Sponsored by the Robotics Industries Association (RIA; www.robotics.org) and the Automated Imaging Association (AIA; www.machinevisiononline.org), both Ann Arbor, MI, the show presented the latest robots, machine-vision hardware and software products, and related factory-automation devices.
Donald A. Vincent, executive vice president of the RIA, said, "Robots have just scratched the surface of potential applications. Tens of thousands of companies in every industry are just learning about what robots might be able to help them accomplish." Together, robotics and machine vision account for approximately $2.5 billion in annual North American sales.
AIA executive director Jeff Burnstein said, "The machine-vision industry has been hit hard by the cutback in capital spending by manufacturing companies in the United States and throughout the world. The slowdown in the semiconductor (-42%) and electronic industries (-29%), the two largest customers for machine vision, has been a particularly tough blow. But we're optimistic that a recovery is on the horizon, as the AIA forecast for the next five years suggests."
A new AIA market study of the machine-vision industry estimates the North American vision market at $1.5 billion in 2002, a decline of 15% from 2001. However, the study forecasts a market growth of almost 12% a year for the next five years, as the machine-vision industry is expected to recover from the global economic downturn that has hurt capital-equipment expenditures for more than two years.
On the other hand, the study found that the number of vision systems sold into the North American food, container, and pharmaceutical/medical device industries increased. Moreover, only a slight vision system sales downturn occurred in the automotive, plastics, fabricated metals, and wood industries.
The study also contains data on the machine-vision markets in Europe and Japan. It concludes that the total world market in 2002 was $5.3 billion, a drop of about 4% from the 2001 market. The Japanese market was the biggest in 2002 at $1.9 billion. The European market totaled about $1.3 billion.
Several outstanding products were displayed at the show. Cognex Corp. (Natick, MA, USA; www.cognex.com) unveiled its CDC-200 digital CMOS-based CDC camera series, MVS-8500 series of frame grabbers, and software for its In-Sight vision sensors for reading Composite Symbology and Reduced Space Symbology codes on pharmaceutical packages. The CDC-200 camera delivers SXGA images (1280 × 1024 pixels) at up to 26 frames/s, VGA images (640 × 480 pixels) at 100 frames/s, and 320 × 240-pixel images at up to 340 frames/s. The MVS-8504 frame grabber offers four independent channels for supporting as many as four cameras and handles asynchronous, synchronous, and dual-tap image acquisition.
Cohu Electronics (San Diego, CA, USA; www.cohu-cameras.com) rolled out three new video cameras. The 7700 series camera provides progressive scan, color or monochrome, megapixels, 10-bit resolution, 30 frames/s, and Camera link or FireWire (IEEE 1394) interfacing. The 7900 series camera offers a 2048 × 2048-pixel, progressive-scan sensor with a Camera Link interface. The 3600 camera incorporates an NTSC output and all signal, control, and power features into one connector.
StockerYale Inc. (Salem, NH, USA; www.stockeryale.com) introduced several new lighting devices: CLAR low-angle LED ringlight, Lasiris green laser spot and pattern projectors, Model 12 HemiLite spherical and Model 10X1 circular fluorescent vision illuminators, Model 21 dc fiberoptic illuminator, and SL series of fluorescent linears.
DVT Corp. (Duluth, GA, USA; www.dvtsensors.com) demonstrated its Legend 500 series of cameras. Legend 520 uses a CMOS sensor, Legend 530 is Ethernet ready and controls as many as four external lights, Legend 540 can inspect up to 9000 parts/min, Legend 542c offers one-touch color learning and segmentation, Legend 544 provides 1280 × 1024-pixel resolution, and Legend 544c adds color. The company also introduced its SopectroCam color machine-vision sensor with a built-in spectrograph and an IntelligentScanner barcode reader.
Schott-Fostec (Auburn, NY, USA; www.us.schott.com) showed the SC-2100 intelligent LED controller of light heads for stabilized light output. It contains on-board microprocessor control, programmable on-time duration, and temperature and over-current protection.
Point Grey Research (Vancouver, BC, Canada; www.ptgrey.com) displayed the Scorpion 2/3-in. Symagery VCA1281 CMOS sensor for 1280 × 1024-pixel resolution and monochrome progressive-scan imaging.
Imperx Inc. (Boca Raton, FL, USA; www.imperx.com) released a line of 12-bit, progressive-scan Camera Link cameras: MDC-M1CL01 offers 1004 × 1004-pixel resolution at 45 frames/s, MDC-M4CL01 provides 2048 × 2048-pixel resolution at 15 frames/s, and MDC-M2HDCL01 features 1600 × 1200-pixel resolution at 30 frames/s. The company's Adapt-A-Link series of adapters convert RS-644 and RS-422 protocols to Base and Medium Camera Link interfaces and vice versa. Its VCE-CLCB01 Camera Link plug-and-play frame grabber comes in a PCMCIA Type II card format and supports clock rates up to 85 MHz. The VCE-ANCB01 NTSC/PAL plug-and-play frame grabber captures 640 × 480 pixels at 30 frames/s.
National Instruments (Austin, TX, USA; www.ni.com) released its ruggedized NI CVS-1454 compact vision system for real-time FireWire image acquisition, analysis, and storage. It comes with a built-in processor, three FireWire camera inputs, 15 digital inputs and 14 digital outputs, Ethernet and RS-232 ports, 128 Mbytes of on-board DRAM, 32 Mbytes of nonvolatile storage, and a VGA output. Software support includes LabVIEW and LabVIEW real-time module, NI Vision Development Module, and Vision Builder for Automated Inspection.
Adimec (Eindhoven, The Netherlands; www.adimec.com) presented its Adimec-4000m Camera Link camera with 2048 × 2048-pixel resolution, up to 16 progressive images/s, 12-bit signal processing, and an interline CCD sensor with high blue and NIR response.
BitFlow Inc. (Woburn, MA, USA; www.bitflow.com) featured its R64-CL Camera Link interface board and imageWarp image-analysis and processing software by demonstrating seamless interfacing to seven different Camera Link cameras across four R64-CL boards and two computers. The imageWarp software acquired live video from a camera at 80 frames/s, performed color interpolation, ran an object-classification script, demonstrated a line profile tool, displayed live color video and raw data, and previewed several filter options all in real time.
PFU Systems (Santa Clara, CA, USA; www.PFUsystems.com) exhibited its NomadFIRE system-on-module single-board platform for rapid prototyping of embedded video imaging applications. This board comes with three FireWire ports, one 10/100 Base-T Ethernet port, dual USB 1.1 and RS-232 ports, and one IEEE 1284 parallel port; LCD (CMOS and LVDS) and CRT interfaces; CompactFlash Type II socket; and Plug-N-Run modules for x86 host functions.
European Machine Vision Association established
The European Machine Vision Association (EMVA) was officially approved as a working organization at the European Machine Vision Business Conference held in Barcelona, Spain, last May. For the first time, nearly 60 European machine-vision company executives, professionals, and managers gathered to discuss market trends and concerns, new products and technologies, and business successes and problems within the European community and to establish a new network of information exchange.
The EMVA is expected to serve as a unified European framework for promoting market and business strategies, techniques, and solutions and sharing common problems and interests. The organization intends to function as an industry lobby to help ensure that leading European products and technologies are more widely promoted, distributed, and applied throughout Europe.
Participating European countries are Belgium, Denmark, Finland, Germany, Greece, Hungary, Ireland, Italy, Slovenia, Spain, Sweden, Switzerland, The Netherlands, and the United Kingdom. However, no French companies attended the conference. Several interested companies from the United States and Canada also attended as observers. Vision Systems Design is the EMVA official media sponsor.
At the conference, 27 companies and three national machine-vision associations voted to accept the association's proposed charter and agreed to join as members of the EMVA. Other attending companies expressed interest in becoming members in the near future. The official language of the EMVA is English.
During the inaugural assembly, the new members of EMVA elected an executive committee of five members who will lead the association for a three-year period. The members are Gabriele Jansen of ISRA VISION SYSTEMS AG, Germany, president; Mats Gökstorp of IVP Integrated Vision Products AB, Sweden, vice president; Toni Ventura-Traveset of DATAPIXEL, Spain, treasurer; Don Braggins of the UK Industrial Vision Association, United Kingdom; and Martin Wäny of Photonfocus AG, Switzerland.
For more information refer to www.emva.org.
SID 2003 thrives despite attendance decline
Exhibitor-attendee activities appeared busy on the show floor at the 2003 International Conference, Symposium, and Exhibition of the Society for Information Display (SID; San Jose, CA, USA; www.sid.org) in Baltimore, MD, last May. Although overall attendance declined moderately and the number of exhibitor booths decreased slightly from last year's show, most exhibitors were generally pleased with the quantity and quality of their contacts.
Industry analysts speculated that the robustness of the SID show reflected the strong growth of the display sector in an otherwise lackluster electronics industry. This reasoning was supported by an attendance of more than 400 at the new SID Business Conference; only about 100 attendees were expected.
The display industry involves several competing viewing technologies as evidenced by the rise and fall of field-emission displays, by persistent work on various approaches to "electronic paper" technology, and by the slow but steady advancement of small organic light-emitting diode (OLED) displays into the mainstream.
While questions remain concerning differential aging of OLEDs, the technology is being adopted in less-critical small-screen applications, such as the EasyShare LS633 digital still camera, which is available in Europe but not yet in North America, from Eastman Kodak Co. (Rochester, NY, USA; www.kodak.com). Kodak also showed a 15-in. OLED demonstrator.
DuPont Displays (Research Triangle Park, NC, USA; www.dupont.com/displays) introduced its "Dupont Olight" brand for OLED display devices, along with a five-year plan to provide color devices on flexible plastic substrates to the industrial and other markets.
Toshiba America Electronic Components (Irvine, CA, USA; www.toshiba.com) captured and displayed images of business cards with an LCD panel that can both display 320 × 240-pixel color images and capture 960 × 240-pixel monochrome images.
Planar Systems (Beaverton, OR, USA; www.planar.com) showed a 240 × 240-pixel display with an integrated 60 × 60-pixel touch sensor array capable of basic touch-selection functions.
Optiva Inc. (South San Francisco, CA, USA: www.optivainc.com) received the SID/Information Display Display Material of the Year award for its unique material that "self-assembles" into polarizers that can be used in liquid-crystal devices.
The OmniView 360, a stationary optical viewing system with a 360° field of view, was shown by Physical Optics Corp. (Torrance, CA, USA; www.poc.com). "We are looking for OEM or licensing partners," said vice president Rick Shie.
"QCIF Full Color Transparent AMOLED Display" by Kwan Hee Lee and others of Samsung Electronics (Suwon City, Gyonggi-do, Korea; www.samsung.com) described a transparent, 2.2-in., 176 × 220-pixel transparent OLED display that emits light from both sides.
Keithley Instruments (Solon, OH, USA; www.keithley.com) exhibited at the SID show for the first time "to explore the display business and gain visibility," according to business manager Chuck Cimino. Keithley is working on characterization of OLED current-voltage-light output relationships.
Samsung displayed a 1920 × 1080-pixel, 54-in. LCD and a 1366 × 768-pixel, 63-in. PDP. LG Philips (Seoul, Korea; www.lgphilips-lcd.com) showed its 52-in.-wide format TFT LCD.
Sharp Microelectronics (Camas, WA, USA; www.sharpsec.com) showed its autostereoscopic 3-D LCD in a cell phone. The company also showed its "Advanced TFT-LCD" transflective display technology, which maintains similar color balance and viewing in both dim room light and bright sunlight.
Acknowledgment
We gratefully acknowledge contributions to this report from Joe Hallett, contributing editor, Vision Systems Design.