Business Vision
Two competitive imaging-sensor technologies, CMOS and CCD, hold the promise of dramatically improving the future performance of high-resolution digital cameras. Sensors made using CCD technology generally require special and costly production facilities, which translate into higher part cost.
Oct 1st, 2000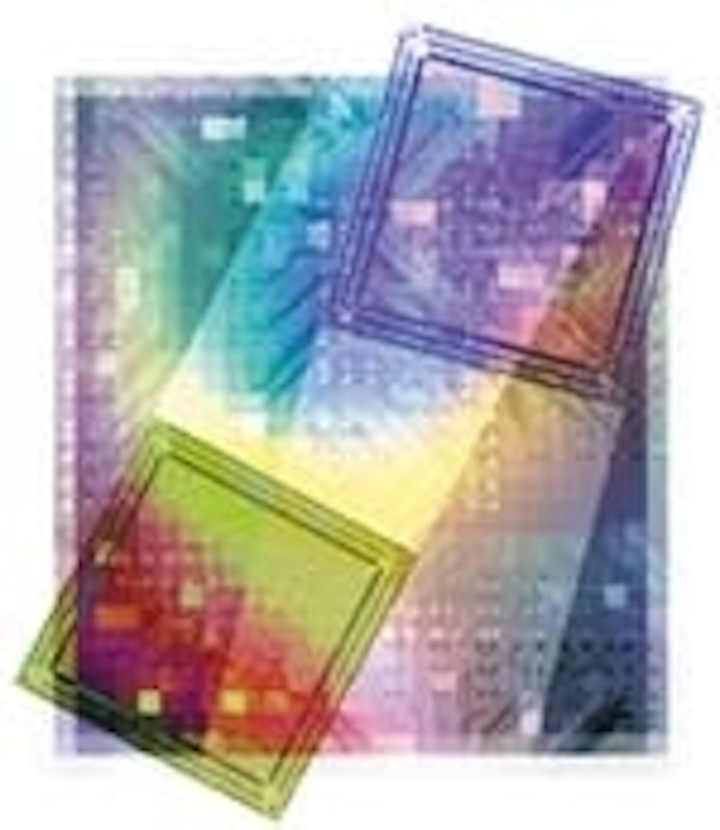 George Kotelly, Editor in Chief
georgek@pennwell.com
New imaging chips impact digital-camera technology
Two competitive imaging-sensor technologies, CMOS and CCD, hold the promise of dramatically improving the future performance of high-resolution digital cameras. Sensors made using CCD technology generally require special and costly production facilities, which translate into higher part cost. On the other hand, CMOS chips are produced using established and cost-controlled semiconductor-manufacturing techniques, consume less power, and offer higher circuit density. According to market-research firm Frost & Sullivan (San Jose, CA; www.frost.com), the 1999 worldwide sales of imaging sensors greatly favored CCD units at $959 million, with CMOS types lagging far behind at $14.2 million.
On the CCD side, Eastman Kodak Co. (Rochester, NY; www.kodak.com) recently unveiled a 16-Mpixel chip that it plans to sell to other companies as well. Company executives insist that their CCD chips can deliver higher image quality than CMOS ones. However, they admit that Kodak is also developing CMOS chips.
On the CMOS side, Foveon Inc. (Santa Clara, CA; www.foveon.net), founded by pioneer chip-designer Carver Mead, has developed a breakthrough 16.8-Mpixel CMOS monochrome image-sensing chip claimed to provide three times the resolution of previous CMOS chips, twice the resolution of 35-mm film, and parity with CCD sensors. Mead declares that his company's CMOS chip can generate better-quality images than film.
This CMOS chip incorporates 0.18-µm process technology from Foveon's major investor and manufacturing partner National Semiconductor Corp. (Santa Clara, CA; www.natsemi.com) to obtain a part that measures nearly one square inch. It contains mixed analog and digital elements and nearly 70 million transistors, which is approximately 2.5 times more parts than the Intel Corp. (Santa Clara, CA; www.intel.com) Pentium III microprocessor. The CMOS chip includes seven active transistors for each pixel, resulting in less interference, improved focusing, and precise exposure times. Based on these chip advances, Foveon asserts that its chip will cost as much as ten times less than chips made now for high-performance images.
However, National Semiconductor plans to focus the new CMOS chip on the professional-photography and consumer-electronics markets. According to company president and chief executive officer Brian Halla, National Semiconductors' interest is not in thousands of cameras a year, but in hundreds of millions of cameras a year. The chip is projected to be available within a year.
Despite its commercial orientation, the new Foveon CMOS chip is still anticipated to make inroads into industrial, medical, and scientific applications because of its expected lower costs and higher resolution.
Alliances accelerate
The Monroe Group Inc. (Northbrook, IL; www.monroegroup.com) has acquired Janos Technology Inc. (Townshend, VT), a manufacturer of precision optical assemblies and diamond-turned and diffractive optics for infrared- and ultraviolet-based applications.
Key Technology Inc. (Walla Walla, WA; www.keyww.com), a supplier of machine-vision systems for food and industrial applications, has acquired Advanced Machine Vision Corp. (Eugene, OR), a provider of machine-vision products for the food-processing and industrial markets, and Farmco Inc. (Redmond, OR), a supplier of mechanical sorting, separating, and grading machines for the fruit and vegetable industries.
Scimagix (Redwood Shores, CA; www.scimagix.com), a provider of image infomatics platforms for the pharmaceutical and biotechnology industries, is collaborating with the laboratory of Dr. Peter Sorger at the Massachusetts Institute of Technology (Cambridge, MA; web.mit.edu/) to develop advanced image-data acquisition, management, and mining applications for the optical microscopy of live-cell assays.
FSI Vision Inc. (Lombard, IL; www.fsinet.com), which manufactures industrial control and instrumentation products, and DS GmbH (Remseck, Germany; www.neurocheck.com), the manufacturer of NeuroCheck software, have formed an alliance in which FSI will have exclusive marketing and support of NeuroCheck products in North America.
PEP Modular Computers (Pittsburgh, PA: www.PEPUSA.com), a manufacturer of low-power 3U and 6U CompactPCI and VMEbus boards, has been acquired by Kontron Embedded Computers AG (Eching/Munich, Germany), a holding company for Kontron Elektronik GmbH that manufactures board and system-level products.
Technology trends
Identix Inc. (Sunnyvale, CA; www.identix.com), a supplier of user-authentication, security, and identification platforms, has released a new series of Live Scan systems based on its TouchPrint 2000 fingerprint scanner technology. These systems will use the company's ClearScan moisture-discriminating optical technology that eliminates the residual moisture limitations of digitally imaging a person's fingerprints.
Kronos Inc. (Chelmsford, MA; www.kronos.com), a supplier of employee-identification products, has unveiled its HandPunch three-dimensional hand-geometry reader that measures more than 90 hand dimensions and converts the hand images to a template for database comparison.
Glenbrook Technologies Inc. (Randolph, NJ; www.glenbrooktech.com), a supplier of semiconductor x-ray camera-inspection systems, has been awarded a patent for the integration of real-time x-ray inspection with a BGA reflow process for monitoring and repairing chip solder joints.
Dolan-Jenner Industries (Lawrence, MA; www.dolan-jenner.com) has integrated machine-vision testing equipment and fiberoptic illumination equipment into a portable machine-vision system for inspection applications. This system comes complete with camera, lights, and a laptop computer with a PCI interface card, inspection and testing software, and a docking station for a machine-vision-application setup wherever needed.
Given Imaging Ltd. (Norcross, GA; www.givenimaging. com) has begun clinical trials of its Given Diagnostic Imaging System in New York and London to support US Food and Drug Administration clearance to market. The system consists of an m2A swallowable, disposable, video color-imaging capsule that glides through a patient's digestive tract; a wireless recorder worn around the patient's waist that receives signals transmitted by the capsule; and a computer workstation and custom software that processes the video data.
Digirad Corp. (San Diego, CA; www.digirad.com) has been awarded seven US patents for its solid-state digital gamma cameras and radiation detectors.
Management moves
FLIR Systems Inc. (Portland, OR; www.FLIR.com), a supplier of thermal-imaging and broadcast-camera systems, has appointed Earl Lewis as chairman of the board of directors, president, and chief executive officer. He previously was president and chief executive officer of Thermo Instrument Systems Inc.
I-Bus/Phoenix (San Diego, CA; www.ibus.com), a provider of industrial computers, CompactPCI products, and power-protection systems, has appointed Johni Chan as vice president of engineering. He previously served as director of systems engineering at Force Computers.
The Storage Networking Industry Association (SNIA; Mountain View, CA), comprising more than 150 storage-industry companies and individuals, has released its new on-line Dictionary of Storage Networking Terminology of more than 1000 terms at www.snia.org/English/Resources/Dictionary.html.
Silicon Image Inc. (Sunnyvale, CA; www.siimage.com), a provider of PanelLink technology for digital connectivity among video sources, has promoted Jalil Shaikh from vice president of operations to executive vice president of operations and information technology.
StockerYale Inc. (Salem, NH; www.stockeryale.com), a provider of illumination and optical component products, has appointed Raymond J. Oglethorpe, president of AOL Technologies, America Online Inc., to its board of directors.
Edmund Industrial Optics (Barrington, NJ; www.edsci.com), a supplier of optical components, has doubled the size of its Tucson, AZ, Design Center, which offers optical and opto-mechanical design and engineering, application development, and new product engineering.
Contracts committed
ImageWare Systems Inc. (San Diego, CA; www. iwsinc.com) has been awarded two contracts totaling $357,000 to install two more digital mug-shot imaging systems for the Arizona Department of Public Safety.
American Science & Engineering Inc. (Billerica, MA; www.as-e.com) has received a $5 million order from Hong Kong Customs to supply two MobileSearch x-ray inspection systems for examining cross-border trade items.
A.L.I. Technologies Inc. (Vancouver, BC, Canada; www.alitech.com) has received two orders worth C$4 million for the delivery of an enterprise-scale radiology image-management system to the University of Wisconsin Hospital and Clinics (Madison, WI) and to the San Antonio Community Hospital (Upland, CA).
Image Processing Systems Inc. (Markham, Ont., Canada; www.ipsautomation.com) has received a $2 million order from PPG Industries to supply digital-vision-based autoglass-inspection systems.
eTrue (Southborough, MA; www.etrue.com) and its TrueFace recognition software will be incorporated into the General Services Administration $1.5 billion US Government Smart Access Common ID Program.
Pinnacle Data Systems Inc. (Columbus, OH; www.pinnacle.com) has received a $1.1 million order from Direct Radiography Corp. for cooperative design of DirectRay digital medical imaging systems.
Intel Corp. (San Jose, CA; www.intel.com) has opened a USB 2.0 Peripheral Integration Laboratory. This lab provides designers-at no cost-with training, service, and testing facilities for hardware debug assistance and for product compliance and interoperability with the USB 2.0 Specification. The company also announced an Advanced Graphics Port (AGP) roadmap starting with a new AGP8x specification designed to double the graphics processing speed of PC and workstation platforms.
Litton Industries (Woodland Hills, CA; www.litton.com) has promoted John C. Donehoo to president of its Electro-Optical Systems division (Garland, TX), a supplier of night-vision and infrared products and systems.
Motorola Inc. (Schaumburg, IL; www.motorola.com) has promoted Fred Shlapak to executive vice president and president of the Semiconductor Products Sector (SPS) and Bill Walker to general manager of SPS. Shlapak previously was senior vice president and assistant to the SPS president, and Walker was SPS senior vice president.
Symagery Microsystems (Ottawa, ON, Canada; www. symagery.com), a developer of CMOS imaging components, has appointed Mike Foster as chief executive officer. He previously was chief operating officer of Chrysalis-ITS Inc.
I-Bus/Phoenix Inc. (San Diego, CA: www. ibus.com), a supplier of industrial-grade computer and power systems, has appointed Gordon Goodyear as vice president of sales and marketing. He was recently vice president and general manager at C&D Technologies Inc.
Mercury Computer Systems Inc. (Chelmsford, MA; www. mc.com) has promoted Alfred L. Simensen to vice president of international operations. He recently served as director of international programs.
Market vision
According to the Robotic Industries Association (RIA; Ann Arbor, MI; www.roboticsonline.com), the North American-based robotics industry recorded shipments of 4912 robots valued at $329 million in the second quarter of 2000, a 39% increase in units over the same period last year. Mid-year shipment totals equaled 8331 robots valued at $572 million, a record for the industry, and a 26% increase over last year's first-half numbers.
According to Semiconductor Equipment and Materials International (Mountain View, CA; www.semi.org), the North American-based manufacturers of semiconductor equipment maintained record shipments in July 2000 with a book-to-bill ratio of 1.23; that is, $123 in orders were received for every $100 worth of products shipped. The three-month average of worldwide shipments in July 2000 was $2.4 billion, which is 73% greater than the July 1999 shipments level of $1.4 billion.
The Semiconductor Industry Association (SIA) claims that worldwide sales of semiconductors reached an all-time record high of $17.3 billion in July 2000, increasing by 50% over $11.5 billion in July 1999. Sales were strong in all geographical regions. The Asia-Pacific and Japan markets rose 57.3% and 52%, respectively. The Americas market surged 46.1% from last year, and European sales spurted 46.5%.
Market-research firm Cahners In-Stat Group (Scottsdale, AZ; www.instat.com) reports that worldwide semiconductor sales are projected to increase at a compound annual growth rate of 16.2% from 1999 to 2004 and total $316 billion. By 2004, computer end-use applications are expected to account for 44.8% of all chips produced, communications will be the fastest growing segment at a nine-year growth rate of 13.9%, and the Asia-Pacific region is estimated to overtake the Americas region as the leading chip-consuming market.
In related news, the firm claims that the Universal Serial Bus (USB) is expected to become the dominant interface between PCs and peripherals. According to the firm, USB is present in 99% of PCs shipped today. By 2004, sales of approximately 750 million USB-equipped desktop and notebook PCs are predicted. Shipments of USB-equipped peripherals are projected to grow 14% in 2000 and at an average of 55% per year through 2004. In 1999, 54% of video cameras and 38% of scanners shipped with USB ports. Other peripherals slated for USB installation include monitors, printers, keyboards, analog and digital modems, and external storage drives.
Market-researcher DisplaySearch (Austin, TX; www.displaysearch.com) has released a shipment report on thin-film-transistor (TFT) liquid-crystal displays (LCDs). It finds that in the second quarter of 2000, large-area TFT LCD shipments jumped 16% sequentially and 40% year-to-year to establish a record high of 7.4 million units. As for revenues, these displays rose 10% sequentially and 42% year-to-year and totaled $3.69 billion. The leading display supplier, Samsung Electronics (Seoul, Korea; www. intl.samsungsemi.com), has achieved a 20.54% market share in the first half of 2000.
Light Works (Toledo, OH; www.LW4U.com) has begun shipping a $100,000 order of its TLC-403 Wide-Eye telecentric lenses to Intelligent Reasoning Systems Inc. (IRSI; Austin, TX). These lenses are used with a 2048-pixel TDI linear-array camera for printed-circuit board inspection systems.
An OEM Evaluation Kit from IOtech (Cleveland, OH; www.iotech.com) that includes a DaqBoard/2000 PCI data-acquisition board, DaqView 2000 software, DB202 adapter panel, a CA-195 100-conductor ribbon cable, and a user's manual are all available for a free 30-day evaluation to qualified OEMs. Call (888) 727-4512; use e-mail: OEMkit@iotech.com, or fax: (440) 439-4093.