System checks plastic molding consistency
A combination of off-the-shelf hardware and software allows plastic containers to be inspected consistently.
Feb 1st, 2007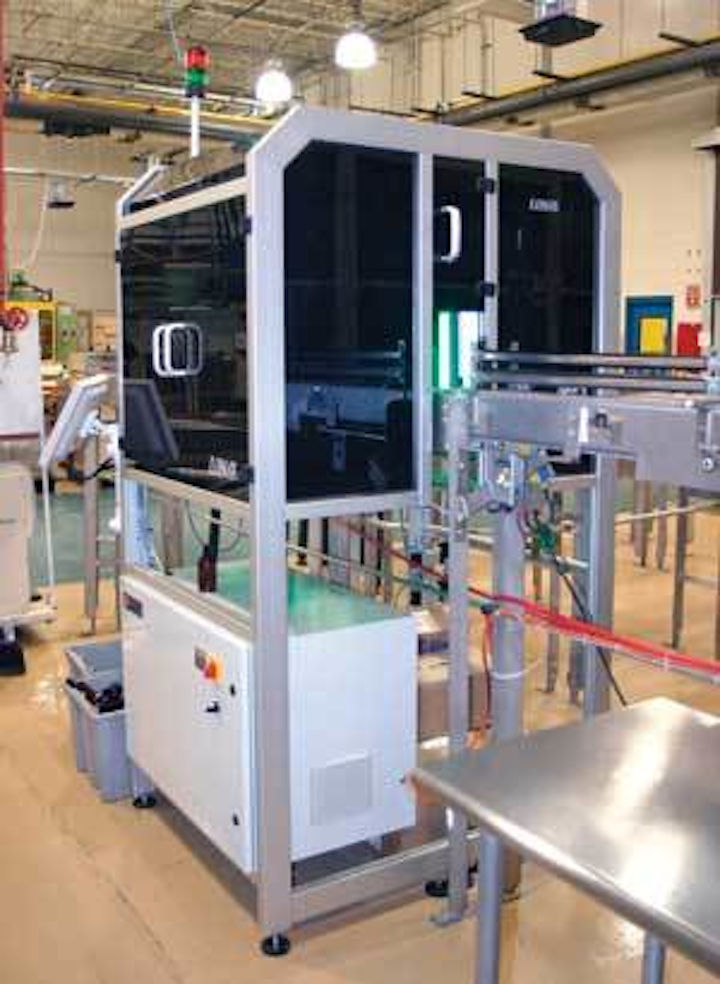 A combination of off-the-shelf hardware and software allows plastic containers to be inspected consistently.
By Andrew Wilson, Editor
Today," says Nello Zuech, president of Vision Systems International, "numerous machine-vision systems are available that address the needs of container and filler manufacturers. Systems can monitor finished glass containers to eliminate any reject conditions that may occur due to errors in regions such as the sidewall and neck. In the case of plastic bottles, systems can be deployed to inspect a product's dimensions, thread presence, finish, neck, sidewall, and heel properties. As with glass, filled plastic bottles can also be inspected for fill height, label presence, correctness, and registration, as well as cap presence."
With stricter quality-control regulations being mandated worldwide, large-volume manufacturers of plastic containers are deploying machine-vision systems to ensure the quality of their products. They are enlisting the expertise of system integrators to design, develop, and deploy systems using off-the-shelf components. One company, CIVision, since 1979 has designed, built, and implemented systems to control and inspect various products and processes.
"Currently," says Scott Stone, director of marketing at CIVision, "the company offers standard off-the-shelf machine-vision systems for specific applications such as inspection of labels and packages, pharmaceuticals, containers, and high-speed bottling lines. For a number of customers, CIVision develops custom turnkey vision solutions designed to meet a particular set of inspection requirements."
Container conformity
To ensure the consistency and quality of plastic containers for large-volume manufacturers, CIVision has developed its LOMAX NB (Neck and Bottle Inspection). It is a turnkey automated machine-vision system that checks for numerous manufacturing defects, including presence of particulate matter, bubbles, and blisters within the plastic (see Fig. 1 on p. 20).
Lighting plays a critical role in the inspection of the plastic containers. To properly visualize any particulate matter that may be present, a single-spot white LED from Advanced Illumination is used to illuminate the inside of each container as it passes along the production line. When illuminating the inside of the containers, the sidewalls of the container fluoresce-highlighting any black particles present.
To capture an image of the surface of each bottle, four A601 FireWire cameras from Basler Vision Technologies are positioned around the production line. "Because the field of view of each of these cameras is greater than 90°, the four cameras will obtain a full surface profile of the bottles or containers being inspected," says Stone. After each of these cameras is triggered by a photoelectric sensor, digital images are transferred to a host PC for processing (see Fig. 2).
"FireWire-based cameras provide an excellent means of capturing multiple images from single or multiple objects without requiring the addition of numerous frame-grabber interfaces to the PC," says Stone. "Because CIVision builds many systems that may require a different number of cameras, this is especially useful since the total cost of the complete system is reduced. Furthermore, upgrading such systems once installed becomes a much easier process."
Blob analysis
To assist in processing these images, CIVision chose to use the Matrox Imaging Library (MIL). As each image is captured, a specific region to be searched for defects is found utilizing the MIL region-of-interest (ROI) tool. Blob analysis looks for any black particles larger than a set threshold within this image. This process is repeated for all four images.
Because the four cameras capture the complete surface of the bottle or container, there is no need to generate a composite stitched image of the complete surface as would be required should label OCR be required." Instead, each image is individually processed; if any individual part fails the inspection, it is tracked and rejected at the end of the process.
Here again, lighting performs a critical role in the inspection process. To examine features of the bottle's neck and top, a 4-in. ringlight from Siemens NER enhances the contrast of details in the neck and top. As the neck and top are illuminated, four more Basler FireWire cameras capture their images.
While three A631 high-resolution FireWire cameras are used to image the entire 360° of the neck's side, a fourth A601 FireWire camera is positioned vertically to capture the top of the bottle. After images of the sides of the neck are acquired, functions within the Matrox MIL library are utilized to search within specified ROIs and determine the quality of the neck's thread and planarity.
Critical dimensions
To ensure that the top of the bottle maintains critical dimensions, the vertically positioned camera obtains an image of the top of the bottle. Using MIL measurement functions, the inner and outer circumferences of the top can be located and used to plot the circumference (see Fig. 3). After this, features such as inner diameter, outer diameter, and ovality can be calculated and compared with known good measurements. These data are then stored in the PC and used in conjunction with previous measurements to determine whether a bottle passes or fails inspection. As each part emerges from the inspection station, any known bad part is rejected by a pneumatically controlled actuator using an Allen-Bradley PLC programmed from the host PC.
"In designing the system," says Stone, "we realized that the operator might wish to tailor each inspection process to meet the needs of a specific product line." With this in mind, CIVCore, a comprehensive user interface (with MIL low-level vision processing), has been developed to control the inspection process. CIVCore provides for regulatory compliance, including individual user security and access control, as well as full flexibility for system reconfiguring as customers' inspection requirements change. The operator level interface is kept extremely user friendly through simple control screens and step-by-step part training guides.
With the ability to inspect 350+ bottles per minute on a single production line, the LOMAX NB can be ordered in a number of different configurations, according to Stone. Pricing of the systems is dependent on a number of factors, including the product to be inspected, the speed required, and number of cameras required to perform the inspection process.
---
---
Features, advantages, benefits
"In the manufacture of plastic containers," says Brian Mack, CIVision project engineer, "numerous defects can occur. These include the presence of black particulate matter within the plastic itself and improper forming of the thread, tab, or neck of the container. To check the integrity of each of these parts, a machine-vision system must image the part as it is produced and automatically reject any containers that do not fall within specified parameters."
Mack adds, "One of the major problems associated with plastic containers is the presence of black particulate matter that may form in the plastic as a result of burnt plastic debris formed during the blow-molding process. By inspecting the complete surface of each bottle as it passes through the LOMAX NB system, these defects can be detected. At present, the LOMAX NB system is being used by many of the major blow-molding companies in North America."