New Products
CMOS sensor in color; Camera is versatile; Cameras are upgraded; LED ringlights act smart...
Sep 1st, 2001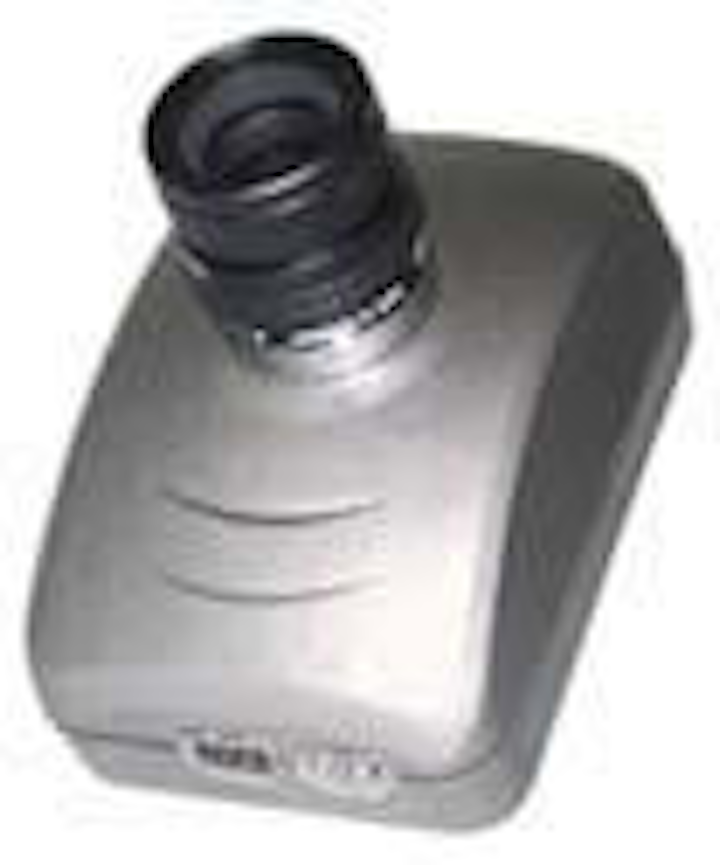 CMOS sensor in color
Using an IEEE-1394 FireWire interface, the PL-A642 2/3-in., progressive-scan color CMOS sensor provides 1280 x 1024-pixel resolution with addressable pixels that can adjust image resolution and position to suit the application. Operating at reduced resolutions enables the image to be panned or tilted. Images can also be flipped or viewed as a mirror image. Frame rate can range in excess of 100 frames/s. A user interface allows adjustment of all camera parameters. Auto white balance compensates for color temperature changes. Three scene files can store and recall user parameters. Other features include a Twain driver, developer's software kit, FireWire card and cable, sample programs, and application-specific software code. Hitachi Denshi America Ltd., Woodbury, NY 11797; (516) 921-7200.
Camera is versatile
The IK-542XD monochrome 1/2-in. CCD camera comes in two versions: a one-piece model and a remote-head model. They can work in progressive- or interlace-scan mode, fit on robotic arms and moving x-y stages, and integrate with frame grabbers that support RS-170 video inputs. Other features include field memory, 1/30- to 1/50,000-s electronic shutter, 490 x 480-pixel resolution, C-mount, and a 56-dB dynamic range. Toshiba American Information Systems, Irvine, CA 92618; (949) 461-4986.
Cameras are upgraded
The WV-CP240 color and WV-BP140 monochrome cameras replace the previous CP230 and BP130 series, respectively. The WV-CP240 cameras provide a 480-line resolution with 2-lux sensitivity using an f/1.4 lens and 0.6 lux with an f/0.75 lens. Other features include electronic light control, digital vertical enhancement and aperture correction, and line lock and VD2 synchronization. The WV-BP140 camera uses a 1/3-in. CCD with 510 x 492 pixels to deliver 380 lines of resolution. It can operate with 0.08-lux sensitivity at f/1.4. Other features include electronic light control for adjusting shutter speed up to 1/120,000 s, backlight compensation, and auto light control. Panasonic Security Systems Group, Secaucus, NJ 07094; (877) 733-3689.
LED ringlights act smart
A line of LED ringlights can detect intensity and temperature fluctuations and use feedback to ensure failsafe operation. The ringlights include a matrix plate heatsink and a matrix circuit for improving light output and isolating failures to individual LEDs, respectively. Included in the product line are a three-ring LED ringlight, a darkfield ringlight, and a diffuse dome ringlight. They are driven by controllers that offer dimming, remote on/off, strobing (overload mode), and warning functions. The Pro LE controller and Ultra LX interface deliver constant current output for light output stability. User programming can direct the feedback features. Schott-Fostec LLC, Auburn, NY; (315) 255-2791.
Station manages imagesDFWS-77 digital imaging station controls multiple IEEE-1394-compliant and compatible images on PC or video monitors, stores images on local media or a network, shares images via e-mail, prints images to a local printer, and allows remote access to images via the Internet. The station measures 8.7 x 8.5 x 3.2 in. (220 x 216 x 80 mm) and weighs 3.1 lb (1.4 kg). It consists of a stand-alone unit, an LCD touch-screen control panel, two PCMCIA type II slots, S-video (Y/C) and RGB monitor outputs, and a connector for external trigger devices. Other features include Windows CE support, a built-in Ethernet 10Base-T interface, and a software-development kit. Three IEEE-1394 connectors can support up to three cameras simultaneously without a hub or 16 cameras with a powered hub. Embedded camera control software directs all camera functions.
Sony Electronics Broadcast and Professional Co.; Park Ridge, NJ; (800)-686-7669.
Chipset offers dual modes Dual-mode chipset reference design enables a camera to operate as either an untethered digital still camera, with its own memory for picture storage, or tethered to a PC, where it operates as a PC video camera. It features the OV8610 800 x 600-pixel CMOS image sensor; other reference designs support 640 x 480-pixel and CIF 320 x 240-pixel resolutions. Eight megabytes of internal memory can store up to 80 SVGA-resolution images with JPEG compression; memory can be in SDRAM or NAND Flash formats. Other features include a strobe light, focus-free lens, LCD status display, self-timer, flashlight 50/60-Hz setting, auto-power-off feature, and a picture counter for up to 999 shots. An untethered camera can take up to 400 QVGA-resolution JPEG shots for video applications. Software support covers Windows 98/2000/Me and Macintosh O/S. OmniVision Technologies, Inc., Sunnyvale, CA 94086; (408) 733-3030.
Camera adds autofocus The 20Z704 (480 TV line) and 20Z714 (380 TV line) cameras offer customizable features such as mirror mode, gain and gamma control, negative image option, flickerless mode, and variable shutter speeds. White-balance function ranges automatically from low halogen temperatures through high outdoor sunlight temperatures. Major functions are remotely controllable through RS-232C, -422, and -485 protocols, and a miniconnector or a pushbutton control that can be selected dynamically through "on-screen" mode or an optional wired remote control. Most functions can be preset to either adjust automatically or lock to user-controlled preset modes. The lens has an optical zoom mode capability to 16x and can digitally zoom to 128x. Focus can be operated either automatically or manually. The 20Z704 series can accept a range of lens diopters to increase magnification by up to 4x optically. Videology Imaging Solutions Inc., Greenville, RI 02828; (401) 949-5332.
Sensor speeds inspections Legend 540 machine-vision sensor provides built-in Ethernet connectivity and a Hitachi SH4 processor and accelerates its image-processing rate by 8x over previous company sensors with a digitizing time of 13 ms. No separate PC or frame grabber is required. The sensor comes in a 4-in.-high by 1.5-in.-thick housing and can read linear, 2-D barcode, and OCR formats. Networking permits remote diagnostic and data acquisition from nodes or Internet connections. DVT Corp., Norcross, GA 30093; (770) 449-4960.
CCD sensor packs componentsThe KAI-1020 1000 x 1000-pixel interline CCD image sensor comes in color and monochrome versions and integrates an on-chip shutter driver, a vertical clock driver, and a correlated double sampler on the same die. Key features include a 58-dB dynamic range; 30-frame/s speed using one output, 48 frames/s with two outputs; a maximum data rate of 40 MHz/ channel; and a dark noise of 50 electrons rms. Eastman Kodak Co., Rochester, NY 14650; (716) 722-4385.
Cameras are switchless In the A-Series line, the CV-A60 and CV-A50 industrial cameras are set up via an RS-232C interface and do not need rear-panel DIP switches or internal camera access. The RS-232C interface allows camera setup from a PC, dumb terminal, or hyper terminal software. Cameras measure 29 x 44 x 66 mm and come with either a 1/2-in. (CV-A50) or 1/3-in. (CV-A60) monochrome CCD sensor. The camera's power consumption is 1.5 W, and it weighs 150 g. JAI America Inc., Laguna Hills, CA 92653; (949) 472-5900.
Display is versatile The Precision 3M 20.8-in.-diagonal, 3-Mpixel, LCD flat-panel display is driven by a digital graphic controller. Its tilt function and swivel base lock into either portrait or landscape mode or swivel left to right on base bearings. Providing a 10-bit gray scale, the display shows images calibrated to the DICOM standard for soft-copy viewing. Luminance is 700 cd/m2 nominal, contrast ratio is 600:1, and viewing angle is 170°. Automatic brightness minimizes fluctuations caused by internal and environmental temperatures. Dr. KAL calibration software ensures DICOM compliance and performance consistency over time and among several monitors in a single system. Data Ray Corp., Westminster, CO 80234; (303) 451-1300.
Converter delivers 14 bits The AD7484 (14-bit) and AD7482 (12-bit) SAR (successive approximation register) analog-to-digital converters (ADCs) offer a parallel interface, throughput rates up to 3 Msamples/s, and 80-mW power consumption. They contain a low-noise, wide-bandwidth track/hold amplifier that can handle input frequencies in excess of 50 MHz. Factory trimming ensures high dc accuracy resulting in low noise, offset, and gain errors. Two power-saving modes are provided: NAP mode keeps reference circuitry active for quick power up and consumes 5 mW, and STANDBY mode reduces power consumption to 5 µW. The AD7484 features an on-board +2.5-V reference, accommodates an external +2.5-V reference source, and provides an 8% over-range capability via 1/15 bit. Both ADCs are packaged in a 48-lead LQFP and operate from -40°C to +85°C. Analog Devices, Inc., Wilmington, MA 01887; (800) 262-5643.
Frame grabber adds modelsMatrox Meteor-II/Multi-channel frame grabber for monochrome or component RGB interlaced/progressive-scan video acquisition is now available in PCI, PC/104-Plus, and 3U CompactPCI (CPCI) versions. The CPCI board can capture images from analog interlaced or progressive-scan component RGB cameras, two-channel (double-speed) analog progressive frame scan monochrome cameras, or multiple standard (RS-170/CCIR) monochrome cameras. It can transfer acquired images to either system memory for processing or to VGA display memory for live video-in-a-window at sustained rates to 130 Mbytes/s. The PCI and PC/104-Plus boards provide sampling rates to 30 MHz, three 246 x 8-bit look-up tables, and connection to two RGB or up to six monochrome video sources. Software support covers Matrox Imaging Library (MIL)/ActiveMIL, MIL-Lite/ActiveMIL-Lite, Matrox Inspector, and Windows 98/NT 4.0/2000. Matrox Imaging, Dorval, Quebec, H9P 2T4 Canada; (514) 685-2630.
Backlights run coolA line of apertured linear backlights suits linescan vision applications. These backlights provide intensified but cool light for concentrated lighting needs. Housed in a rugged aluminum case, each backlight model comes with a 0.66-NA glass-fiber light guide that interfaces to all company 150-W halogen illuminators. Backlights are available in 2, 4, 6, and 8 in. Aperture width is 0.5 in. for all models. StockerYale Inc., Salem, NH 03079; (800) 843-8011.
Sensor sees color The In-Sight 1000C machine-vision sensor verifies and sorts various parts based on color. Available in a rugged housing, it can be integrated with PC-based factory-automation devices via Ethernet communications and with programmable logic devices via DeviceNet, ModBus, or ProfiBus communications. Vision software tools are pre-installed. Peripheral accessories include LED-based lighting modules, Ethernet panel PC monitor, DeviceNet nterface module, expansion inputs/outputs, cables, and lens kits. Cognex Corp., Natick, MA 01760; (508) 650-3000.
Cameras features FireWireFireView-1 line of CCD cameras comply with the IEEE-1394 FireWire interface standard, come in 44 x 60 x 100-mm housings, deliver 24-bit color or gray-scale video processing, and provide resolutions from 160 x 120 to 640 x 480 pixels in RGB or YUV color formats. The cameras use an embedded ASIC processor for resolution and frame-rate programming on the fly. Frame rates vary from 3.75 to 30 frames/s, with throughputs to 400 Mbits/s. Using an IEEE-1394 adapter eliminates the need for a frame grabber. Software support includes Vision Blox ActiveX tool library, Visual Machines, NI IMAQ, and Windows 2000/ME driver and support applications. Meta Controls, Morrisville, NC 27560; (919) 459-6382.
Monitor price lowered With a price of $2995, the industrial MRAE 18 TFT liquid-crystal monitor comes with a 15.71 x 19 x 2.95-in. sealed aluminum-alloy front panel and stainless-steel chassis and weighs 22 lb. Its 18.1-in.-diameter SXGA display screen offers 64,000 colors and 235 cd/m2 of brightness. A built-in multiscan capability adjusts to support resolutions up to 1280 x 1024 pixels. Analog input accepts VGA, SVGA, XGA, text mode, S-Video, and RCA composite video. Front-panel controls include power on/off, display-mode selection, on-screen display, and control cursor. CyberResearch Inc., Branford, CT 06405; (203) 483-8815.
Frame grabber supports Camera LinkThe Viper CamLink frame-grabber board permits data acquisition from eight 8-bit taps or four 10-, 12-, and 16-bit taps on area- and linescan monochrome digital cameras, as well as 8-, 10-, or 12-bit RGB digital cameras. Built in are an Intel i960 processor, a PCI interface device, an I/O controller, and 64-Mbytes of memory. Seamless integration is available with the company's Mamba-100 vision-processor board, CAB bus, and pixel processor. Software support includes the Sapera imaging library, Smart Series of application-specific imaging library, Visual C/C++ 6.0 or higher under Windows NT 4.0/2000. Coreco Imaging Inc., Bedford, MA; (781) 275-9590.
CMOS sensor does color The KAC-0320 CMOS 1/4-in. color or monochrome progressive-scan image sensor provides 640 x 480-pixel resolution using 5.6-µm-square pixels. Frame rates run to 75 frames/s and readout rates to 1-24 Msamples/s. On-chip timing/logic circuitry provides full-pixel addressability that supports windowing, resolution, subsampling, and reverse readout. Other features include a 10-bit, pipelined A/D converter; 24-MHz data rate; 54-dB dynamic range; and 36-pin CLCC package. Eastman Kodak Co., Rochester, NY 14650; (716) 722-4385.
Imaging software runs on PCs Elite Version 6.0 is compatible with Windows NT 4.0/2000 PC platforms, features Automation Wizards, and provides extended support for a range of analog and digital CCD cameras, motorized microscope stages, shutters, and filter wheels. Included are application-specific modules for fluorescence microscopy, dynamic fluorescence, quantitative autoradiography, 3-D reconstruction, and automated montaging. General-purpose image-analysis features and functions and an object-oriented macro facility are standard. The MCID Elite image-analysis system can be complemented with additional workstation systems. Imaging Research, St. Catharines, Ontario, Canada L2S 3A1; (905) 688-2040.
Color camera accumulates frames Targeted at low-light-fluorescence or semiconductor-inspection applications, the HC7501 1/2-in. color interline transfer CCD includes digital-signal-processing circuits and a multiprogrammable dynamic frame accumulation mode—64 frames in Auto mode and 510 frames in Manual mode. Minimum illumination needed is 1.8 lux at f/1.2 in Standard mode and 0.0225 lux or less in Frame Accumulation mode. Eight electronic shutter modes range from 1/60 to 1/10,000 s, resolution is 480 x 400, and signal-to-noise ratio is 50 dB. The camera delivers Y/C output with Hirose connectors, composite video, external sync (genlock), and an 18-dB AGC capability. An autotracing white mode uses existing light to provide accurate color and temperature conditions. Elmo Mfg. Corp., Plainview, NY 11803; (516) 501-1400.
Cable carries Camera Link Designed to Camera Link standards, the 89878-11P cable provides a cable flex life of more than 1 million cycles for industrial, medica, and scientific applications. The 100-Ω, individually shielded, twisted-pair cable contains eleven 28-AWG shielded pairs, four 28-AWG drain wires, PTFE tape wrap, and a tube PVC jacket. Cable and cable assemblies using 3M MDR connectors with thumbscrew locking are available. Nortech Systems Inc., Merrifield, MN 56465; (800) 237-9576.
Vision system aligns fiber Aimed at fiber-alignment applications, the 17 AWG 001 workstation features parallel-flexure NanoMax positioning stages, NanoTrack optical signals, and an on-board vision/image-processing system. ActiveX software helps developers build custom alignment algorithms using LabVIEW, C++, Visual Basic, or other Windows-based development languages. Melles Griot, Rochester, NY 14620; (716) 244-7220.
Camera sees infrared For applied research and nondestructive evaluation of microcircuits, environmental airborne thermal imaging, and product-development applications, the TVS-8500 IR camera offers a real-time recording capability of 1-120 frame/s recording and playback of the thermal image. Having on-board data-recording and analysis circuitry, the camera comes with a 5-in. color LCD for image display. Other features include 14-bit digital image enhancement, -40°C to 900°C thermal dynamic range, remote operation, and an IEEE 1394 FireWire interface. Cincinnati Electronics, Mason, OH 45040; (513) 573-6275.
Color camera is video switchable With connections for Y/C (S-VHS), composite, RGB, and digital output YUV (4:2:2), the FX15 CCD color camera can switch video output between PAL and NTSC formats. It can perform reset/restart 40 times/s with an integrated frame store for time-base correction and comes with an RS 232 interface for adjusting AGC, gamma, white set, backlight compensation, integration, image mirror, and frame-store functions. Available as a miniature version with remote head or in a monochrome version, the F15 series can be expanded to include an IEEE 1394 FireWire interface and a 1k x 1k version. Kappa opto-electronics Inc., Monrovia, CA 91016; (626) 256-4343.
Enclosure holds CompactPCI or VME boards Providing four to six slots for installing CompactPCI, VME64x, or VME boards in a 2U or 3U high chassis, the SRME series of horizontal rack-mount enclosures uses patented air-deflecting CoolSlot card guides to eliminate cooling dead spots on boards. The enclosure delivers an average airflow of 200-285 linear feet/min to the front card slots using a hot-swap fan tray with two to three fans. It is available in 2U, four-slot, and 3-U, six-slot, versions with CompactPCI, VME64x, or VME backplanes. One, two, or three 3U CompactPCI-style hot-swap power supplies are available.Hybricon, Ayer, MA 01432; (508) 528-4983.