Business Vision
National Instruments targets real-time networking - At the recent NI Week 2001 in Austin, TX, National Instruments (NI) announced the expansion of its popular LabVIEW graphical development software into real-time distributed monitoring and control systems, supported by several new measurement products...
Oct 1st, 2001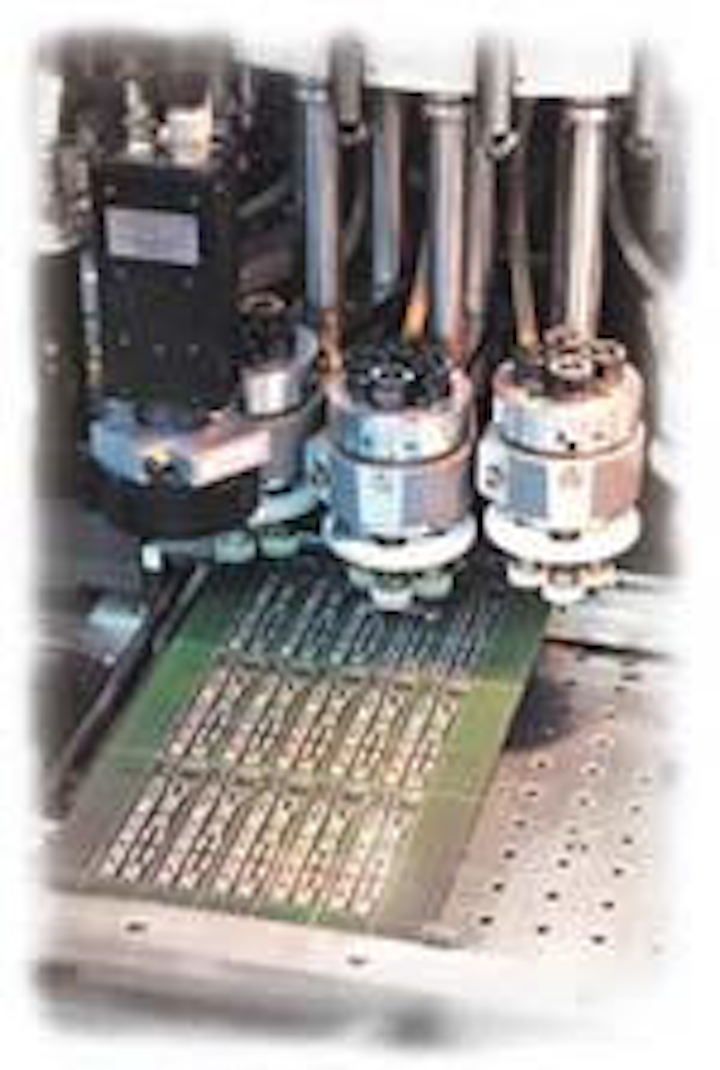 George Kotelly,Editor in Chief
georgek@pennwell.com
National Instruments targets real-time networking
At the recent NI Week 2001 in Austin, TX, National Instruments (NI) announced the expansion of its popular LabVIEW graphical development software into real-time distributed monitoring and control systems, supported by several new measurement products. These products include, among others, the LabVIEW Real Time 6i software platform with processor-based plug-in boards, PXI controllers, the FieldPoint 2000 family of network modules, and Measurement Studio 6.0 software. The company also is celebrating its twenty-fifth anniversary this year, having had 24 consecutive years of double-digit growth.
With LabVIEW embedded into industrial measurement I/O nodes, system integrators can build real-time distributed monitoring and control systems. Using these nodes and powered by FieldPoint 2000 network modules, they also can design stand-alone measurement and control solutions.
James Truchard, NI president, chief executive officer, and cofounder, says, "LabVIEW Real Time and the FieldPoint 2000 take the power and ease-of-use of a PC-based system and extend it to a networked system of intelligent nodes for measurement and control. The FieldPoint modules embody a convergence of major technology trends from smaller, more embedded intelligent systems to the growth of Ethernet on the factory floor, to Web-enabled applications, and to the integration of manufacturing and test."
Systems based on the FieldPoint 2000 Family are easy to develop, deploy, and maintain because of software configurability and modular, networked hardware. Each intelligent node can act as an independent component in a networked system and still communicate with a host Windows-based computer. Developers also can integrate the modules into existing systems via the Ethernet and connect to, or communicate with, RS-232 serial devices.
FieldPoint 2000 consists of a variety of modular analog, discrete I/O, and network interfaces for distributed I/O across Ethernet, serial, Foundation Fieldbus, and wireless networks. FieldPoint I/O modules combine I/O and signal conditioning with direct connectivity to a variety of sensors, including voltage, current, thermocouple, and relays, among others. FieldPoint modules are available with either eight or 16 channels as well as dual-channel modules for added signal connectivity.
With two new task-oriented software interfaces—IMAQ Vision Builder 6.0 and IMAQ Vision 6.0—for the Measurement Studio 6.0 software measurement platform, system integrators can add machine vision and image processing to their applications created in LabWindows/CVI, Visual Basic, or Visual C++. The two complementary vision tools help in the development of vision-processing scripts without programming. They can be used to generate a builder file to create prototype gauging, alignment, inspection, and counting applications in Measurement Studio. Incorporating calibration, color pattern-matching, and other machine-type algorithms adds vision-inspection capabilities to Measurement Studio.
"Text-based programmers can integrate machine vision and image acquisition to create complete manufacturing test and measurement systems," says Jason Mulliner, NI IMAQ product manager. "Engineers can create applications to align electronic components, gauge metal castings, measure contents, and inspect various parts."
Measurement Studio also contains a new motion-control module. Using this module, developers can direct motors, drives, and encoders via interactive property pages. These pages consist of a set of interactive task windows that deliver a point-and-click programming environment for developing and previewing motion tasks. They also include a preview window for displaying the configured motion tasks in 2-D or 3-D prior to execution. The motion-control module integrates seamlessly with NI vision and data acquisition, enabling the start of image or data acquisition functions at an exact event in the motion sequence.
According to NI, companies are continuing to standardize on Ethernet as the primary backbone network to integrate production processes and inspection machines on the factory floor. Systems integration with Ethernet increases connectivity, reduces cost, and speeds data throughput. By using the Ethernet to transmit control and monitoring information, developers can now perform preventive maintenance on machine-vision systems, activate alarms and prevent damaged products, analyze product-quality data, and remotely monitor inspection sites to improve assembly procedures. To that end, the FieldPoint 2000 Family of hardware products combines industrial Ethernet inputs and outputs with its embedded LabVIEW Real Time software platform to offer industrial system designers smart Ethernet-based monitoring and control applications.
Alliances accelerate
OmniVision Technologies Inc. (Sunnyvale, CA; www.ovt.com) and Texas Instruments Inc. (TI; Dallas, TX; www.ti.com) have agreed to jointly help OEMs develop 1394-based CMOS cameras. The effort will be based on OmniVision's OV76xx CMOS image-sensor technology, TI's TSB15LV01PFC Camera Link chip and TSB41ABx Phy chip, and associated software drivers.
Braintech Inc. (North Vancouver, BC, Canada; www.braintech.com) has signed a memorandum of understanding and cooperation with Marubeni Corp. of Japan. The intent is for Braintech to grant an exclusive license for its eVisionFactory vision-guided robotic systems to Marubeni for distribution in Japan and extend nonexclusive rights in other Asian countries.
Conexant Systems Inc. (Newport Beach, CA; www.conexant.com) has licensed the ARCtangent user-customizable processor from ARC International plc (Elstree, England; www.arccores. com) for its next generation of digital-imaging-system chips.
Fujitsu Microelectronica Inc. (San Jose, CA; www.fmi.fujitsu.com) has licensed fingerprint-sensor technology and fingerprint-authentication software from Veridicom Inc. (Santa Clara, CA; www.veridicom.com) and has also established a fingerprint-sensor-technology development center. It plans to develop sensors and authentication software for the IC card and mobile-phone markets.
A partnership between Johns Hopkins University (Baltimore, MD; www.cs.jhu.edu) and the Open Channel Foundation (Chicago, IL; www.openchannelfoundation.org) is allowing design engineers and computer programmers to download free sLIB (Surface Library) software that speeds up a computer's ability to display three-dimensional models while the model changes position and gives users more control of the model's details. The source code, which is posted on the foundation's Web site, is designed for use with the Irix operating system, but programmers can compile the code under other operating systems, such as Windows.
Technology trends
IBM Research Labs (Yorktown Heights, NY; www.research. ibm.com) has discovered that careful preparation of the surface on which an organic semiconductor is deposited can produce electronic thin films with crystal grains 20 to 100 times larger than previously observed and with characteristics that would permit building electronic devices. This organic chemistry holds the potential of producing computing devices by printing or spraying a thin film of semiconductors onto plastic and other materials.
Cognex Corp. (Natick, MA; www.cognex.com), a global supplier of machine-vision systems, has added the Ethernet Industrial Protocol (EtherNet/IP) to its In-Sight family of networkable vision sensors. EtherNet/IP is a new networking standard for factory-device communications that offers the deterministic performance of industrial networks such as ControlNet and DeviceNet with the speed and convenience of standard Ethernet. This protocol enables direct real-time communications between In-Sight sensors and other factory-automation devices over a single Ethernet wire.
The PCI Special Interest Group (PCI-SIG; San Jose. CA; www.pcisig.com) has announced that 11 hardware suppliers have developed new products that integrate PCI-X, a 1.1-Gbyte/s bandwidth extension to the PCI Local Bus interconnect standard. PCI-X adapter cards are backward-compatible with existing PCI-based systems. Leading computer companies, such as Compaq, Dell, Hewlett-Packard, IBM, and Intel, are planning to adopt PCI-X in their future products.
Optical Metrology Inc. (Danvers, MA; www.optimet.com) has developed a patented technique called "Conoscopic Holography" that can measure 500 points/s dynamically while associated x- and y-stages are in motion. Installed in the collinear Miniconoscan 3000 system, this noncontact-measurement technique is claimed to be able to make precise three-dimensional digital images of virtually any surface of metal, plastic, and rubber industrial molds as well as machined parts and tools with a precision and repeatability of 1/8000 of the working range.
Retinal Technologies Inc. (Boston, MA) has developed a hand-held real-time retinal-scanning system for accurate personal identification. The system incorporates a patented aspheric lens array, LED lighting, and a CCD sensor.
Electro-Optical Sciences Inc. (Irvington, NY; www.eo-sciences.com) has developed its Difoti diagnostic imaging tool for detecting tooth decay using light in place of x-rays and ionized radiation. The hand-held fiberoptic light source, cable, and patented mouthpiece captures reflected light images from the various surfaces of the teeth in real time using a miniature CCD camera, software, a monitor, and a foot pedal.
The University of Maryland Medical Center (Baltimore, MD; www.umm.edu) is using a new imaging instrument, called a multislice-computed-tomography (CT) scanner, with four rows of detectors as a replacement for its conventional spiral CT scanner. The new scanner can capture up to four slices simultaneously in 0.5 s compared to the one slice per second captured by the older scanner.
Management moves
Hewlett-Packard Co. (Palo Alto, CA; www.hewlett-packard. com) is acquiring Compaq Computer Corp. (Houston, TX; www.compaq.com) for $25 billion in stock. This move would produce an $87 billion company with total revenues only slightly less than the $90 billion achieved by IBM Corp. (Armonk, NY; www.ibm.com). The merger could establish a viable competitor for Sun Microsystems (Palo Alto, CA; www.sun.com) in the server computer market and for IBM, Dell Computer Corp. (Round Rock, TX; www.dell.com), and Gateway (San Diego, CA; www.gateway.com) in the personal-computer market.
National Instruments Corp. (Austin, TX; www.ni.com) is integrating its computer-based test-and-measurement hardware with its software tools to improve manufacturing and data feedback to shorten product cycle times. This integration has resulted in automation of nine steps in its printed-circuit-board operations, decreased equipment sizes by 25%, and diminished test setup and run times by 35%.
PerkinElmer Inc. (Boston, MA; www.perkinelmer.com) has appointed John P. Murphy president of its optoelectronics business based in Fremont, CA. He previously served as vice president and general manager of the business regional and general aviation unit of Honeywell International.
Diamond Power International Inc. (Lancaster, OH; www.diamondpower.com), a supplier of boiler diagnostic, monitoring, and temperature-measuring instruments using visible and infrared cameras, has acquired Diamond Electronics Inc.'s industrial camera business (Carroll, OH; www.diamondelectronics.com), serving the industrial, utility, paper, and refinery industries.
Pass21 Co. Ltd. (Seoul, Korea; www.pass21.co.kr), a provider of biometric-authentication platforms, has agreed to acquire all the assets of Verdicom Inc. (Santa Clara, CA; www.verdicon.com), a provider of fingerprint sensors, software, and technologies.
DRS Technologies Inc. (Parsippany, NJ; www.drs.com), a supplier of infrared sighting and targeting systems, has agreed to acquire the assets and certain liabilities of the Sensors and Electronic Systems (SES; Anaheim, CA) business of the Boeing Co. for approximately $84 million. SES provides electro-optical airborne and naval surveillance and targeting systems and infrared cooled and uncooled sensor systems.
Philips Components of North America has changed its name to Narragansett Imaging Inc. (Slatersville, RI; www.nimaging.com). The company is focusing on the development and manufacture of CCD and CMOS camera modules and technologies for systems integrators and OEMs.
Sarnoff Corp. (Princeton, NY; www.sarnoff.com), a developer of imaging sensors and cameras, has named Henry Kressel, a partner and senior managing director of Warburg, Pincus LLC, chairman of the board.
Panasonic Vision Systems Group/OEM (Secaucus, NJ; www.panasonic. com/iris) has promoted Manish Desai to product development engineer of machine vision, vehicle vision, and single-chip cameras.
Hitachi Ltd. (Tokyo, Japan; www.hdg. hitachi.co.jp), a producer of display products, will halt the production of all CRT monitors at its manufacturing plants in Japan, Singapore, and Malaysia by the end of 2001. The Hitachi Display Group intends to concentrate its resources on building flat-panel displays, such as various types of TFT LCDs.
Cognex Corp. (Natick, MA; www. cognex.com) has received 21 CFR Part 11 Regulations compliance from the US Food and Drug Administration (FDA) for its In-Sight family of networkable vision sensors. These regulations relate to technical and procedural compliance for electronic records and signatures in the pharmaceutical, medical device, and other FDA-regulated industries.
Space Imaging (Denver, CO; www. spaceimaging.com), a supplier of products and services for space imagery and aerial photography, has appointed Jody Tedesco chief operating officer. He previously held executive management positions at Seagate Technology.
VJ Electronix (Bohemia, NY; www. vjt.com/electronix), a manufacturer of automated x-ray inspection systems, has expanded its facility by 6000 ft to house a customer-training center and a technology research and support division.
Nuclear Associates (www.nucl.com), a supplier of radiation protection and monitoring products, has moved to a new facility in Hicksville, NY.
Schott Glass Technologies Inc. (Duryea,PA; www.schottglasstech.com), a manufacturer and distributor of special glass and glass-related products, has promoted director of sales and marketing Allan C. Kreutzer to vice president of sales and marketing.
The 1394 Trade Association (Santa Clara, CA; www.1394ta.org) has named James Snider executive director. He previously was worldwide strategic marketing manager for bus solutions at Texas Instruments.
Photon Vision Systems (Cortland, NY; www.photon-vision.com), a supplier of semiconductor imaging-sensor chips, has named Jeffrey D. Peters to its board of directors. He is the chief operating officer of the Whitestone Group.
Contracts committed
Cognex Corp. (Natick, MA, www. cognex.com) has sold two SmartView web-inspection systems to Voith Paper Inc. (Germany), a supplier of manufacturing technology for the paper industry. The systems will be used to inspect coated newsprint for defects before and after the coating process.
Visionics Corp. (Minnetonka, MN; www.visionics.com) has received an order worth $660,000 to deliver 30 FingerPrinter CMS live-scan fingerprint systems to the Alabama Bureau of Investigation (Montgomery, AL).
DRS Technologies Inc. (Parsippany, NJ; www.drs.com) has been awarded orders worth $16 million from Lockheed Martin Tactical Systems (Eagan, MN) to build and service the US Navy's AN/UYQ-70 advanced display systems.
August Technology (Bloomington, MN; www.augusttech.com) has received an order from a Taiwan IC manufacturer to deliver a 3Di-8000 automated inspection system for the 2- and 3-D microdefect inspection of 50- to 300-mm wafers and discrete die.
Viisage Technology Inc. (Littleton, MA; www.viisage.com) has received a $3.1 million order to deliver face-recognition and identification technology and equipment to the Pinellas County Sheriff's Office in Florida. The project is to provide a face-recognition capture system for the positive identification of criminal suspects.
Integral Vision Inc. (Farmington Hills, MI; www.iv-usa.com) has received an order from Eastman Kodak Co. (Rochester, NY; www.kodak.com) for a SharpEye inspection system. This system will be used to inspect organic light-emitting-diode displays for functional and cosmetic defects.
Fakespace Systems Inc. (Kitchener, Ont., Canada; www.fakespacesystems.com) has been awarded a $4.5 million contract by the US Department of Energy (Washington, DC) to design, build, and install custom stereoscopic digital projection visualization systems at Los Alamos National Laboratory (Los Alamos, NM).
Market vision
According to Semiconductor Equipment and Materials International (SEMI; San Jose, CA; www.semi.org), the North American-based manufacturers of semiconductor equipment reported a slight increase from the revised June 2001 book-to-bill ratio of 0.56 to the July 2001 ratio of 0.67, the third consecutive monthly increase after 13 months of sequential declines; that is, $67 in new orders were received for every $100 worth of products shipped. The three-month average of worldwide shipments in July 2001 was $1.14 billion, which was 12% lower than the revised June 2001 shipments level of $1.3 billion and 52% lower than the $2.4 billion shipments level of July 2000.
Semiconductor Industry Association (SIA; San Jose, CA; www.semichips.com) reports that worldwide semiconductor sales totaled $10.9 billion in July 2001, a decrease of 37% from the $17.3 billion achieved in July 2000.
Dataquest Inc. (San Jose, CA; www.dataquest.com) has changed its semiconductor forecast for 2001. It now estimates that industry revenues will decrease 26% to $168.1 billion, compared to $226.5 billion in 2000, because of low component prices and lead times, little demand for electronic system components, and a deteriorating economic climate. Worldwide PC shipments in the second quarter of 2001 reached 30.4 million units, a drop of 1.9% from the second quarter of 2000. This is the first decline in worldwide PC growth since 1986.
The IPC-Association Connecting Electronics Industries (Northbrook, IL; www.ipc.org) reports that the June 2001 book-to-bill ratio increased slightly to 0.74 for the US printed wiring board industry. The ratios for May and April 2001 were 0.66 and 0.63, respectively. For June 2001, shipments, or billed sales, dropped 32% and orders decreased 39%, compared to the levels of June 2000.
Cahners InStat Group (Scottsdale, AZ; www.instat.com) reports that nearly 100 million CCD and CMOS image sensors were shipped worldwide in 2000 at revenues of almost $1.2 billion. CMOS sensors accounted for just less than 15% of market share. Agilent, OmniVision, Photobit, and STMicroelectronics were listed as among the CMOS image sensor market leaders in 2000.
The US personal-computer market is predicted to decrease for the first time ever in 2001, and worldwide growth is expected to be in the single digits, according to IDC (Mountain View, CA; www.idc.com). The market is projected not to recover until 2005. Worldwide revenues are predicted to decline from $50.3 billion in 2000 to $38 billion in 2001.
Semiconductor Equipment and Materials International (SEMI; San Jose, CA; www.semi.org) reports that the total semiconductor capital-equipment market for 2001 will decrease 35% from last year's record mark of $47.7 billion to $31 billion. Its industry survey predicts that the revenues would increase 12% to $34.6 billion in 2002 and 23% to $42.4 billion in 2003. Analyzed by product sectors, the survey forecasts that wafer-processing equipment is expected to drop 33% in 2001 to $21.5 billion, but recover by 12% in 2002 to $23.9 billion. The biggest decline is predicted for the capacity-driven assembly and packing equipment with a 45% drop to $2.1 billion in 2001, but reaching $2.5 billion in 2002. Test equipment is projected to shrink 46% to $5 billion in 2001 before improving to $5.5 billion in 2002. Nearly 81% of surveyed companies felt that the national economy was the biggest obstacle to an industry recovery; 42% cited the end demand for electronic products; and 40% pointed to chip-production costs. Many companies foresee the beginning of a chip recovery before the end of 2001, other suppliers don't see orders bottoming out until late this year or in early 2002. The next order peak will be in the first half of 2003 says 54% of the surveyed companies; 265 think the peak will come later than that period.