New Products
Sensor adds ID tools; Camera delivers megapixels; Scanner runs on FireWire; Software supports machine vision
Jan 1st, 2001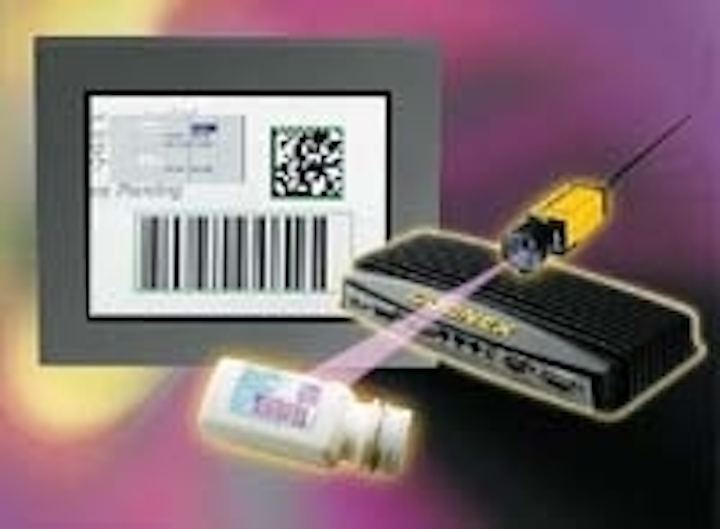 Sensor adds ID tools Tools that can read 1-D barcodes and 2-D data- matrix codes have been added to the company's In-Sight 2000 Vision Sensor. These tools support common 1-D codes such as ECC200 2-D data matrix and interleaved 2-of-5, Code 3-of-9, and Code 128 barcodes and read as many as 50 codes/s. They also can read low-contrast and poorly formed codes, as well as marking techniques such as dot-peen marking and laser etching. The sensor monitors the quality of 2-D marks by reading and feeding back information on how well a peen marker is performing for possible replacement. No programming is needed. Basic spreadsheet functions are used to set up 1-D applications. Drop-down menus enable users to select code type and set parameters for code quality, part-surface characteristics, and line speed. Cognex Corp., Natick, MA 01760; (508) 650-3000.
Camera delivers megapixels CV-M4 camera provides 1300 x 1030-pixel resolution, double-speed readout of 24 progressive scans/s, 10-bit analog-to-digital conversion, and EIA-644 digital output. It uses proprietary sample-and-hold and correlated doubling-sampling techniques. Other features include asynchronous trigger; partial scan function that reduces vertical resolution by 1/2, 1/4, or 1/8 with a corresponding increase in frame rate; vertical binning; RS-232C camera controls; and optional Camera Link output capability. JAI America Inc., Laguna Hills, CA 92653; (949) 472-5900.
Frame grabber adds video streamer I-RGB board series delivers RGB video images and high-speed video streaming at three pixel input rates: 25 MHz (I-RGB 25), 50 MHz (I-RGB 50), and 75 MHz (I-RGB 75). Each board accepts one RGB video input from nonstandard and standard video sources. Video digitization is 24-bit RGB, and color video formats include RGB 8:8:8 and YUV 4:2:2. Other features include a low pixel jitter of ±1.0 ns, a signal-to-noise ratio of 47 dB, and 120-Mbyte/s sustained PCI bus transfers. Software support is offered with Auto-SYNC automated configuration software and IDEA software-development kit. Drivers are available for Common Vision Blox, Image-Pro Plus, Optima, and TWAIN. Foresight Imaging, Chelmsford, MA 01824; (978) 256-4624.
Scanner runs on FireWire ScanMaker 8700 scanner, a 42-bit, 1200-dpi scanner, comes with both an IEEE-1394 (FireWire) chip set and a USB port. It uses a 10,600-pixel CCD sensor for 2400 x 1200-dpi optical resolution in a single pass and a 14-bit analog-to-digital converter. Using high-speed FireWire, the ScanWizard 5 software provides image-correction tools for enhancing and customizing images, on-line previewing, batch scanning, OCR and PDF capabilities, and automatic image transfers to peripheral devices. Proprietary emulsion direct imaging technology captures images directly from film originals without glass interference and eliminates artifacts and light refractions. Microtek Lab Inc., Redondo Beach, CA 90278; (310) 297-5000.
Software supports machine vision Imaging Studio 5.0 is a C/C++ foundation-class library that serves as a high-level API for machine-vision application development for programming the company's line of frame grabbers. It includes IFC Imaging Foundation Classes, ITEX library, and Camera Configurator. Imaging Studio SDK offers an object-oriented API for camera setup, image acquisition, and data display. Other support features include PC-DIG, PC-RGB, PCVision, PCVisionplus, IC-Async, and Interrupt API. The product works with Visual C++ 6.0 and Visual Basic 6.0 and provides cross-platform compatibility with Windows 98/NT/2000. Coreco Imaging Inc., Bedford, MA 01730; (781) 275-2700.
Imaging system for auto ID solutions VCM30 image-processing system comes in a rugged 10 x 1.3-in.-diameter, NEMA 4 (IP67) housing with normalized gray-scale correlation pattern-matching software. It suits gauging, inspection, orientation, pattern-matching, recognition, and correlation tasks. The system integrates LED ring lighting, optics, color sensor, processor, and a user interface. A cross-development software system comprises a C compiler, a real-time operating system, and an image-processing library. Vision Components, Burlington, MA 01803; (781) 229-5842.
Board computer fits in CPCI slot Eurocom 238 single-board computer provides either a Celeron 366- or 433-MHz processor or a Pentium III 600- or 850-MHz processor with FPU, MMU, and first- and second-level cache. It contains an Intel 440BX PCI chip set and a Compact PCI interface in a double Eurocard format. The 64-bit-wide memory allows 128- or 256-Mbyte SDRAM memory. Graphics interfacing is done with an AGP-based controller C&T 69030, 32-bit interface to the AGP bus, and a 4-Mbyte frame-buffer memory. Other features include IDE hard-disk mounting, a PCI extension card for PMC boards, and a PMC module carrier board. American ELTEC Inc., Princeton, NJ 08540; (609) 452-1555.
Camera outputs 3-D images SC-WA stereo video camera contains left and right 1/3-in. CMOS color sensors that each deliver 510 x 492-pixel resolution in NTSC analog output format or 628 x 582-pixel resolution in PAL analog output format. It measures 2 x 2 x 2 in., weighs 5.5 oz, and runs at 30 frames/s for each channel. With an f/2.4 lens, the field of view is 18 in. at a distance of 36 in. A built-in video multiplexer allows a single-field sequential stereo video output or an individual sensor output via separate left-channel or right-channel output connections using composite-video or S-video encoding. Camera parameters can be controlled by an RS-232 serial port. StereoImaging Corp., Tyngsboro, MA 01879; (978) 649-8592.
Software increases precision Package Tool machine-vision software increases the speed, flexibility, and precision of automated package inspection. It suits the inspection of integrity, seal, label position, text, colors, and graphics on containers, cartons, and cellophane wrappers. Running on the company's Passport DSL digital vision system, the software can inspect thousands of parts per minute. Setups are done with the program-manager graphical user interface. Multiple templates within the same region of interest (ROI) allow the programming of up to eight inspection tasks. Polygonal ROIs align the tool so that only the desired features of a container are inspected. Run-time morphology cleans and enhances an image before comparison to the template. Package tool retrain permits the automatic creation of new templates using a single button. PPT VISION, Minneapolis, MN 55344; (952) 996-9500.
Lenses suit gauging Super-Eye line of lenses offer working distances of greater than 555 mm and distortion values as low as 0.1%. Double-telecentric design allows for less than 0.2% change in magnification over object distance variations greater than ±32 mm. These lenses fit 1/3- and 1/2-in. area-array cameras and 1024-pixel and smaller linear-array cameras for gauging applications. Available magnifications include 0.2X to 0.4X. Light Works, Toledo, OH 43624; (419) 534-3718.
Board handles compressed video Model 512 PC/104 video input/output board encodes or decodes full-frame compressed video up to 30 frames/s. It performs MPEG1 and MPEG2 hardware compression and decompression of PAL- and NTSC-formatted video. The compressed video bitstream can transmit 30 frames/s of video over 100Base-T Ethernet. The board can loop the video input back to the output circuit for camera adjustments. It supports variable rates, constant bit rate, and composite and S-video inputs and outputs. Other features include a DOS driver and three bidirectional TTL-level I/O lines. Sensoray, Tigard, OR 97223; (503) 684-8005.
PCI frame grabber packs features Corona-II PCI frame grabber can capture standard or variable, analog or digital, monochrome or component RGB frame-scan sources. The on-board G400 graphics controller provides a nondestructive graphics overlay on live video and supports video-in-a-window with arbitrary video scaling. DualHead display technology enables the simultaneous handling of an independent analog VGA output and a DVI-compliant digital VGA output or an analog VGA output and a TV output. Other features include three 10-bit analog-to-digital converters, sampling rates to 40 MHz, configurable look-up tables, 24-bit digital interface, on-board 8-Mbyte buffering, and an RS-232 serial port. Software support covers Windows 98/NT 4.0/2000 and Matrox Imaging Library versions. Matrox Imaging, Dorval, QC, Canada H9P 2T4; (514) 685-2630.
Frame grabber runs Channel Link FastImage 1300 frame-grabber board uses the National Semiconductor DS90CR285 transmitter and DS 90CR286 receiver chip set to support Channel Link interface technology. It can transmit digital data to 1.8 Gbits/s, operate at 3.3 V, and run at a 66-MHz clock speed. The transmitter converts 28 bits of CMOS/TTL data into four LVDA data streams for the receiver. The full-length PCI board comes with four Trimedia processors, each with 8-16 Mbytes of 572-Mbyte/s SDRAM, and delivers 2.6-3.6 GFLOPS. Alacron Inc., Nashua, NH 03060; (603) 891-2750.
Camera system delivers fast rates Multichannel common aperture camera system can control as many as five co-aligned CCD cameras, function as an image-capture and data-storage subsystem, and sequence the cameras in proper order and at rates of 5000 frames/s. When a gated intensifier is placed in front of the prism assembly, frame rates can be programmed to 1 million/s. Pixel resolutions range from 648 x 100 to 1024 x 1024. Wavelength separation or neutral wavelength splits can be accomplished with the prism assembly. A variety of chromatically corrected lenses as well as a relay lens adapter for C- or F-mount lenses are available. Richter Enterprises, Wayland, MA 01778; (508) 655-7632.