Adept introduces packaging robot platform
The Adept Packaging Automation Cell (PAC) is a platform targeting the next generation of high-speed primary packaging of products, such as poultry and meat using an USDA-accepted parallel linked robot.
Jan 5th, 2011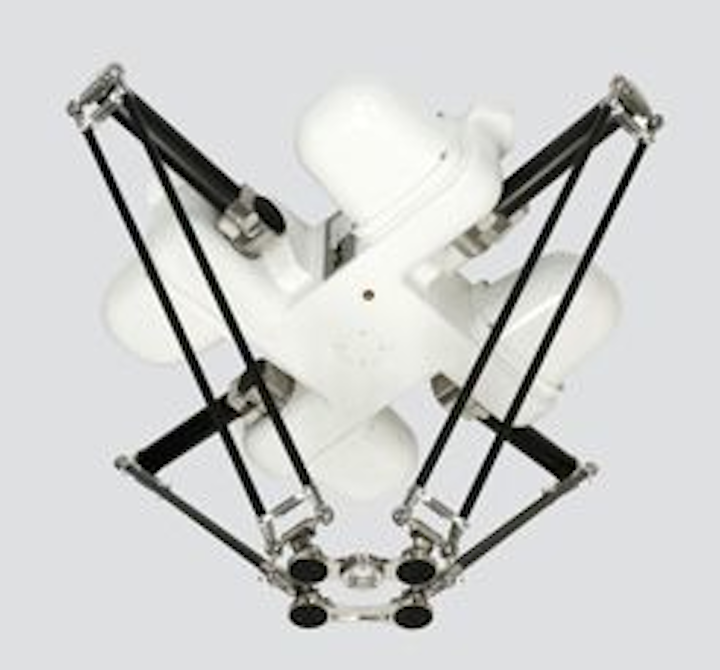 NEW PRODUCT PRESS RELEASE
Adept Technology Inc. (Nasdaq:ADEP; Pleasanton, CA, USA), a provider of intelligent vision-guided robotics and autonomous mobile robotics solutions, has unveiled its latest packaging platform for the food industry. The Adept Packaging Automation Cell (PAC) is a platform for next-generation, high-speed primary packaging applications requiring both flexible and sanitary processing. The packaging cell is built with a rigid stainless-steel frame for washdown capabilities and integrated with products from Adept, such as a USDA-accepted robot, ultracompact motion and vision controllers, touch-screen operator interface, and predefined programming recipes for advanced conveyor tracking and vision guidance.
"Adept PAC was developed through the knowledge and domain expertise gained in the process of obtaining USDA-acceptance for our Quattro s650HS," said Rush LaSelle, director of sales & marketing for Adept. He adds, "By bundling numerous building blocks such as vision, easily navigated operator interfaces, and a thoughtfully designed frame into a well defined package, the Adept PAC stands to reduce delivery, integration, and overall deployment times."
"The Adept PAC is designed to provide the dexterity and flexibility of manual packaging with the consistency and throughput of traditional packaging machinery," said John Dulchinos, president and CEO of Adept Technology. Built on the USDA-accepted Adept Quattro s650HS robot, the Adept PAC is the first robotic packaging platform designed from the ground up to address the hygienic requirements of meat and poultry packaging. "Adept PAC can be easily configured to a wide range of packaging applications in the food and pharmaceutical industries," said Dulchinos.
SOURCE: Adept Technology

-- Posted by Vision Systems Design