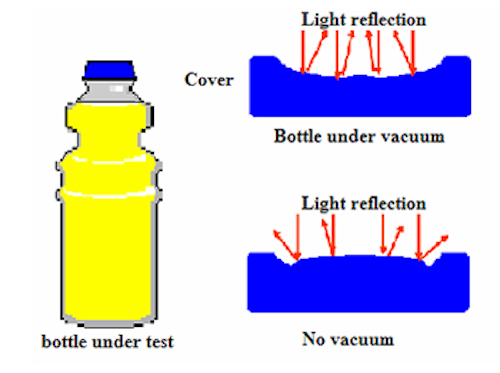 Engineers at the Egyptian Center for Technology (ECT; Giza, Egypt) have developed an image processing system that can check if a vacuum is present inside juice bottles at the end of a production line.
Dr. Akml Nasr and his team from ECT developed the system to automate the processing of inspecting the bottles, a process which had previously been performed manually.
Nasr made use of the fact that the shape of the bottle cap varies depending on whether or not a vacuum is present inside the bottle. As such, the manner in which the cap reflects light will vary accordingly.
Hence, by applying a homogenous parallel light to the bottle cover and measuring the intensity of reflected light using a CCD camera, it was possible to determine whether or not a vacuum was present.
In operation, the presence of bottles on the production line is detected by a photocell which triggers the CCD camera to capture an image of the top of the bottle which is illuminated by a light source. The image is then acquired by a PC which processes the images using software developed using National Instruments (Austin, TX) LabVIEW.
If a bottle without a vacuum is detected by the image processing software, that bottle is rejected from the production line using a pneumatic pusher.
More information on the system can be found here.

Related items from Vision Systems Design that you might also find of interest.
1. Telecentric lenses and smart software team for bottle inspection
CIVision (Aurora, IL, USA) has designed a system that uses off-the-shelf cameras, lenses, and lighting components to inspect the neck and sidewalls of bottles.

2. Machine vision checks bottle-cap seals
The Silgan Equipment Company has developed a vision-based system to check whether bottles have been filled to an acceptable level and whether their caps are correctly placed and positioned.

-- Dave Wilson, Senior Editor, Vision Systems Design