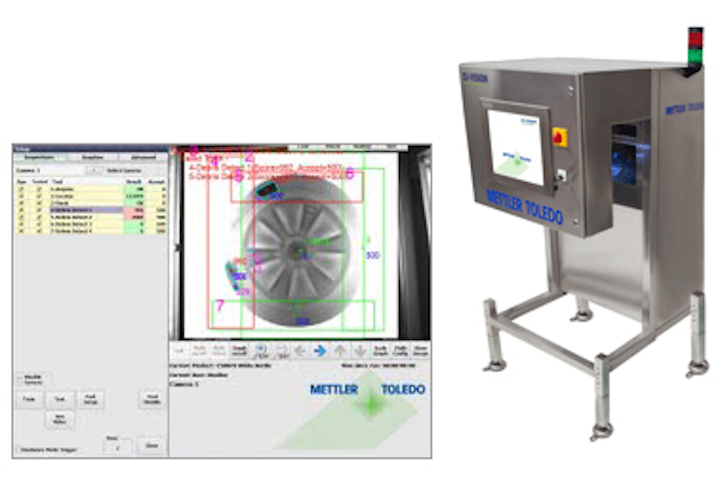 An Asia-Pacific beverage manufacturer that produces and supplies brands for a major soft drinks company has selected a three-station CI-Vision system fromMettler Toledo (Aurora, IL, USA) to inspect bottles of beverages.

The three-station CI-Vision system verifies the printed code on the bottles, determines the quality of the caps on them and detects any foreign debris inside them.

Verification of the accuracy and presence of ink jet codes is performed at one vision station immediately after an ink-jet-printer has printed codes on the bottles. The Mettler Toledo vision system then ensures any bottle with missing or misprinted codes will be rejected from the production line before reaching retailer shelves.

At a second vision station, two cameras inspect the quality of the caps on the bottles. The two cameras -- mounted approximately 120 degrees apart with two backlights on the opposite side to illuminate the bottles and caps -- check for cap height, cap skew, tamper-band integrity and detect any clear PET bottle with low fill. Any product outside of these set tolerances is detected, tracked and rejected.

An additional one camera inspection station detects foreign particles -- either rubber or metal fragments that might have dropped into the bottles during the filling process.To perform an inspection of the bottom of the bottle, a side-grip-conveyor suspends the bottle in the air and a camera located directly below the bottle detects any foreign particulates that might have collected in it.

Related articles on bottle inspection from Vision Systems Design.
1.Vision system inspects bottle caps

Engineers at MultiPix Imaging (Petersfield, UK) and vision systems integrator Engage Technology (Witley, UK), working with ALS Controls (Cheltenham, UK), have created a vision inspection system which checks bottle caps for a large milk bottle manufacturer.

2.Vision system checks milk containers for flash

Worldwide plastics manufacturer Logoplaste (Essex, UK) has worked closely with Sick UK (St Albans, UK) to reduce to nearly zero the number of defective blow-molded 2-litre milk containers delivered to its customer -- a major UK dairy products company.

3. Vision system detects vacuum in juice bottles

Engineers at the Egyptian Center for Technology (ECT; Giza, Egypt) have developed an image processing system that can check if a vacuum is present inside juice bottles at the end of a production line.

Vision Systems Design magazine and e-newsletter subscriptions are free to qualified professionals. To subscribe, please complete the formhere.

-- Dave Wilson, Senior Editor,Vision Systems Design