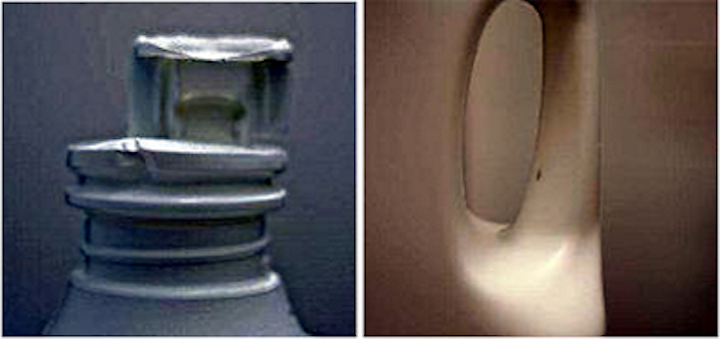 Worldwide plastics manufacturer Logoplaste (Essex, UK) has worked closely with Sick UK (St Albans, UK) to reduce to nearly zero the number of defective blow-molded 2-litre milk containers delivered to its customer -- a major UK dairy products company.

At Logoplaste's plant in Essex, two 500 meter lines produce 6,000 rigid plastic milk bottles an hour. The bottles are conveyed to the customers' plant as aseptic fully-enclosed containers.

During the molding process, flashings occur at the moil -- a ring of material at the neck of the container -- and the handle. Automatic trimming removes these, but small pieces of flashing can be left attached to the moil or entire handle slugs left in place.
These can cause a problem on the filling line, where the moil is removed prior to filling. If the moil is dented or deformed, it may not remove cleanly. If there are pieces of flashing on the moil or handle, they could possibly enter the bottle at this point. Holes, tears or weak points on faulty handles will cause the loss of sterility, or could leak after filling.

To inspect each molded container at full line speed, two Sick Inspector I20 vision cameras were positioned on each line, replacing the human batch inspection process. One camera scans the container necks and one scans the section of the handle where untrimmed flashings remain.
Set at 40mm from the target, the cameras compare each scan against a preprogrammed image. If a fault is identified, an alarm is triggered and the faulty unit can be removed from the line before palletizing.

Recent articles from Vision Systems Design on bottle inspection that you might also be interested in.

1. Vision system detects vacuum in juice bottles

Engineers at the Egyptian Center for Technology (ECT; Giza, Egypt) have developed an image processing system that can check if a vacuum is present inside juice bottles at the end of a production line.

2. Vision system inspects bottle caps

Engineers at MultiPix Imaging (Petersfield, UK) and vision systems integrator Engage Technology (Witley, UK), working with ALS Controls (Cheltenham, UK), have created a vision inspection system which checks bottle caps for a large milk bottle manufacturer.

3. Telecentric lenses and smart software team for bottle inspection

CIVision (Aurora, IL, USA; www.civision.com) has designed a system that uses off-the-shelf cameras, lenses, and lighting components to check the surface of the neck of bottles for planarity and detect molding flash.

Vision Systems Design magazine and e-newsletter subscriptions are free to qualified professionals. To subscribe, please complete the form here.

-- Dave Wilson, Senior Editor, Vision Systems Design