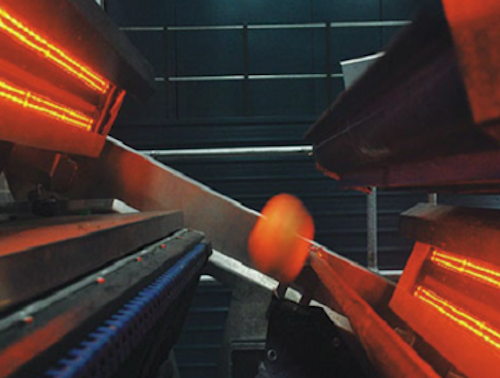 Food sorting system manufacturer Odenberg (Dublin, Ireland) has developed a vision-based machine that can sort fruit and vegetables.

Called Halo, the machine incorporates a near infrared (NIR) spectrometry system, CCD cameras, and light-emitting diodes (LEDs) for illumination.

The machine can handle a variety of fruit and vegetables including peeled and unpeeled potatoes, carrots, dried fruits, cucumbers, tomatoes, peaches, pears, berries and cucumbers.

One of the first Halo purchasers was Primco, Europe's largest carrot supplier. The company trialled two Halo sorting systems -- with a potential capacity of 25,000 kg per hour -- last year at its plant in France. Following the success of the trial, Primco ordered a further four Halo optical sorters.

With headquarters in Dublin, Odenberg also has offices in Slovakia, Italy, France, the Netherlands and the US. The company was acquired by Norway-based Tomra Systems in February 2011.
-- by Dave Wilson, Senior Editor, Vision Systems Design