Literature
Corporate newsletter; Packaging-solutions catalog; Full-line catalog...
Jun 1st, 2001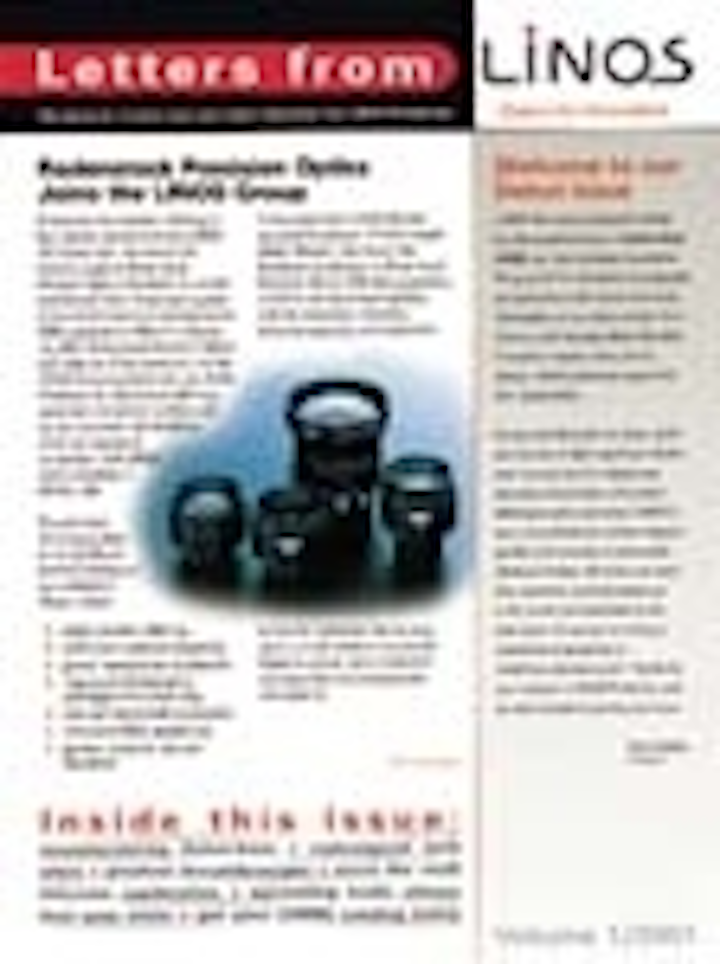 Corporate newsletter
Free subscriptions are available to Letters from LINOS, the company's corporate newsletter featuring company news, trade-show information, and a product/catalog request form. The latest issue has information on CCD lenses, mini laser modulators, laser mirrors, medical imaging lenses, and NIR doublets.
LINOS Photonics
Rockford, IL 61109
(815) 874-8300
e-mail: rpo@linos-photonics.com.
Packaging-solutions catalog
Products for enclosures and PCB packaging are described in a new 2001 catalog. There are technical specifications for products such as EMC-protective faceplate assemblies and an expanded line of panel-mount light pipes and LED assemblies.
Bivar Inc.
Irvine, CA 92618
(949) 951-8808
e-mail: info@bivar.com.
Full-line catalog
Company's new catalog has been expanded to include information on high-speed and high-density board interfaces. Product lines such as Micro Board-to-Board and Power-to-Board interconnects are included.
Samtec Inc.
New Albany, IN 47151
(812) 944-6733
e-mail: info@samtec.com.
Circuit-protection and power-entry devices
Catalog includes updated power-dissipation charts for the company's power-entry modules and fuseholders. Devices such as the KM/KMF, which incorporates up to five features while only measuring 2 x 1 in., are described.
Schurter Inc.
Petaluma, CA 94954
(707) 778-6311
e-mail: info@schurterinc.com.
Measurement and inspection sensors
Expanded catalog provides selection data and specifications for all of the company's sensors and includes more than 50 application drawings. Products are grouped by family, such as light-gauging sensors, to make this an easy-to-use resource for specifiers and engineers.
Banner Engineering Corp.
Minneapolis, MN 55440
(888) 373-6767
e-mail: sensors@bannerengineering.com.
Send literature items to
Bonnie Heines
Managing Editor
Vision Systems Design
98 Spit Brook Rd.
Nashua, NH 03062
Fax: (603) 891-0574