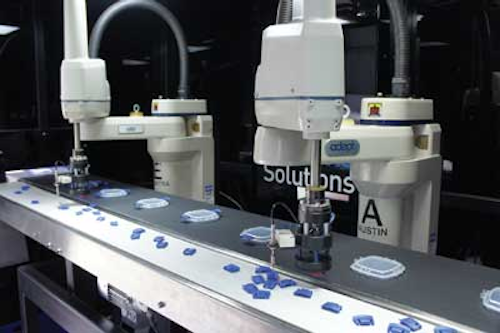 Vision guided robotic vision systems are used to automate the assembly of plastic food containers
Casey Segraves and Clara Dunning
In fifty-nine countries around the world, Sistema Plastics Limited (Penrose, Auckland, New Zealand; http://sistemaplastics.com) is well known for its range of stackable, food safe storage containers. Perhaps the best known brand, the company's Klip It collection with its distinctive blue clips allow containers of different sizes to be stacked in different configurations.
To produce these containers in quantity, the company has developed fully-automated systems that Include plastic molding injection systems to produce the containers, lids and plastic clips, robotic-guided vision systems that assemble each container and automated systems to label, pack and wrap the containers for shipment (see "The Sistema Factory Technology Video" at http://bit.ly/18SGc8h).
After each container and lid is manufactured, flexible plastic clips must be applied to seal the lid and the container. In the past, these clips had been manually attached on the base of each container. However when Sistema introduced a new range which featured smaller clips attached to the lid, issues in the manual production process led to the search for an automated solution to lower costs and increase efficiency.
Reduced cost
"While Sistema is always looking for ways to reduce costs through automation, there were other reasons for prioritizing the clip attaching process", says Oliver Jensen, Engineering Manager at Sistema. "It was difficult for workers to apply the clips to the lids, especially when they were working long shifts to keep up with demand. Applying the clips was a process that was also run offline, which means that that the lids are molded, collected and the clips added separately. What was needed was a system to automate this process for multiple shapes and sizes of products."
Having already worked with Sistema to install a camera-guided robotic labeling system, ControlVision (Auckland, New Zealand; www.controlvision.co.nz) was tasked with integrating the hardware and software to enable the automation of clip attachment (Figure 1). A major challenge of the project was ensuring precise accuracy for the clip placement while maintaining a high speed on a moving conveyor, as there was a tolerance of less than 0.5mm for the clip to be successfully applied. It was also vital that the system could handle a range of lid sizes, shapes and different clip colors.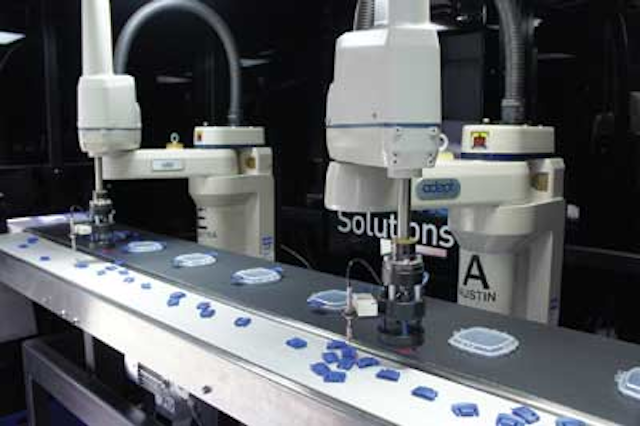 Figure 1: To automate the process of applying clips to plastic storage containers, ControlVision has developed a vision-guided robotic system that uses two vision guided Adept robots to add the clips to the containers at the rate of one every two seconds.
System design
In the system, two conveyor belts carry the lids and clips separately in parallel (Figure 2). Encoder feedback is employed to enable the accurate tracking of the clips and lids on the moving conveyors. Upstream of each robot, used to pick and place the clip, are a pair of scout scA640-74gm cameras from Basler (Ahrensburg, Germany; www.baslerweb.com) with 640x480 resolution. With a 25mm focal length Fujinon lens from Fujifilm (Wayne, NJ, USA; www.fujifilmusa.com), these two cameras capture a 250mm x 200mm field of view of the clip, which are sent to Control Vision's VisionServer software to determine their position.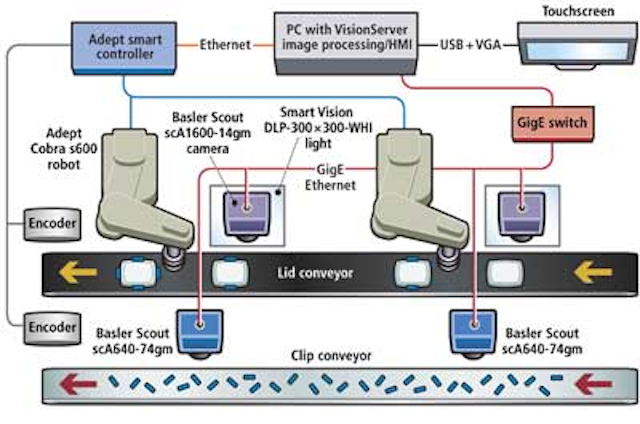 Figure 2: In the design of the system, lids and clips are imaged as they move along two separate containers. After each clip is located, two clips are picked and placed onto the lid using an Adept robot. A second Adept robot picks and places the final two clips.
Once the position is determined, the VisionServer software guides a Cobra s600 robot from Adept Technology (Pleasanton, CA; www.adept.com) to pick up the clip. A separate, 1600 x 1200 Basler scout scA1600-14gm monochrome camera captures a 500mm x 350mm field of view of the corresponding lid using a shorter focal length Fujinon 16mm lens. This image is processed by the VisionServer software to locate its position and guide the robot into applying the clip. The process is repeated for the second clip. As all lids have either three or four clips, a second Adept Cobra s600 robot is paired with an identical vision system that applies the third and/or fourth clip to the same lid downstream.
To locate the clips, the ControlVision VisionServer software uses the VisionPro PatQuick geometric matching tool from Cognex (Natick, MA, USA; www.cognex.com). Further VisionPro edge and contrast tools are then used to identify the orientation of the clip and distinguish whether it was upside down or right side up. To determine whether a clip is already present on the lid and in which location, PatQuick geometric matching, and edge and contrast tools were used.
Diffuse lighting
Each Basler camera is mounted to image the lids and clips through the center of a DLP-300x300-WHI, diffuse light panel from Smart Vision Lights (Muskegon, MI, USA; www.smartvisionlights.com) while the lower resolution camera is mounted upstream, next to the light source. This LED array provides homogeneous "cloudy-day" illumination covering the complete field of view for both cameras (Figure 3).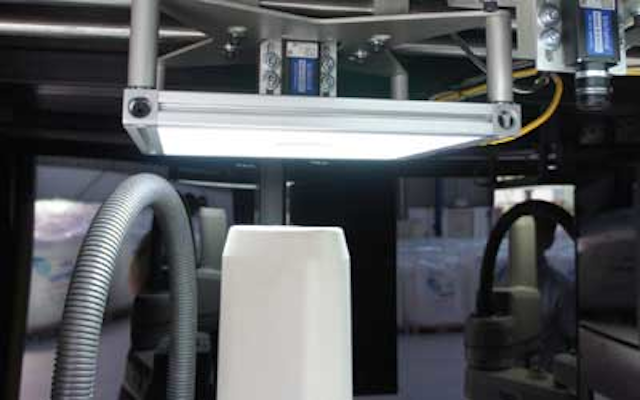 Figure 3: Each camera is mounted to image the lids and clips through the center of a DLP-300x300-WHI, diffuse light panel from Smart Vision Lights.
Since a variety of clip colors may be used, white light was chosen for its versatility. "Diffuse ring light panels, such as the DLP & LLP-H Series, have become increasingly popular", says Dave Spaulding, President of Smart Vision Lights.
By using panels slightly larger than the inspection subject, they provide results similar to dome lighting by allowing light to come from multiple angles, but at a significant cost savings. Another advantage over dome lighting is that the panel light does not have to be placed directly over the target and can be mounted at a distance.
HMI Interface
As well as managing the robot cell, ControlVision's VisionServer framework also acts as the human-machine interface (HMI) for the system, enabling system parameters to be configured and the complete clip placement process to be monitored (Figure 4).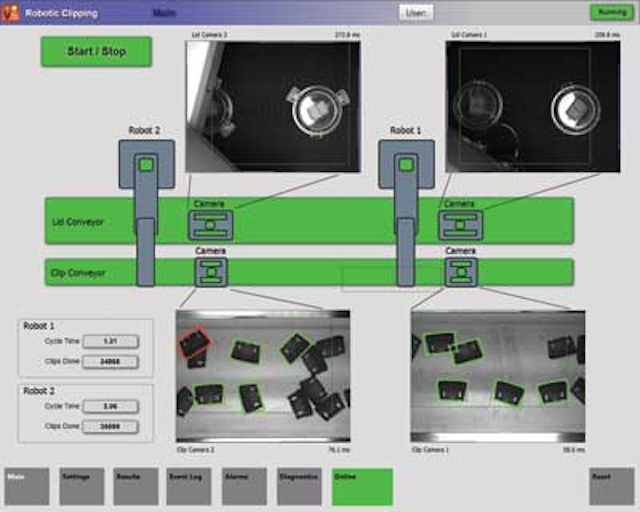 Figure 4: ControlVision's VisionServer framework acts as the human-machine interface (HMI) for the system, enabling system parameters to be configured and the complete clip placement process to be monitored.
Adept ACE software is also running on the PC while VisionServer interacts with the robot through the ACE software sending positional data to the robot program. VisionServer also obtains variables from the robot in order to display them within the HMI.
Since the system has been installed, clips are applied to lids at a rate of one every two seconds - double the output of the previous process. Operators are now able to run twice the volume of product.
Casey Segraves Business Development & Marketing Manager, Smart Vision Lights (Muskegon, MI, USA; www.smartvisionlights.com) and Clara Dunning, Marketing Manager, ControlVision Ltd. (Auckland, New Zealand; www.controlvision.co.nz)
---
Lighting competition draws multiple entries
In July of 2013, Smart Vision Lights held its first annual vision lighting application contest to find the best vision application, feasibility test, or white paper featuring one or more of the company's LED arrays. Of the many entries, ControlVision received the $1,000 grand prize. Other notable entries included systems to inspect candy cane boxes, bottled water and the proper placement of screws in an electrical component.
Candy Canes – At McNaughton/McKay Electric Company (Madison Heights, MI, USA; www.mc-mc.com), Jim Witherspoon needed to inspect completed candy cane boxes to ensure that each box is full and that the correct sticker/label is on the front of the box. Because the boxes and candy canes can be any color or combination of colors, he employed a Smart Vision Light's L300-850-W 300mm Linear Light 850nm IR light source to eliminate any color variation and provide a grayscale image result. Because the IR light penetrates plastic wrappings, it effectively eliminates any potential for glare or reflection. With the IR light, all the canes appear bright white. If a cane is missing, the location where it should be appears dark. (A)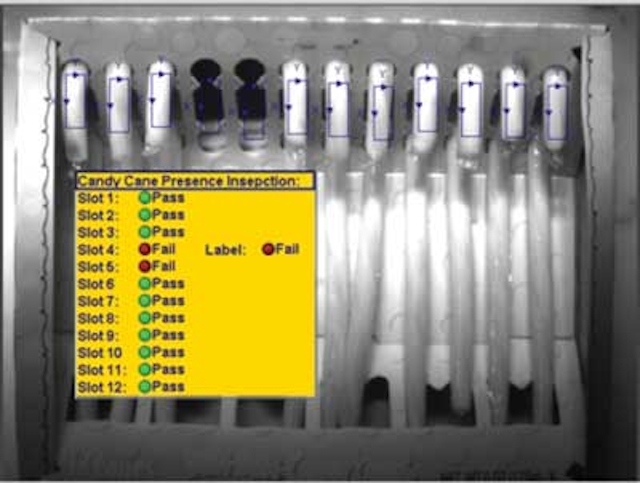 A.
Bottle cap inspection – At McNaughton/McKay Electric Company (Madison Heights, MI, USA; (Madison Heights, MI; www.mc-mc.com) Dave Girouard needed to inspect multiple objectives on a 20oz. bottled water product. The inspection required detecting the presence or absence of the bottle cap, whether the cap was applied correctly with the safety seal present and whether the bottle was properly filled. To do so, he employed a SOBL-150x100-850 [150mm x 100mm (6 in x 4in) active area LED backlight from Smart Vision Lights. With this arrangement the system can easily pass correctly fitted caps, proper safety seals, and view fill levels. Improperly fitted caps, questionable safety seals, and inaccurate fill levels will be failed by the vision system. (B)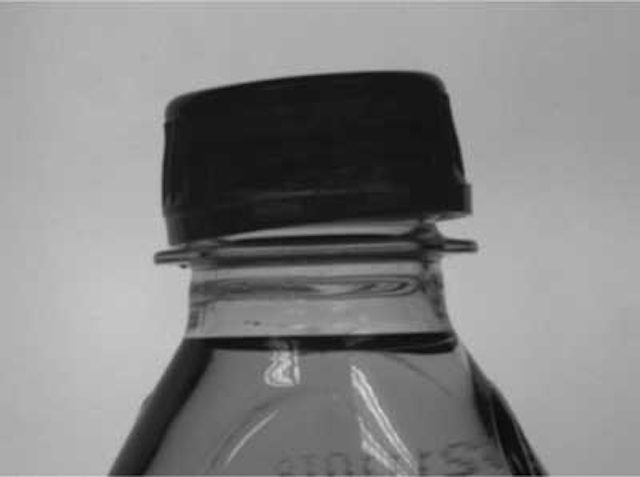 B.
Screw placement – At Inspecciones Industriales Inteligentes (Monterrey, Mexico; www.i3.com.mx), Adriana Benitez needed to distinguish the color of four screws (green, black, silver and gold) and their proper placement in a commercial electrical component. Two L300-WHI linear lights from Smart Vision Lights were used to build a "tunnel light" to provide even diffuse illumination while eliminating reflection from the metallic components. This was accomplished by building a metal frame and painting the inside matte white. The bar lights were placed facing upward in the bottom corners of the tunnel. (C)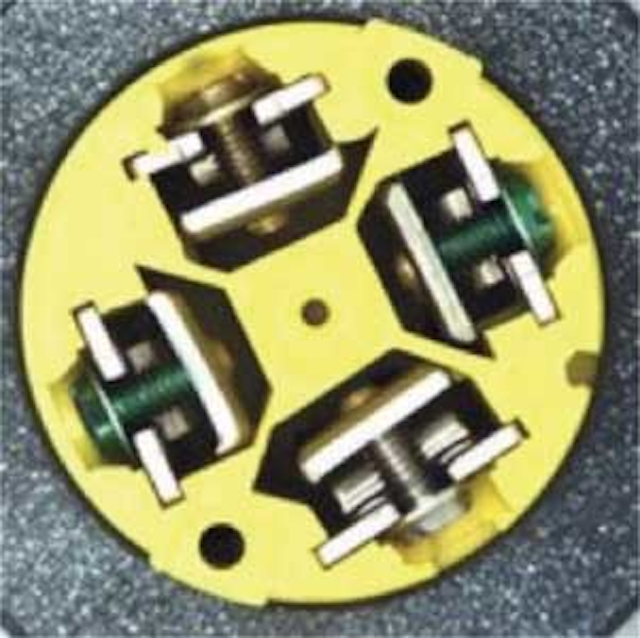 C.
Companies Mentioned
Adept Technology
Pleasanton, CA, USA
www.adept.com
Basler
Ahrensburg, Germany
www.baslerweb.com
ControlVision
Auckland, NZ
www.controlvision.co.nz
Cognex
Natick, MA, USA
www.cognex.com
Fujifilm
Wayne, NJ, USA
www.fujifilmusa.com
Inspecciones Industriales Inteligentes
Monterrey, Mexico
www.i3.com.mx
McNaughton/McKay Electric Company
Madison Heights, MI, USA
www.mc-mc.com
Sistema Plastics Limited
Penrose, Auckland, New Zealand
http://sistemaplastics.com
Smart Vision Lights
Muskegon, MI, USA
www.smartvisionlights.com
More Vision Systems Issue Articles
Vision Systems Articles Archives