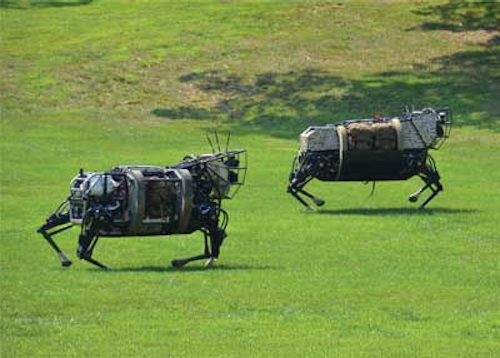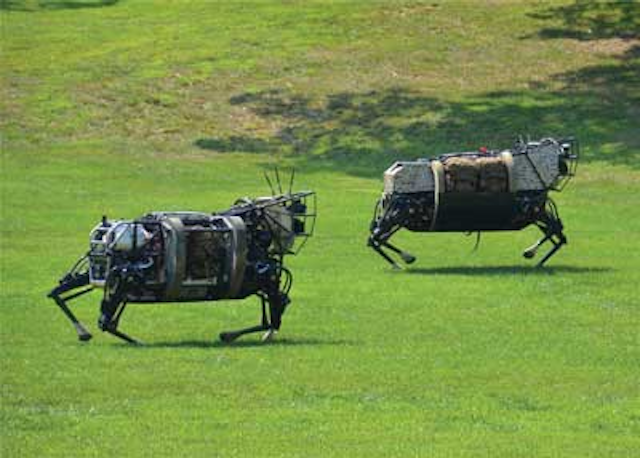 Looking to produce a more robust version of the LS3 vision-guided robot, the Defense Advanced Research Projects Agency (DARPA, Arlington, VA, USA: www.darpa.mil) has awarded Boston Dynamics (Waltham, MA, USA; www.bostondynamics.com) with a $9,983,844 contract.
Boston Dynamics LS3 program seeks to demonstrate that a legged robot can unburden squad members by carrying their gear, autonomously following them through rugged terrain and interpret verbal and visual commands.
DARPA wants to see the development of an enhanced version of the LS3 robot—which is an enhanced version the BigDog military robot—with increased reliability, greater protection against small fire arms, and a quiet power supply to support stealthy tactical operations.
BigDog has an integrated stereo vision system and a LIDAR system developed by NASA's Jet Propulsion Laboratory (Pasadena, CA, USA; www.jpl.nasa.gov). The system can interpret the shape of the 3D terrain in front of the robot, and find a clear path forward.
The LS3 prototype, which is being referred to as "AlphaDog," completed its first outdoor assessment in January 2012 when it climbed and descended a hill while testing its vision capabilities. Completion of the project, which will take place in Waltham, MA, USA is expected by March 31, 2015.
More Vision Systems Issue Articles
Vision Systems Articles Archives