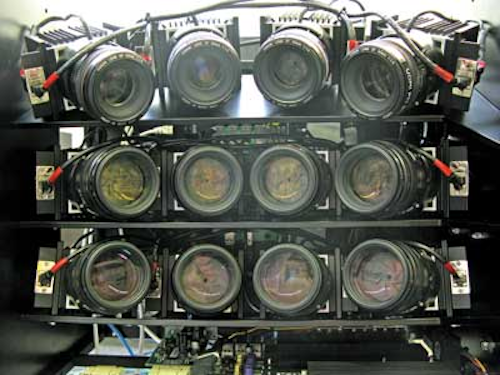 With the increased need to monitor potentially threatening situations at remote distances, government agencies are turning to both unmanned and manned digital surveillance techniques. Remotely controlled unmanned drones are often used for these purposes, but they are expensive to operate and often can only be used to image localized regions of interest.
In situations such as border monitoring and general surveillance, it is necessary to monitor relatively large areas in excess of 4 × 4 miles. Using wide-area surveillance systems, high-resolution image data can be used to continuously track people and vehicles, allowing all the activity in an entire area to be monitored with a single camera system. Localized monitoring ensures that should a specific event occur, recorded data can be analyzed to backtrack people and vehicles from their origins to their final destinations.
Companies such as Persistent Surveillance Systems (PSS) are leveraging off-the-shelf cameras, inertial navigation systems (INS), global positioning systems (GPS), and high-speed computers to perform these wide-area surveillance tasks.
Designed to be mounted in a light aircraft, PSS's Hawkeye II system employs twelve 16-Mpixel color Gigabit Ethernet cameras from Imperx mounted as a 4 × 3 array on a pan and tilt gimbal (see figure). Images from the twelve GigE cameras are then multiplexed using a 10 Gigabit Ethernet (10GigE) switch and the 10GigE output transferred to a host server with an embedded 10GigE network card.
With a PCI Express backplane, the host PC is also interfaced to an INS that measures the position, orientation, and velocity of the aircraft. Location and time information data are similarly captured using a GPS that is also interfaced to the host PC.
In its Hawkeye II wide-area surveillance system, Persistent Surveillance Systems uses twelve 16-Mpixel GigE cameras to capture 144-Mpixel images over 4 × 4-mile areas.
To ensure complete coverage of the area, each of the twelve cameras is calibrated to allow an overlap between captured images. As images are captured by the system, they are geo-rectified using INS and GPS data. This allows images from the twelve cameras to be mapped onto a single image plane then stitched together to form a 144-Mpixel image.
This image is displayed to the operator aboard the aircraft; alternatively, it can be downloaded to a ground station over a 300-Mbit/sec downlink. Captured images can be viewed by both the onboard operator and local law enforcement officers. According to Randolph Carter, chief executive officer of PSS, image analysis is currently performed manually due to the size and complexity of the image data.
Operating at 7000 ft above ground level, the system is capable of resolving images as small as 1.5 ft in diameter. The Hawkeye system has been successfully deployed in crime investigations in the United States and in foreign countries, and has resulted in a number of criminal prosecutions.
More Vision Systems Issue Articles
Vision Systems Articles Archives