Imaging sensor technology sees three dimensions
A new start-up company, Canesta Inc. (San Jose, CA; www.canesta.com), has released information on its electronic perception technology in a recently issued US patent, "CMOS-Compatible Three-Dimensional Image Sensor IC."
May 1st, 2002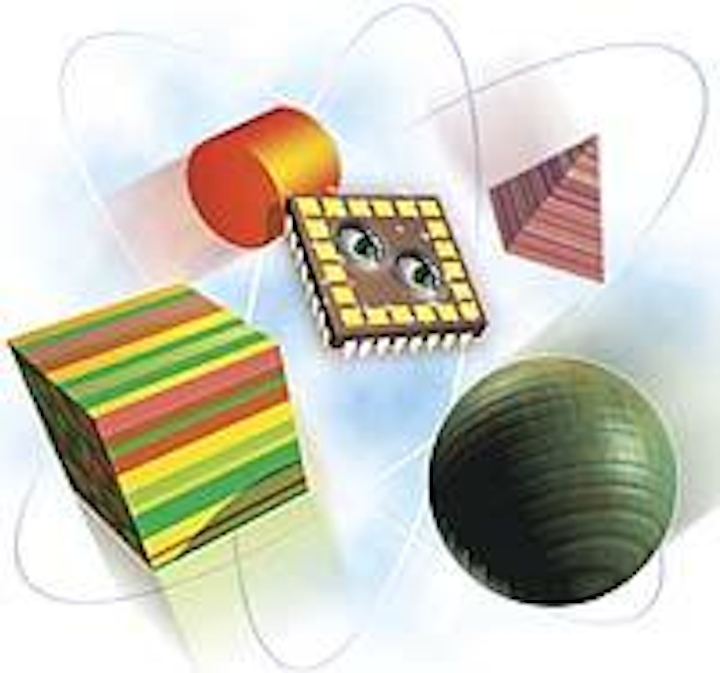 George Kotelly
Editor in Chief
georgek@pennwell.com
A new start-up company, Canesta Inc. (San Jose, CA; www.canesta.com), has released information on its electronic perception technology in a recently issued US patent, "CMOS-Compatible Three-Dimensional Image Sensor IC." Electronic perception technology is described as a low-cost, real-time, three-dimensional (3-D) imaging capability that will enable machines and electronic devices to perceive nearby objects and their movements. With this technology, a range of products—from small cell phones to large security systems—is expected to see, perceive, identify, and react to objects and features through the medium of "sight."
The core of Canesta's technology is a small, moving-image sensor and custom software that "sees" the environment in 3-D contours, rather than in the flat two-dimensional images traditionally provided by video camera chips. Essentially a "smarter" cousin of video chips that are now commonplace in video-oriented products, Canesta's 3-D sensors can be used by OEM manufacturers to economically "sight-enable" consumer or industrial appliances. Additionally, because the sensors can provide more than 50 3-D frames/s, these applications will be able to track subtle movements and positions of nearby objects in real time.

According to Nazim Kareemi, Canesta president and chief executive officer, the company sees, over the long run, three broad application areas for electronic perception: navigation through the environment, identification and cataloging, and human-computer interfaces. "Navigation applications are those where electronic perception technology enables a machine or its operator to navigate more accurately, easily, or safely through its surroundings, such as warning the driver of a car of a potentially dangerous lane change," says Kareemi. He adds, "Identification and cataloging applications are those in which a machine or electronic device constantly assesses the nearby environment and identifies features, objects, or changes; building and airport security; law enforcement; or medical diagnosis." In the human-computer interface area, he imagines video games relying on electronic perception rather than mechanical controllers for input. Input devices might include virtual keyboards and gesture control, two areas where Canesta has done significant research and development since its founding.
Electronic perception technology comprises two principal components: 3-D electronic-perception sensor chips and proprietary image-processing software embedded in such chips. In a manner similar to radar technology, where the range to a remote object is calculated by timing how long it takes for an electronic burst of radio waves to echo back from that object, the chips described in the Canesta patent time a burst of sub-visual light reflecting off each feature in the image. The image and distance information is then handed off to an on-chip processor running custom imaging software that further refines the 3-D representation before sending it off chip for application-specific processing.
Since the software starts with a 3-D "contour-map" view of the world, provided directly by the hardware, it offers a substantial advantage over classical image-processing software that constructs 3-D representations using complex mathematics and images from multiple cameras or points of view. This reduction in complexity makes it possible to embed application-independent processing software directly into the chips so they can be used in pocket-sized, electronic imaging devices.
When queried about the impact of his company's technology on the machine-vision and image-processing market, Kareemi comments, "When such capability can for the first time be added to virtually any product in a cost-efficient manner, designers across all industries—cell phone, video-game, industrial, medical, and security—will create new products that can interact with the world in entirely new ways. Our technology constructs 3-D images of nearby space in real time, thereby dramatically simplifying some of the traditional problems in computer vision, such as separating features of interest from the background in a scene."
Canesta is readying subsets of its technology for incorporation this year by OEMs in the personal electronics area, in the form of application-specific sensor chips, interface software, and support services. More detailed information about specific chips, software, and applications focus will be available later this year.
Alliances accelerate
Siemens Dematic EAS (Atlanta, GA; www.siplace.com), a supplier of surface-mount technology, and FeinFocus (Stamford, CT; www.feinfocus.com), a manufacturer of microfocus x-ray equipment, have formed a joint technology alliance to develop and control surface-mount technology manufacturing processes for the electronics assembly industry using off-line microfocus x-ray technology.
Honeywell (Morristown, NJ; www.honeywell.com) and Visionics Inc. (Jersey City, NJ; www.visionics.com) have joined forces to market Visionics' facial-recognition biometric network appliance platforms with Honeywell's enterprise buildings integrator platforms.
Indigo Systems Corp. (Santa Barbara, CA; www.indigosystems,com), a manufacturer of infrared cameras, is partnering with Autoliv (Ogden, UT; www.autoliv.com), a supplier of automotive safety systems, to develop infrared cameras and devices for use in vehicles to extend night-vision capabilities.
Technology trends
IBM Microelectronics (East Fishkill, NY; www.chips.ibm.com) claims to have produced the world's fastest semiconductor circuit that operates at speeds faster than 110 GHz and processes in 4.3 ps. The circuit was built using the company's silicon germanium chip technology. First chips are expected to be released later this year.
Braintech Inc. (N. Vancouver, BC, Canada; www.braintech.com) has released its first commercial version of eVisionFactory (eVF). Built for vision-guided robotics applications, the eVF system combines electronic support, vision science to integrate imaging and guidance technologies, support software, and custom single-camera 3-D technology that accommodates parts handling and assembly, cutting and finishing, gluing and sealing, and inspection.
Mercury Computer Systems (Chelmsford, MA; www.mc.com) has demonstrated new extensions to its Race++ line of embedded computer systems. These extensions help to process 512 X 512 X 512-pixel 3-D medical diagnostic images in 15.5 s, which is 20 to 40 times faster than the five to ten minutes usually needed with conventional angiographic equipment.
Microvision Inc. (Bothell, WA; www.mvis.com) has been awarded new patents for its retinal scanning, microdisplay, and image-capture technologies. The company continues to add to its portfolio of 55 US patents on its proprietary MEMS-based retinal and light scanning technologies used in a range of display and image-capture applications.
Conexant Systems Inc. (Newport Beach, CA; www.conexant.com) has unveiled its latest embedded camera chipset for wireless handsets and mobile devices—the CX20490-31 CMOS image sensor with a 4.0-µm pixel size fabricated in a 0.18-µm process. This sensor operates from a single 2.7- to 3.6-Vdc supply, consumes less than 45 mW, incorporates a 10-bit analog-to-digital converter, offers output resolutions of 176 X 144, 352 X 288, and 320 X 240 pixels, and interfaces with a companion CX11646-21 camera processor chip.
Photon Vision Systems Inc. (Homer, NY; www.photon-vision.com) has rolled out its Imaging Solutions on Silicon technology platform. This platform includes proprietary real-time image-processing algorithms to generate true-color digital still pictures and video from raw sensor data at real-time data rates.
Analog Devices Inc. (Norwood, MA; www.analog.com) has announced its 250-MHz general-purpose ADSP-TS101S TigerSharc digital-signal processor that uses 0.13-µm technology with eight layers of copper interconnect. Key features include 1500 MFLOPS, floating-point 1024-point complex FFT time of 39 µs, and 2 billion 16-bit multiply and accumulates/s.
Amphion Semiconductor Ltd. (San Jose, CA; www.amphion.com), a provider of semiconductor intellectual properties for communication technologies, claims to have developed the first hardware-accelerated wavelet-transform-based JPEG2000 CS6510 encoder core for still- and motion-image-compression applications, such as dual-mode still/movie-clip multimegapixel digital cameras, medical imaging, and surveillance. This core, which can be interfaced to an embedded host processor to build a complete JPEG2000 encoding system on a single chip, provides data encoding rates to 60 Msamples/s on 8-bit samples with real-time lossy image-compression ratios to 50:1.
Sharp Microelectronics of the Americas (Camas, WA; www.sharpsma.com) says it has developed the industry's first 20.1-in. monochrome (LQ201U1LW11) or color (LQ201U1W01) thin-film-transistor liquid-crystal display with 700-nit brightness, 170 X 170-degree viewing angles, 1000:1 contrast ratio, 1600 X 1200-pixel resolution, and 8 bits of gray scale suitable for diagnostic imaging and clinical applications.
Management moves
Edmund Industrial Optics (Barrington, NJ), a supplier of optics and optical components, has appointed Fred Abbott director, corporate design engineering (Tucson, AZ) for the company's manufacturing facilities in the United States, China, and Singapore. He has previously held various management positions in high-technology companies.
Identix Corp. (Los Gatos, CA; www.identix.com) and Visionics Corp. (Jersey City, NJ; www.visionics.com) are merging their assets in a deal valued at $600 million. Both companies agreed that their union (a new company name has not yet been selected) is expected to bring their biometrics and imaging products to market faster and to increase the research and development of new security technologies. Robert McCashin, chairman and chief executive officer of Identix will be chairman of the new company. Joseph Atick, chairman and chief executive officer of Visionics, will be new chief executive officer.
Coreco Imaging Inc. (Montreal, QC, Canada; www.coreco.com) has formed a new Intelligent Products Division (Billerica, MA) that will leverage and support the company's machine-vision and frame-grabber products and technologies to end users. This division also is developing application-specific vision products that can be deployed by nonskilled users and configured via a Web browser interface.
PCI Industrial Computers Manufacturers Group (PICMG) has issued the PICMG 1.2 Embedded PCI-X Specification and Engineering Change Notice ECN 002 to the PICMG 2.0 CompactPCI form factor core specification. The PICMG 1.2 standardizes the mechanical and electrical interfaces to support a standard-form-factor PCI computer system with either one or two PCI/PCI-X buses and also defines the connections for a single-board computer and backplane. The ECN 002 enables hardware-independent software to map between the geographic addresses of CompactPCI slots and the logical PCI addresses by which operating systems and device drivers access the boards plugged into those slots.
StereoGraphics Corp. (San Rafael, CA; www.stereographics.com), a supplier of stereoscopic 3-D visualization products, has appointed founder and chairman of the board Lenny Lipton chief executive officer.
The MathWorks (Natick, MA; www.mathworks.com), a supplier of technical computing software, has donated MatLab and Simulink software products to the Franklin W. Olin College of Engineering (Needham, MA). Working with Olin College faculty, The MathWorks' engineers will support the use of software technology as a core tool in the engineering, science, and mathematics curriculum.
IQ Biometrix California Inc. (Cupertino, CA; www.iqbiometrix.com), a provider of facial comparison and security platforms for law-enforcement agencies, has named Richard K. Thompson chief operating officer and Greg Micek chief financial officer. Both officials were previously management executives at JV Web.
Santa Barbara Infrared (Santa Barbara, CA; www.sbir.com) has named Jay B. James director of business development. He was previously director of marketing and sales for Raytheon Commercial Infrared.
Viisage Technology Inc. (Littleton, MA; www.viisage.com) has unveiled its next-generation FXP-21 facial-recognition engine that can complete an identity search of 500,000 images in 5 s using a single Pentium processor. The company also has released its SecureFlight automated image-capture system that links the company's biometric networked processor hardware and FaceFinder software for overt screening at airport-security checkpoints. Additionally, the company has acquired Biometrica Systems (Mont Vernon, NH), a supplier of facial-recognition cameras, software, and networks, for $2.5 million.
Market vision
Gartner Dataquest Inc. (San Jose, CA; www.gartner.com) expects the worldwide security-software market to total $4.3 billion in 2002, an 18% increase over sales of $3.6 billion in 2001. Based on the 9/11 attacks, increased security concerns are projected to boost the surveillance and security markets as industries gear up to protect their resources against unwanted forces.
Semiconductor Equipment and Materials International (SEMI; San Jose, CA; www.semi.org) reports that the January 2002 book-to-bill ratio of worldwide semiconductor manufacturing equipment sales climbed to 1.04 in March 2002, the first time the ratio exceeded 1.0 in 16 months. This ratio means that manufacturers of semiconductor equipment received $104 of new orders for every $100 of orders shipped. Worldwide three-month bookings averaged $839 million in March 2002, about 14% above the revised February 2002 level of $737 million. The March 2002 billing totaled 60% below the $2.02 billion in orders shipped in March 2001.
Business Communications Co. Inc. (Norwalk, CT; www.bccresearch.com) projects that semiconductor sales revenues decreased 32% to $139 billion in 2001, the largest drop since 1985. However, the semiconductor market is estimated to rebound dramatically during the next several years at an average annual growth rate of 12.1% and total $246 billion in 2006.
In-Stat/MDR (Scottsdale, AZ; www.instat.com) claims that the Universal Serial Bus (USB) 2.0 interface standard for PCs, peripherals, and consumer electronics will succeed USB 1.1 with a 220% compound annual growth rate from 2001 to 2006.
---
Contracts committed
Cognex Corp. (Natick, MA, www.cognex.com) has sold In-Sight vision sensors to ABB Robotics Consumer Industries Group (Westminster, CO), a provider of industrial robots, to guide pick-and-place FlexPicker robots. The sensors will enable the robots to pick randomly oriented objects on a moving conveyor or turntable and place them into wrappers and cartons at rates of more than 150 objects/min.
Visionics Corp. (Minnetonka, MN; www.visionics.com) has received orders for five FingerPrinter CMS live-scan systems to be installed at five US airports. Another $500,000 order calls for fingerprint and printer systems to capture, print, and transmit fingerprints electronically for the San Diego County Sheriff's Department in California.
Lockheed Martin Distribution Technologies (Oswego, NY: www.lockheedmartin.com) has selected the Fairchild Imaging (Milpitas, CA; www.fairchildimaging.com) CAM 8525 CCD camera and electronics system as the core imaging module for its wide-field-of-view (WFOV) camera system. The WFOV system is to be installed by the US Postal Service into 9000 post offices throughout the USA.
InVision Technologies Inc. (Newark, CA; www.invision-tech.com) has received $8.2 million in orders for explosives-detection systems (EDSs) from the Transportation Ministry of Canada, Service Technique des Bases Aeriennes of France, and El Al Israel Airlines. It also has received a $13.7 million order from the US FAA for EDSs to be installed at San Francisco International Airport and a $169.8 million order from the US Transportation Security Administration for 400 EDSs.