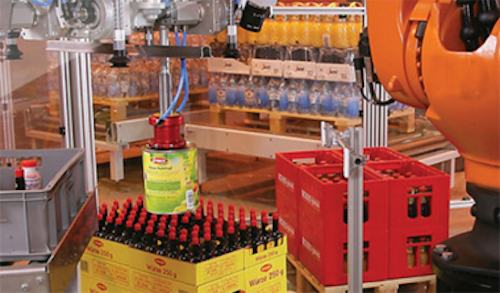 Automate 2013 was attended by a record 10,975 attendees from across the US and 55 countries. The event took place between January 21-24 at McCormick Place in Chicago.

"All of our numbers were up sharply, including total exhibitors (+17 per cent), show attendees (+62 per cent) and conference participants (+10 per cent)," says Jeff Burnstein, President of the Association for Advancing Automation (Ann Arbor, MI, USA), the primary sponsor of Automate 2013.

More than 75 industry experts from around the world gave presentations at the conference, including keynote speakers Steve Forbes, Chairman and Editor-in-Chief of Forbes Media and Henrik Christensen, Director of Robotics at Georgia Institute of Technology. Forbes' talk was so popular that people were turned away once 1,000 people were in the room.

"Many of the sessions were geared to small- and medium-sized companies who are new users or considering using robotics, vision, motion control, and other automation technologies," Burnstein says. "One of the featured sessions highlighted small company executives who have successfully automated to become stronger global competitors. These executives provided real-world examples of companies who would have had to either go out of business or send manufacturing offshore but instead succeeded by automating."

Automate 2013 was collocated with ProMat 2013, sponsored by the Material Handling Industry of America. The next Automate Show and Conference will be held March 23-25, 2015 in Chicago.

Related automation features from Vision Systems Design that you might also find of interest.
1. Vision-guided robot automates vegetation analysis

At the University of Illinois at Urbana-Champaign (Urbana, IL, USA) and United States Department of Agriculture (USDA; Wooster, OH, USA), Dr. Hongyoung Jeon and his colleagues (Drs. Lei Tian and Heping Zhu) have developed a machine-vision-based system that uses adaptive image segmentation and neural networks to identify vegetation varieties.

2. McGill develops first vision-guided, tube-insertion robot for medical procedures

The first intubation robot operated by remote control--the Kepler Intubation System (KIS)--has been developed by Dr. Thomas M. Hemmerling and his team at McGill University Health Centre (MUHC; Montreal, QC, Canada).

3. Vision assisted robot automates spigot production

Engineers at Alphr Technology (Letchworth, UK) have developed a system for an automotive parts manufacturer to automate the assembly of molded plastic spigots.

4. Robot vision to automate tree pruning

Purdue University (West Lafayette, IN, USA) researchers have received $6m in grants to automate one of the most laborious and costly jobs in vineyards and apple orchards.

-- Dave Wilson, Senior Editor, Vision Systems Design