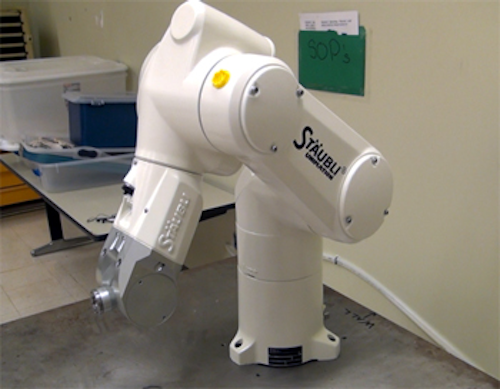 Engineers at GE Global Research (Niskayuna, NY, USA) are involved in a $2.5m two-year project to develop a vision-based robotic system that could transform the way hospitals manage and track their thousands of surgical tools.

Working with GE Healthcare and the US Department of Veteran's Affairs (VA), the engineers will develop a prototype system capable of locating, sorting, delivering, and sterilizing surgical tools with little oversight.

"The technologies we're investigating have been used to automate manufacturing processes in industrial settings for years, and we believe they, in combination with a new level of intelligence, can have a substantial impact in hospitals," said Lynn DeRose, Principal Investigator in the Distributed Intelligent Systems Lab at GE Global Research.

In most hospitals today, tools are inspected, washed, and counted multiple times by hand. This process is inefficient, fraught with errors, and could lead to critical delays, and more importantly, adverse patient events.

Having an intelligent automated solution handle the labor-intensive asset management tasks has the added benefit of freeing-up hospital personnel, who are in many cases already stretched.

At the conclusion of the project, automated systems will be tested at a yet-to-be determined VA hospital.

A short video detailing the project is available on the Youtube here.

Related articles from Vision Systems Design you might also find of interest.
1. Vision guided robot enters risky areas

Engineers at Toshiba Corporation (Tokyo, Japan) have developed a tetrapod robot that is able to carry out investigative and recovery work in locations that are too risky for people to enter, such as Tokyo Electric Power Plant Fukushima No.1 nuclear power plant.

2. Vision robot inspects accelerator cavities

Engineers at Deutsches Elektronen-Synchrotron (DESY; Hamburg, Germany) have developed a fully automated robot to optically inspect the surface structures of superconducting accelerator cavities.

3. Marine robot captures images of wrecks

A marine robot designed and built by University of Limerick (UL; Limerick, Ireland) researchers was recently deployed to explore wrecks of The Aud and WW1 U-Boat, UC42 outside Cork Harbor.

4. Vision assisted robot automates spigot production

Engineers at Alphr Technology (Letchworth, UK) have developed a system for an automotive parts manufacturer to automate the assembly of molded plastic spigots.

5. Robot vision to automate tree pruning

Purdue University (West Lafayette, IN, USA) researchers have received $6m in grants to automate one of the most laborious and costly jobs in vineyards and apple orchards.

-- Dave Wilson, Senior Editor, Vision Systems Design