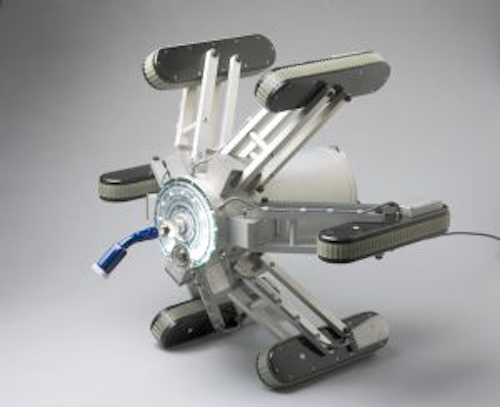 Avision-guided belt robot call Jetty, developed by Neovision (Prague, Czech Republic), can clean and inspect air-conditioning ducting, kit¬chen or industrial air vents, and spaces where cleaning is an unpleasant or difficult task. The primary cleaning agent used by the robot is dry ice, which removes difficult grease and dirt without the use of solvents.

The system consists of an operations panel including a notebook and joystick, and the Jetty robot, which includes a color, 1024×768-pixel, Flea FireWire camera fromPoint Grey Research (Richmond, BC, Canada). To transfer data up to 35 m from the camera to the operation panel, a Point Grey FireWire-to-Ethernet LDR 1394b Cat5 repeater was used.

The design of the robot allows the use efficient jets because the six legs of the robot provide stability. Another benefit of the design is a fact that the robot is centered in the ducting so that the jet posses maximum efficiency. Jetty is able to pass through and clean ducting with a circular, rectangular, or square cross section, and it can climb vertical or curved ducting as well.
SOURCE:Neovision
--Posted byVision Systems Design