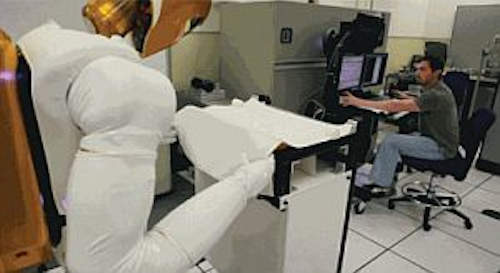 According to "Vision for Service Robots," a new report fromVision Systems Design (Nashua, NH, USA), a multitude of opportunities are emerging for vision components and systems in service robots for a wide range of applications.
The report, researched and written by Adil Shafi, president of Advenovation and well-known authority onvision-guided robotics, states that military, agriculture, mining, healthcare, construction, surveillance, and toys are among the key markets predicted to bring growth opportunities to suppliers of vision components and integrators building service robots.
"Service robots are growing both in numbers and in the applications they serve," says the report's co-author Conard Holton, editor in chief ofVision Systems Design. "Applications range from the disposal of explosives, to supplying vision for robots in surgery, to simple home surveillance robots. Machine-vision and image-processing products and technologies will continue to play essential roles for these robots."
This in-depth report for engineering and business development managers looks at specificvision opportunities in land-, space- and water-based service robot applications. It reveals that the most diverse opportunities for vision systems are in land-based robots for the military, a market which the report forecasts will total $263 million between 2010 and 2013.
"Vision for Service Robots" presents a comprehensive review of technologies, markets, and opportunities for suppliers of vision components and systems, and for developers and integrators of robots. It also includes crucial insights based on interviews with service robotics leaders at Waseda University, Stanford University, Carnegie Mellon, and MIT; researchers at Fraunhofer IPA and NIST; and companies including Willow Garage, iRobot, Intuitive Surgical, Hoaloa Robotics, Sony, and Kuka.
For a limited time, the report can be pre-ordered at a discounted rate. For a free executive summary, table of contents, and online ordering information, visitwww.vision-systems.com/research-reports.html.
SOURCE:Vision Systems Design