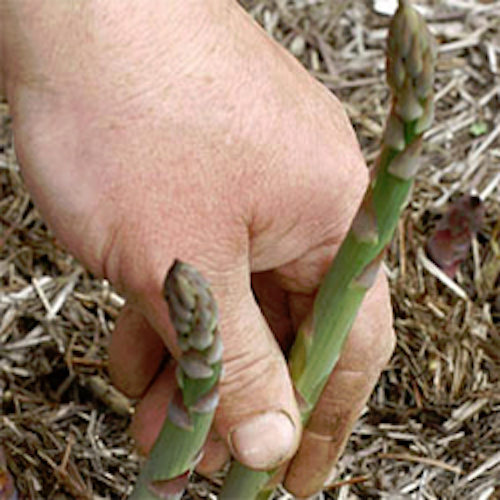 Hundreds of tons of asparagus are harvested in Europe in a short period of time every year. Although there are some harvesting devices on the market to make the task easier for agricultural workers, labor costs still represent the highest percentage of the price for asparagus.

Until now, the level of automation in asparagus harvesting has been negligible due to the absence of cost-effective technology. But harvesting the products manually can lead to losses of up to 15 per cent, mainly due to damage caused to asparagus stalks that are inadvertently cut by workers.

To overcome those problems, European engineers are developing a continuous, fully automatic vision-based robotic system to harvest both white and violet asparagus. The system is claimed to be the first that will be able to do so.

After the image recognition system has recognized the specific location of the asparagus, the system will cut and remove the asparagus stalk.

The project to develop the system will last two years, ending in August 2014. It is hoped that, once complete, the system will enable European producers to compete with farmers in Peru and China where labor costs are lower.

More information is available here.

Related articles on food inspection, sorting and processing from Vision Systems Design.
1. Vision system helps sort carrots

Food sorting system manufacturer Odenberg (Dublin, Ireland) has developed a vision-based machine that can sort fruit and vegetables.

2. Spectral vision systems support the food industry

Computer vision is currently being used in a number of food-related applications, including inspection and grading of fruits and vegetables as well as assessing the quality of meat, fish, cheese, and bread.

3. Cranberries sorted by vision system

One of the largest growers supplying Ocean Spray with cranberries has installed a vision-based sorting machine from Key Technology (Walla Walla, WA, USA).

4. MRI scanner detects seeds in mandarins

A researcher from the Valencian Institute of Agrarian Research (IVIA; Moncada, Spain) has developed a system that uses a medical magnetic resonance imaging (MRI) scanner to detect seeds in mandarins.

-- Dave Wilson, Senior Editor, Vision Systems Design