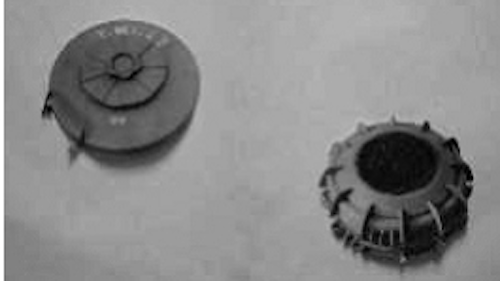 Researchers at the Department of Computer and Communications Engineering at the American University of Science and Technology (Beirut, Lebanon) have developed a vision system for a landmine detecting robot.

The robot first scans the ground to determine whether a mine exists or not. A camera then captures images of the scanned area which are digitally processed to reduce noise and enhance the features in the images.

After enhancement, an Artificial Neural Network (ANN) -- which has been previously trained with images containing the objects to be recognized -- is used in order to identify, recognize and classify the make and model of a landmine.

The researchers claim that the robotic system was able to identify and classify different types of landmines under various conditions (rotated landmine, partially covered landmine) with a success rate of up to 90 per cent.

Researchers Roger Achkar and Michel Owayjan published the results of their work in the September 2012 issue of the International Journal of Artificial Intelligence and Applications (IJAIA. Their article can be found here.

Recent articles on military imaging that you might also be interested in reading.
1. Brain power boosts recognition rate of image analysis system

Researchers at DARPA have demonstrated the effectiveness of a system that couples cameras, computers and input from an operator's brainwaves to detect threats to soldiers in the field.

2. Cascade classifier clears up clutter from radar

A technology that started life in detecting faces and penguin markings in the Antarctic is being adapted to help aid operators of military radar screens.

3. Smartphones measure radioactivity

Engineers at Image Insight (East Hartford, CT, USA) have developed a software app that uses the camera in an Android smart phone to measure radioactivity levels, allowing users to ensure their local environments are safe.

Vision Systems Design magazine and e-newsletter subscriptions are free to qualified professionals. To subscribe, please complete the form here.

-- Dave Wilson, Senior Editor, Vision Systems Design