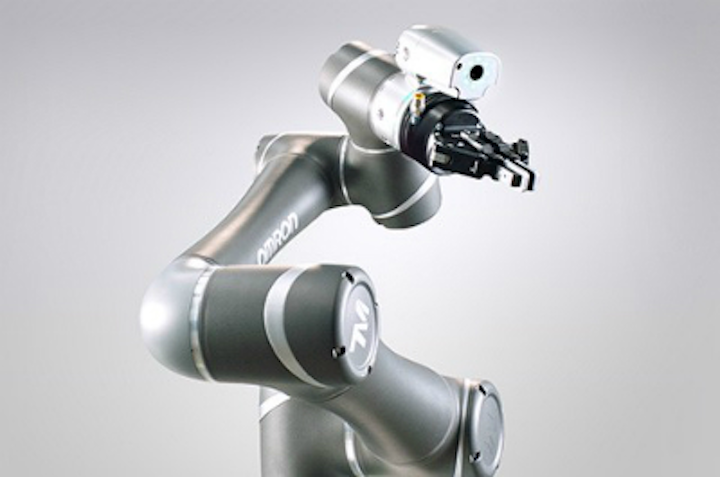 Omron Corp. has launched the TM series of collaborativerobots. According to Omron, the TM series is designed for automated applications like picking, packing, and screwdriving. A version of the TM series designed for integration into the LD series of autonomous robots is, according to Omron, capable of pick and place and other, more complex tasks.
A built-in vision system and integrated lighting are key features of the new TM series. The collaborative robots are equipped with pattern matching, bar code reading, and color identification image sensing functions. Omron touts that the TM series' programming interface requires "little to no programming experience."
The robots have arm lengths of 900, 1100, or 1300 mm, can handle payloads of 4, 6, 12, or 14 kg, and can accept AC or DC power. They conform to safety requirements for industrial and collaborative industrial robots (ISO10218-1 and ISO/TS15066 respectively) and may or may not be SEMI C2-certified depending on the specific model. According to Omron the TM series collaborative robots do not require safety fencing.

To Learn More:
Contact: Omron Corporation
Headquarters: Shimogyo-Ku, Kyoto, Japan
Product: TM series collaborative robots
Key Features: Built-in vision system, integrated lighting, variable arm lengths and payload tolerances.
What Omron Corp. says:
View more information on the TM series collaborative robots.
View More Products | Locate a vendor or system integrator | Receive e-mail updates
Share your vision-related news by contacting Dennis Scimeca, Associate Editor, Vision Systems Design