In today's roundup from the Association for Unmanned Vehicle Systems International (AUVSI) which highlights some of the latest news and headlines in unmanned vehicles and robotics, college students gain special permission from the FAA to learn about drones, Rhode Island embraces autonomous transportation, and Ohio plays host to a three-pronged strategic plan to advance UAS technology.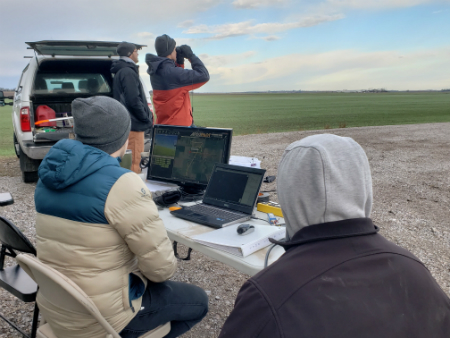 Kansas State Polytechnic granted waiver to introduce BVLOS flights into curriculum
Kansas State University Polytechnic Campus has announced that its UAS flight and operations degree option is the first in the nation to introduce flying beyond visual line of sight (BVLOS) into college curriculum.
The FAA has granted Kansas State Polytechnic a waiver that allows these operations to be conducted at the university.
"It is a significant opportunity for our students to learn how to fly UAS beyond their visual line of sight because they are preparing their skills and knowledge for the future of the industry," says Kurt Carraway, UAS executive director of the Applied Aviation Research Center at Kansas State Polytechnic.
"They also have a distinct advantage over their peers at other schools who don't have the authorization to do this yet, making them more marketable when they are ready to start their career."
During the fall semester, two upper-division courses—Advanced Fixed Wing Operations and Flight and Field Operations—incorporated BVLOS into their flight labs.
Kansas State Polytechnic notes that because of the high risk involved with these operations, students' attention to detail and to safety were "dramatically elevated."
"They first had to review the FAA waiver and understand how to fully comply with its specific requirements," explains Travis Balthazor, flight operations manager of the Applied Aviation Research Center at Kansas State Polytechnic.
"Students also learned new aspects of mission planning and how to best mitigate risk in the field, including using ADS-B software, which monitors other aircraft in their flight area."
The FAA first granted the BVLOS waiver to Kansas State Polytechnic's Applied Aviation Research Center over the summer before it was integrated into the UAS degree curriculum. The FAA has also granted Kansas State Polytechnic a waiver to conduct UAS operations at night, which also has been added to several UAS courses.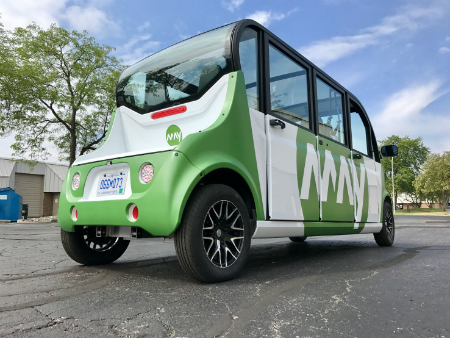 May Mobility selected to deliver autonomous transit pilot to Rhode Island
After a competitive request-for-proposals process that started earlier this year, May Mobility has been selected by the Rhode Island Department of Transportation (RIDOT) to deliver a "limited and controlled automated vehicle service" to help fill a transportation gap between downtown Providence and Olneyville.
While the service is in operation, RIDOT will seek to get a better understanding of the potential of new technology to improve mobility options for residents in the state, by testing and researching a variety of factors relating to the service.
The service will be available and free to the public for a year.
"Now that we are well underway in executing the Governor's RhodeWorks program, we are able to focus on improving our transportation system - and that includes pilot programs like this to look at how to safely integrate new technology into our planning in a very careful, measured manner," explains RIDOT Director Peter Alviti.
Through the partnership, May Mobility will begin a study and testing phase with its small autonomous vehicle shuttles.
Capable of carrying six people, including a fleet attendant who will have the ability to fully control the vehicle at any time, the shuttles are fully electric, which supports Rhode Island's environmental and emissions reductions goals.
The first phase of the service will begin during the winter months on low-volume, low-speed roadways in the Quonset Business Park in North Kingstown. The public is expected to have access to the service starting next spring, in the Woonasquatucket River corridor in Providence.
Information regarding the hours of operation, number of available vehicles and stops along the route will be announced well before the service starts. Additionally, RIDOT and May Mobility will develop a public education campaign that includes signs along the route, as well as a website.
"We've made significant strides in rebuilding our transportation system through RhodeWorks, and as we deliver on that plan, we also are looking forward to integrating new technology into our transportation system," says Rhode Island Gov. Gina Raimondo.
"This is an exciting time as Rhode Island takes bold steps, positioning itself as a leader."
DriveOhio and Ohio UAS Center partner to support UAS research and development
DriveOhio and the Ohio UAS Center have announced a new strategic plan to support UAS research and development.
Through the strategic plan, three main initiatives— FlyOhio, Ohio UAS Center Operations, and workforce development—will be addressed.
​In an effort to facilitate the widescale use of UAS for delivery and transport, FlyOhio will seek to develop an unmanned traffic management (UTM) system; Ohio UAS Center Operations will facilitate the use of UAS for a variety of business services; and workforce development will educate and create the skills needed for smart mobility jobs around this technology.
"UAS technology is advancing just as quickly as autonomous and connected vehicle technology, and Ohio understands how both can work together across multiple smart mobility initiatives," says Jim Barna, executive director of DriveOhio.
"Companies operating new UAS technologies need opportunities to test and deploy them, and the nation needs a traffic management system that can make drone package delivery and transportation safe and commercially viable. We aim to do all of this in Ohio."
Along with the Air Force Research Laboratory (AFRL), FlyOhio is researching a $5 million ground-based detect-and-avoid radar system called SkyVision at the Springfield-Beckley Municipal Airport in Clark County, Ohio.
FlyOhio will also explore a second UTM platform along the 33 Smart Mobility Corridor, which is 35-mile stretch of highway between Dublin and East Liberty, Ohio. The Smart Mobility Corridor is already a testing ground for autonomous and connected vehicles and communications.
Lastly, FlyOhio will identify locations that can accommodate aircraft that takeoff and land vertically. Known as vertiports, these locations are becoming more and more important with the advancement of unmanned package delivery, the entities note.
In terms of the Ohio UAS Center Operations, the state of Ohio is already using UAS to work in support and improvement of state and local government operations. This technology is also being used for a variety of other services such as project and environmental surveying, infrastructure inspection, and police and firefighting support.
Through this new strategic plan, statewide data collection operations will include bridge inspections, aerial photography and mapping, and emergency management, just to name a few. The entities say that by expanding these operations and use case development services, the UAS Center will "continue growing Ohio's UAS ecosystem and accelerate technology adoption in the state."
Finally, regarding UAS Workforce Development, DriveOhio and the UAS Center are actively working with smart mobility workforce development stakeholders from government, industry, education and local communities across Ohio to identify pilot programs involving UAS technologies.
These programs seek to deliver benefits for a number of potential employees, including today's workforce, tomorrow's workforce, and the emerging workforce.
"As workforce development is a core part of DriveOhio's mission to support and advance Ohio's smart mobility future, initiatives like these go hand-in-hand with new projects, helping to prepare workers for jobs in this new UAS sector," the entities say.
For Fred Judson, managing director of the UAS Center, this strategic plan provides a strategy for Ohio to continue playing a role in advancing the country's smart mobility operations to the sky.
"We're excited to continue working with companies, government entities and local communities to develop unmanned traffic systems, promote UAS technologies and use cases and develop the workforce here in Ohio to fill the jobs these new technologies will present," Judson says.
Share your vision-related news by contacting Dennis Scimeca, Associate Editor, Vision Systems Design

To receive news like this in your inbox, click here.
Join our LinkedIn group | Like us on Facebook | Follow us on Twitter