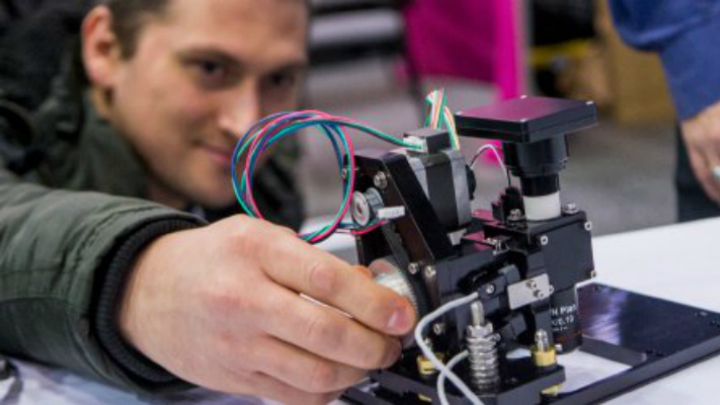 Researchers, technology developers, and buyers are preparing to gather from February 1 to February 6 at the Moscone Center in San Francisco to discuss the latest technical papers, learn from courses and workshops, and demonstrate related technologies in optics and photonics at the SPIE Photonics West conference.
This year's Photonics West Exhibition, that runs during the conference from February 4 to 6, will feature approximately 1,300 companies. What follows is a selection of the many products available for viewing and the companies offering demonstrations during the Photonics West Exhibition, and where you'll find them on the show floor. (Some products will only be or also shown at the SPIE BiOS exhibition from February 1 to 2. We have noted this where relevant.)
Cameras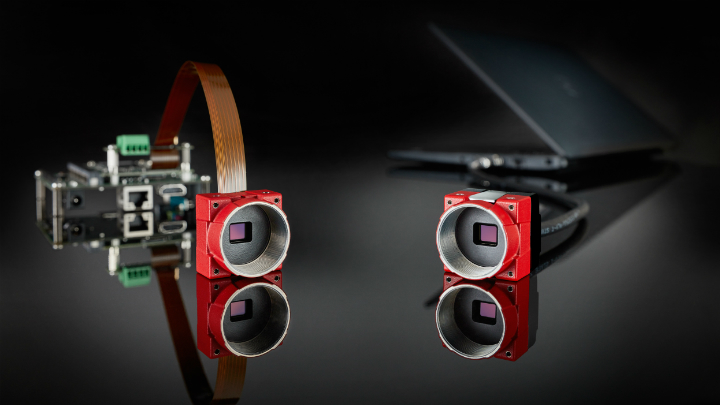 Alvium Camera Series
Proprietary ALVIUM System-on-Chip (SoC) technology from Allied Vision powers the Alvium camera series, completing on-board image processing through a comprehensive image processing library. ALVIUM technology also provides intelligent power management, and camera control via Video4Linux, GStreamer, Direct Register Access, or GenICam. The Alvium camera series supports the NVIDIA Jetson TX2 and NXP's i.MX6/8, is available in board level, open-housing, and closed-housing models, and offers MIPI CSI-2 and USB3 Vision interfaces.
Allied Vision will also show its Goldeye SWIR camera with InGaAs sensor technology and integrated thermo-electric sensor cooling, among other features.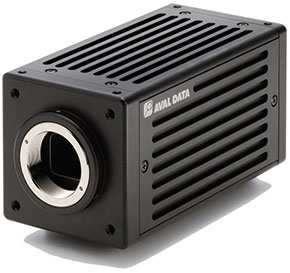 ABA-003IR Short Wave Infrared camera
The ABA-003IR SWIR camera is equipped with an InGaAs VGS sensor and is sensitive in the 950 to 1700 nm range. The camera has 20 µm pixel size and 640 x 512 resolution, with a maximum frame rate of 62 fps. Native interface is GigE Vision, with Camera Link compatibility. Video output can be switched between 8, 10, 12, and 14-bit.
AVAL DATA will also show its APX-5360G3A analog/digital express converter that features available FPGA customization, and APX-EXSA10 FPGA accelerator board with 40 Gbps two-channel data input.

Basler - Booth 152, Hall A
Boost series cameras with CoaXPress 2.0 interface
Featuring CoaXPress 2.0 interface, Basler boost series cameras offer Sony Pregius IMX255 or IMX253 image sensors with 9 and 12 MPixel resolution respectively, 12.5 Gbps transfer rate through one channel, 93 fps image capture on a single coaxial cable, standardized Micro-BNC cable connection, GenTL compatibility, and are available in C-mount or F-mount.
Basler will also show the Basler boost bundle that includes a CXP-12 camera and interface card and the pylon Camera Software Suite (SDK).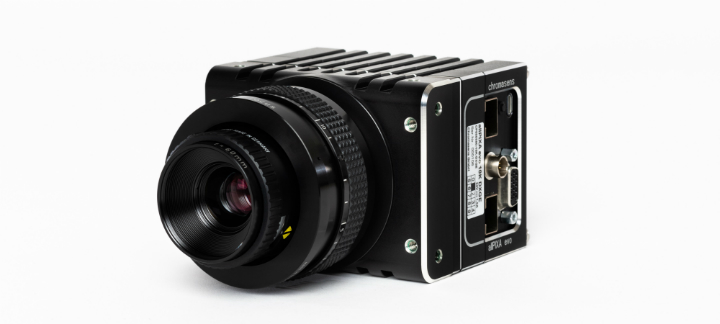 allPIXA evo linescan camera
Available in 10K and 15K 12-bit RGB and monochrome versions, the allPIXA evo linescan camera features a GigE Vision 2.0 compliant, single/dual 10 GigE Over Fiber interface and a quad linear CMOS color sensor. The allPIXA evo can transfer image data on multimode fiber cables up to 300 m, and up to 10 kilometers over single mode fiber cables. 
The 10K pixel model can achieve line frequency speeds at full resolution up to 48 kHz, and the 15K pixel model offers up to 33 kHz speeds. The allPIXA evo TDI mono camera is designed to operate in reduced lighting levels for wafer, PCB, and LCD panel inspection, among other applications.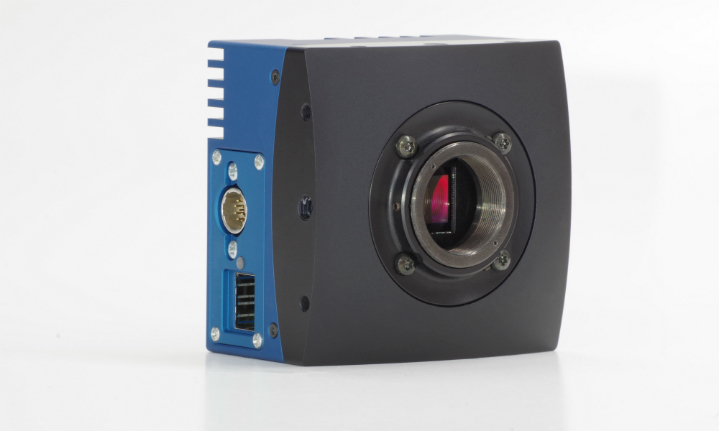 Concurrent 2.0-10GigE programmable camera
The Concurrent 2.0-10GigE programmable camera features the Alexima LUX19HS image sensor that offers 500 fps image capture at 1920 x 1080 resolution. The 10GigE interface is SFP+ and allows for the deployment of copper and optical cabling. Compatibility with third-party GigE Vision software, A&B Software's Active GigE camera control software, and Concurrent EDA's HDK are other features of the Concurrent 2.0-10GigE camera.

Concurrent EDA will also show a CXP camera with similar features.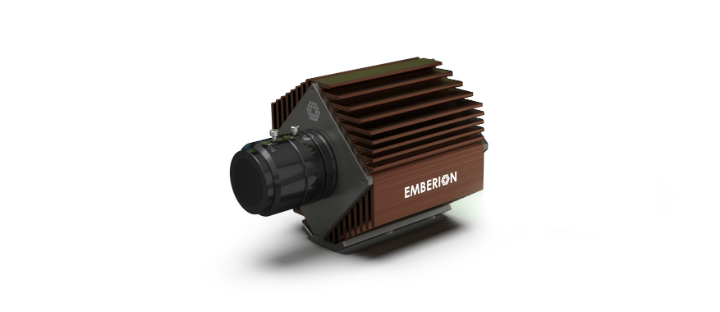 VGA camera core
The new VGA camera core from Emberion can capture a spectral range from 400 to 2000 nm with a single focal plane array, with 100 fps capture speed. The camera is equipped with industry standard interfaces and is relevant for machine vision, night vision, and hyperspectral imaging applications.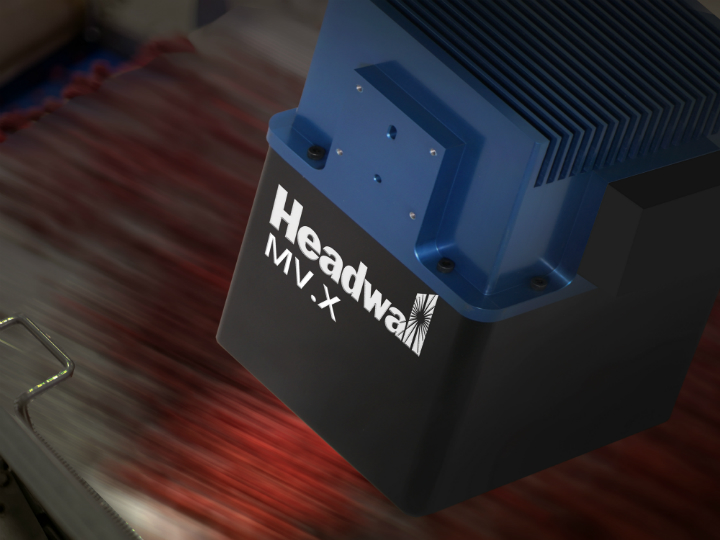 MV.X hyperspectral camera
Headwall's new MV.X hyperspectral camera features onboard processing, IP-67 protection rating, and the ability to host classification libraries on the camera. The MV.X is GenICam-compliant and CE-certified, and sensitive in the 400 - 1000 nm range. The MV.X is designed for contamination detection, food grading, and inspection of manufactured or recycled goods, among other applications.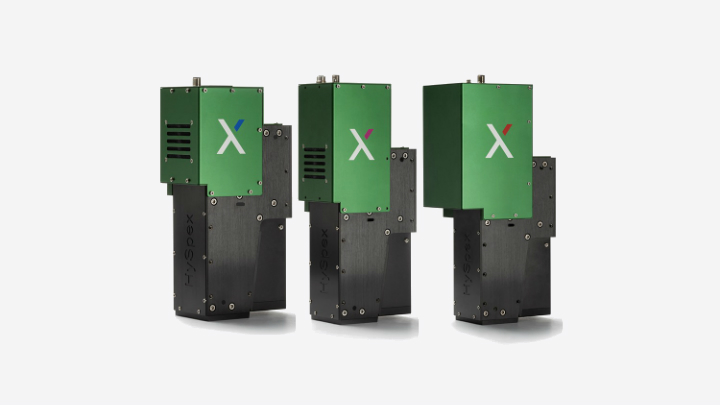 HySpex - Booth 3057
Baldur Series hyperspectral cameras
The Baldur camera series of hyperspectral cameras, designed for industrial applications with multiple lines, are sensitive in the visible, near-infrared, and shortwave infrared spectral ranges. All cameras within the same wavelength range have the same center wavelengths. The cameras feature traceable calibration to NIST and PTB standards. Internal and external trigger options allow for flexible integration options into industrial process lines. Speed is scalable with number of spectral channels read out and all Baldur cameras feature multiple regions of interest.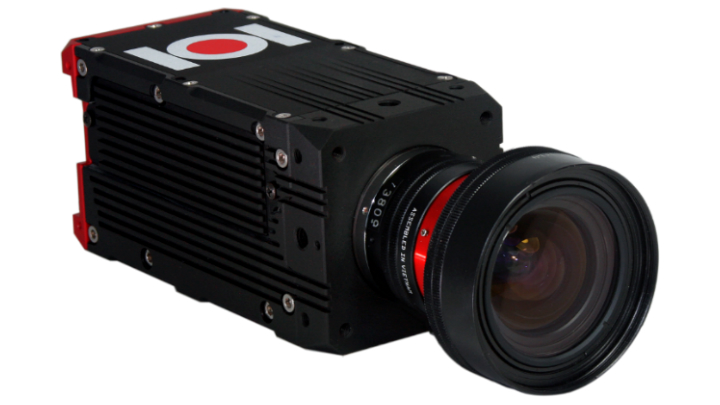 Volucam
The Volucam camera line from IO Industries features models with a range of CMOS image sensors that provide resolution options from 0.4 up to 26.2 MPixels, with optical formats from 1/3" to 1.1". Most models feature electronic global shutter capability. The Volucam has a native C-mount, with adapters for other lens mounts available, features 10G Ethernet connectivity, an SFP+ port that allows for copper cabling or long-distance optical connections, built-in 1920 GB SSD, and 12G-SDI video output.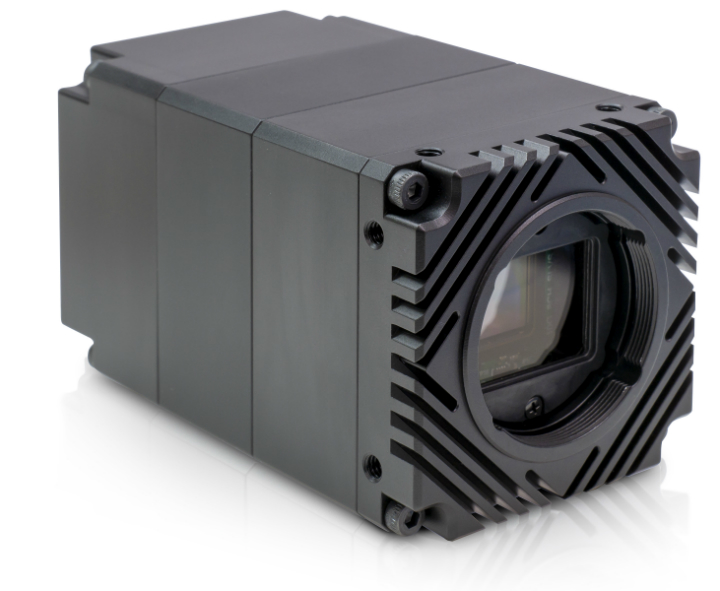 Atlas10 10GBASE-T camera
The new Atlas10 10GBASE-T camera from Lucid Vision Labs features the 24.5 MPixel Sony Pregius S back-illuminated global shutter CMOS image sensor in 4/3" optical format, has 2.74 µm pixel size, and can achieve up to 50 fps at full resolution. The camera has a 10 GigE PoE (power over ethernet) interface.
Lucid will also show the Helios 3D ToF camera with Sony DepthSense ToF sensor, that offers 640 x 480 depth resolution up to 6 m working distance, and Lucid's new 2K line scan Triton GigE Vision camera with 7 µm pixel and 2048 x 1 resolution at 60 kHz line rate.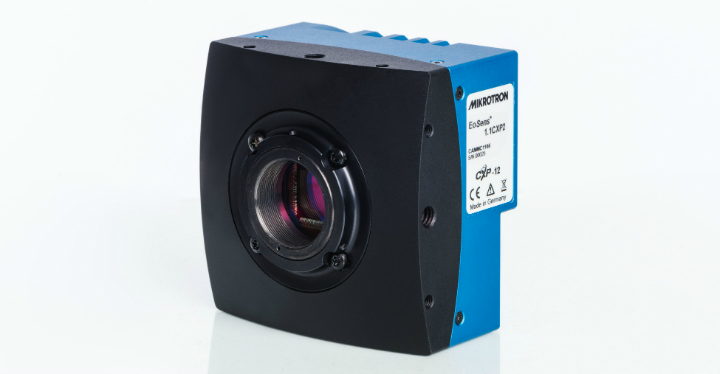 EoSens 1.1CXP2 camera
Featuring CoaXPress 2.0 interface, LUX13HS image sensor, and 13.7 µm pixel size, the EoSens 1.1CXP2 camera from Mikotron can achieve up to 50 Gbps data transfer rate with four CXP-12 connections, enabling 3,600 fps at full 1280 x 864 resolution, and up to 197,784 fps at reduced resolution. The 80 x 80 x 53 mm fanless camera has 20 V/lux-s sensitivity at 550 nm, with built-in gamma correction, FPN correction, noise reduction, and sequencer.
Mikotron will also show the EoSens 2.0CXP-2 camera that offers 2,200 fps at 2 MPixel resolution and up to 170,000 fps at reduced resolution.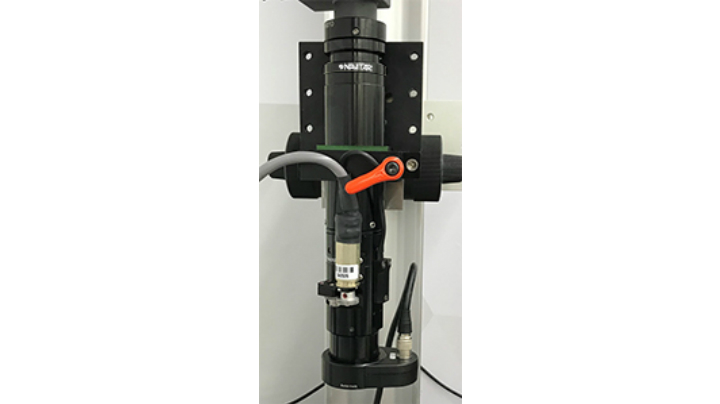 Tuneable Lens Focus Modules for Zoom 6000 System
The tuneable lens focus module from Navitar, when integrated into the Zoom 6000 System, extends the working distance of 6x lens attachments, increases depth of field when coupled with infinity-corrected microscope objectives, and maintains image resolution with the integrated Optotune EL 16-40 tuneable lens. The focus module includes a USB electrical lens driver with software to control the tuneable lens.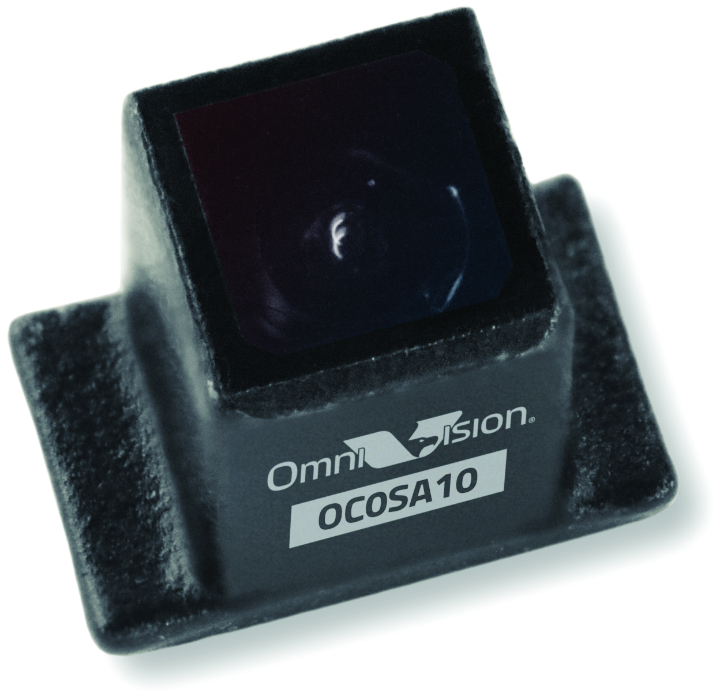 OmniVision - Booth 8028, SPIE BiOS exhibition
OC0SA CameraCubeChip camera module
The 2.6 x 1.6 mm OC0SA wafer-level camera module from OmniVision Technologies integrates an infrared cut filter designed to eliminate chromatic effects from IR light that may cause color fidelity loss, and can capture 60 fps at 800 x 800 resolution or 90 fps at 400 x 400 resolution. The camera supports 90° and 120° field of view options, offers ETO and STERRAD sterilization capabilities, and has 82.2 mW power consumption. In-module horizontal and vertical subsampling and 2 x 2 binning support, are further features of the OC0SA camera.
OmniVision will also show the OVM6946 wafer-level camera designed for minimally-invasive endoscopes, and the OVMed medical image signal processor family.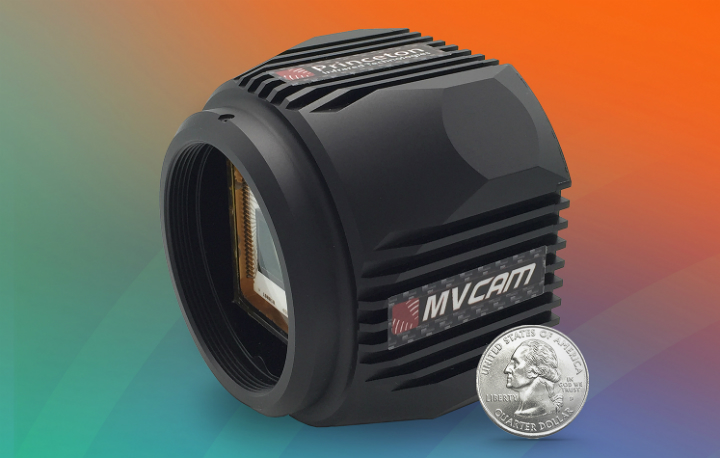 MVCam SWIR/visible camera
The MVCam series shortwave-infrared (SWIR) and visible InGaAs camera is sensitive in the 0.4 to 1.7 µm wavelength bands, captures 95 fps at 1280 x 1024 resolution, and features 12 µm pixel size. Standard configuration uses a single-stage thermoelectric cooler with no moving parts, integrated into a sealed package to provide a stable 20° C temperature for the image sensor. The camera's PIRT1280A1-12 digital array generates 14-bit digital image data and read noise less than 45 e-.
Princeton Infrared will also exhibit the MVCam during the SPIE BiOS exhibition, at Booth 8051.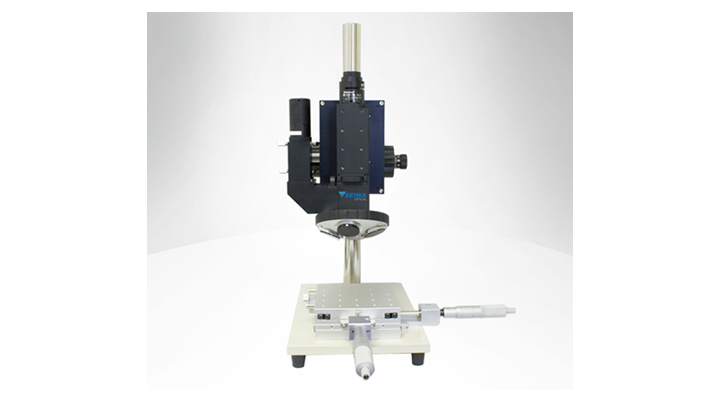 IR-2200 infrared microscope
The IR-2200 infrared microscope system incorporates a 4.1 MPixel USB 3.0 near infrared (NIR) camera. The 036M12-NIR-WOM model has a 6 µm pixel and can capture 30 fps at 640 x 480 resolution. The 130MI-NIR-WOM model has a 5.2 µm pixel and can capture 30 fps at 1280 x 1024 resolution.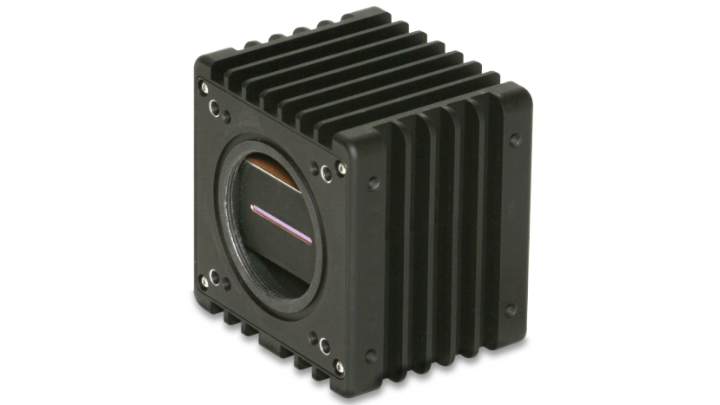 SU1024LDM line-scan camera
Featuring 1024-pixel resolution in the shortwave infrared (SWIR) wavelengths, the SU1024LDM line-scan InGaAs camera offers line rates up to 45,956 lines per second. The 2.4-inch deep camera provides 14-bit digital capture into Camera Link interface cards and provides dynamic ranges up to 4500:1. The 25 µm aperture is defined by a photoetch mask, and an alternate 500 µm pixel height provides increased sensitivity in photoluminescence imaging.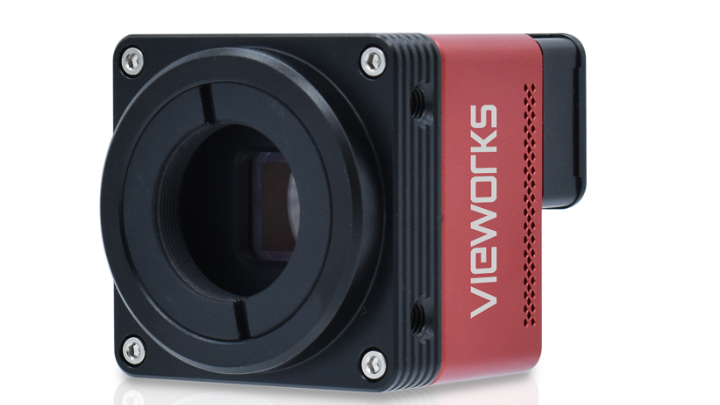 VC-25M area scan camera
The VC-25M area scan camera features a CMOS global shutter image sensor, speeds up to 91.3 fps at full 5120 x 5120 resolution with CoaXPress interface, with additional Camera Link interface. The VC-25M is available in color and monochrome models, features temporal noise of 1.6 electrons, is 50 x 50 x 57 mm in size, and weighs 215 g. The camera supports C-mount lenses.

MIPI CSI-2 interface camera modules
Camera modules with MIPI CSI-2 interface from Vision Components were designed for easy connection to 20 single-board computers like NVIDIA Jetson, DragonBoard, all Raspberry Pi boards, and all 96Boards. There are 10 different image sensors with resolutions up to 13 MPixels in the MIPI CSI-2 interface camera module line. Adapter boards allow the MIPI camera modules to integrate with non-native MIPI image sensors.
Vision Components will also show its Linux-based, freely programmable embedded vision systems that integrate a Xilinx Zynq SoC.
Lenses

LS Series Line Scan Lenses
Designed for 82 mm 16K line scan cameras with 5 µm pixels and 62.5 mm 12k line scan cameras with 5 µm pixels, the LS Series Line Scan Lenses from Edmund Optics are engineered to provide uniform and high resolution over the entire image field. The locking iris is adjustable from f/2.9 to f/22, and the lenses have a V-70 mount. Models with beamsplitter for line scan sensors, or window for area scan sensors, are available.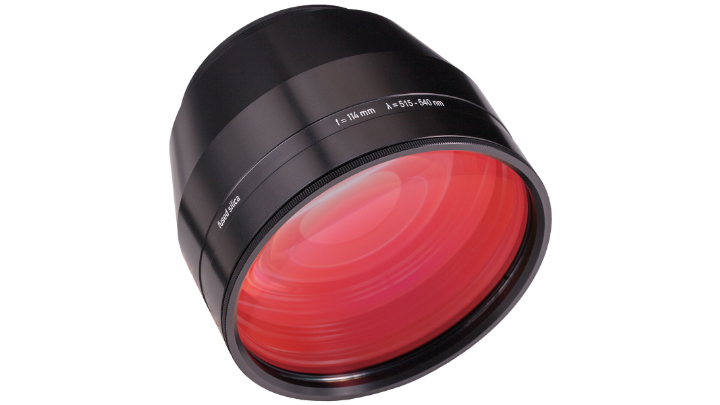 LINOS F-Theta-Ronar Lenses
Available in sizes from 340 to 2000 nm, LINOS F-Theta-Ronar Lenses from Excelitas Technologies are designed for laser material processing applications such as drilling, fine cutting, plastic welding, and laser cleaning among others. F-Theta lenses deflect laser beams with a scanning mirror in front of the lens, to keep the scanned distance proportional to the scanning angle. The lenses also maintain the focus position over the entire scan field always in the same plane.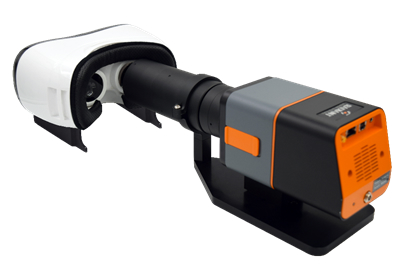 Engineered for measuring the near-eye displays featured in artificial reality (AR), virtual reality (VR), and mixed reality (MR) headsets, the Radiant Vision Systems AR/VR lens simulates the size, position, and field of view of the human eye. The aperture, placed at the front of the lens, allows a connected imaging system to capture the full field of view of the display without obstruction by the lens hardware. The 120° field of vision covers the approximate field of view of binocular human vision.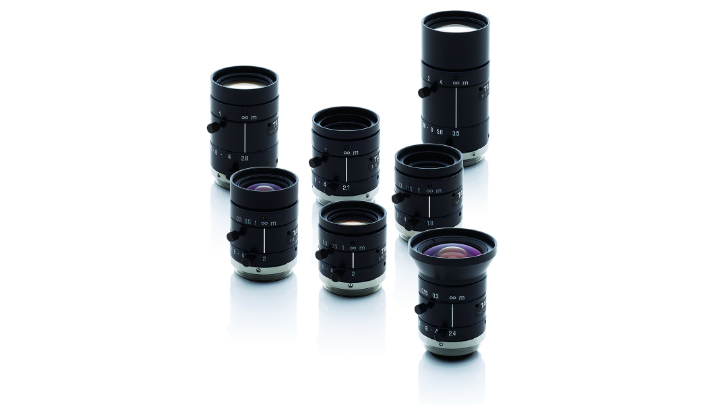 Tamron - Booth 3070
The M112FM fixed focal length lens series from Tamron includes machine vision lenses for 1.1", 1/1.8", 1/12", and 2/3" optical format image sensors. The lens series also supports a wide range of focal lengths: 6 mm f/2.8, 8 mm f/2.4, 12 mm f/2.0, 16 mm f/2.0, 25 mm f/1.8, 35 mm f/2.1, 50 mm f/2.8 and 75 mm f/3.5.
Filters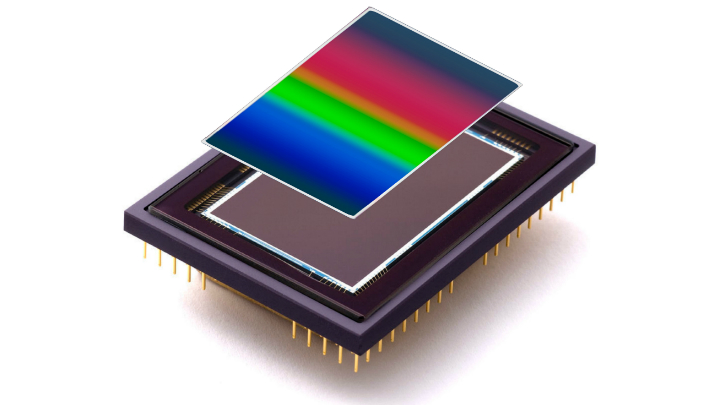 Continuously Variable Bandpass Filters for mid-size and full-frame CCD/CMOS sensors, from Delta Optical Thin Film A/S, when combined with silicon detectors allow for the design of hyperspectral imaging detectors with larger apertures and higher transmission than grating and prism designs. The Continuously Variable Bandpass Filters are also designed for short measurement time, high suppression of stray light, simultaneous 3D measurements, good signal to background ratio, and snapshot capability using a micro lens array.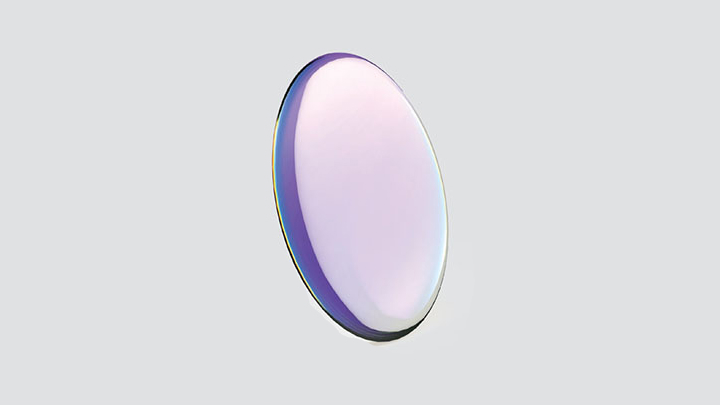 Solar Rejection Windows from Iridian Spectral Technologies allow transmission between satellites, typically at the 1550 nm band, while blocking background solar radiation, to improve signal-to-noise ratio. Specific wavelength is customizable. These lenses can fit up to 150 mm windows and produce low transmitted wavefront error. Solar Rejection Windows also help minimize solar heating inside the satellite.
Iridian Spectral Technologies will also show its dichroic filters that enable a receiver to selectively receive specific wavelength bands of interest.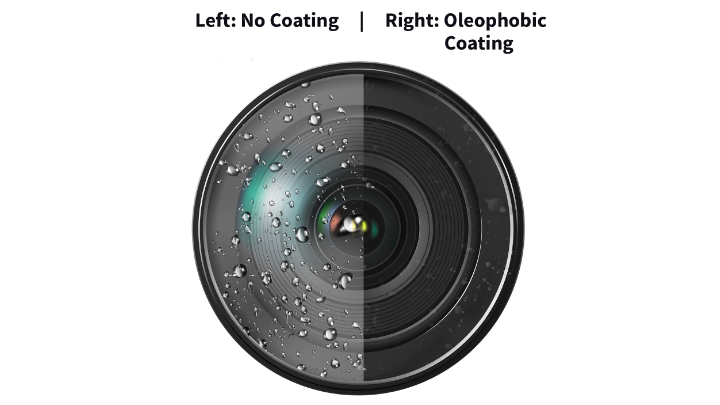 Protective Windows from Midwest Optical Systems are designed to shield lenses and enclosures from dirt, dust, liquids, impact, and harsh environments without sacrificing image quality. Protective Windows are compatible with ultraviolet (UV), visible, and near-infrared (NIR) imaging applications, and available with anti-reflection and oleophobic (anti-smudge) options. Glass Protective Windows are designed to withstand high operating temperatures.
Midwest Optical Systems will also show its Backlight fluoreSHEET, created with water-repellent, tear-resistant, flexible material, which creates a backlight effect with front illumination.
Structured Light Projectors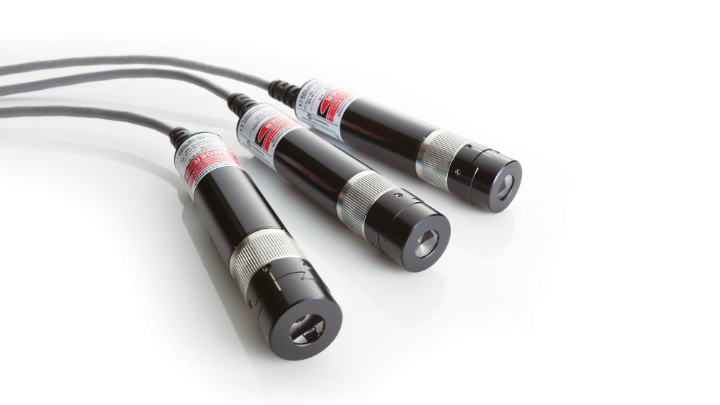 StingRay laser diode modules
The StingRay top-hat-profile laser diode module from Coherent, Inc. measures 19 mm in diameter and comes in a variety of fan angles to create needed lines for measurement and profiling applications. Wavelengths from 405 to 830 nm and power up to 200 mW are available. Power supply ranges from 5 to 24 VDC. The StingRay laser diode module line also offers an RS-232 control option.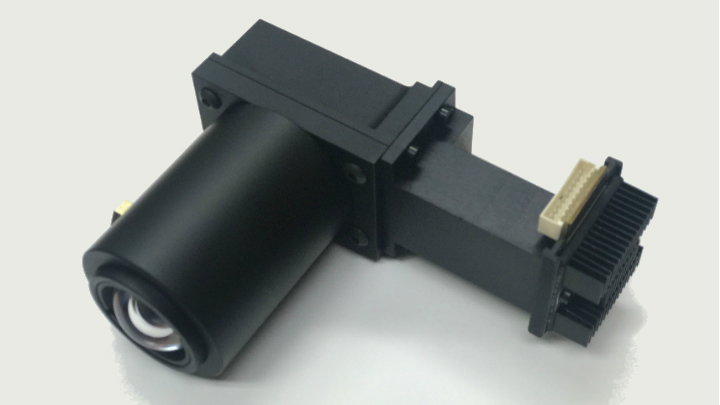 Model DPE4505 Projection Engine
Contained in a machined aluminum housing for durability, the Model DPE4505 Projection Engine features on axis (zero offset) projection, >80% brightness uniformity, ~700 Lumens with green LED, and a TIR prism for compactness and performance. The DPE4505 is modular and customizable with varied LEDs and lenses, and offers high contrast and low distortion.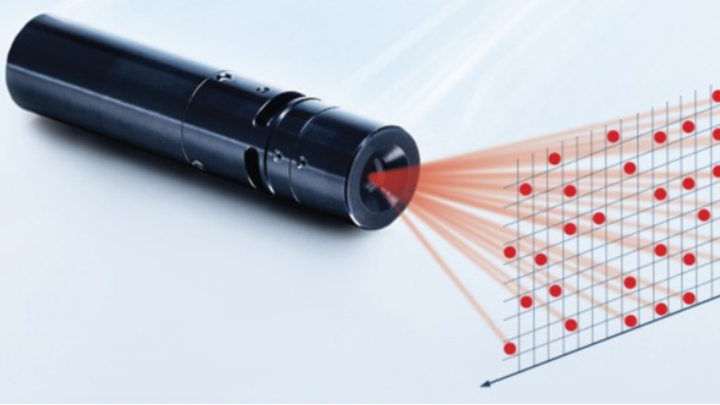 Osela - Booth 525
Random Pattern Projector
Osela's structured lighting random dot matrix projector features NxM pixels. Each bright pixel is surrounded by at least 8 dark pixels with no contact between bright pixels. The device can project between 980 to 57,446 random dots, and operates at wavelengths of 660 nm or 830 nm, depending on the model. Ten different models are available, five of which have eye-safe versions.
Other Products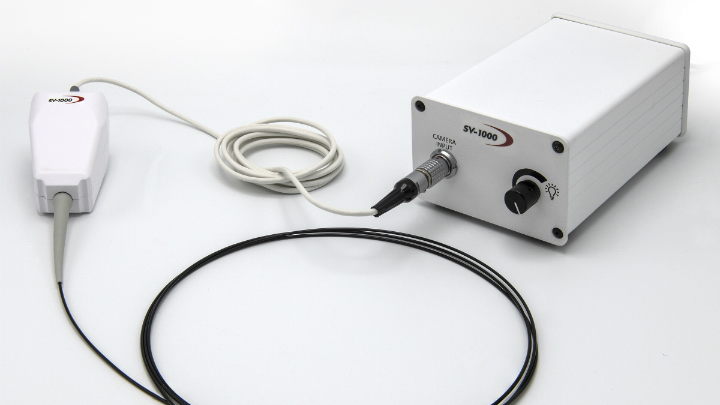 SV-1000 Video Borescope Inspection System
The chip-on-tip SV-1000 Video Borescope Inspection System from Canon Medical features a 1.6 mm diameter camera with 120-degree FOV lens and 400 x 400 pixel resolution CMOS image sensor. An integrated LED light is also mounted on the 1.9 m flexible shaft. The SV-1000 includes dual, simultaneous-image HDMI and USB 3.0 outputs. The front end borescope has IPx7 protections, while the camera control unit is water resistant to IPx4 standards.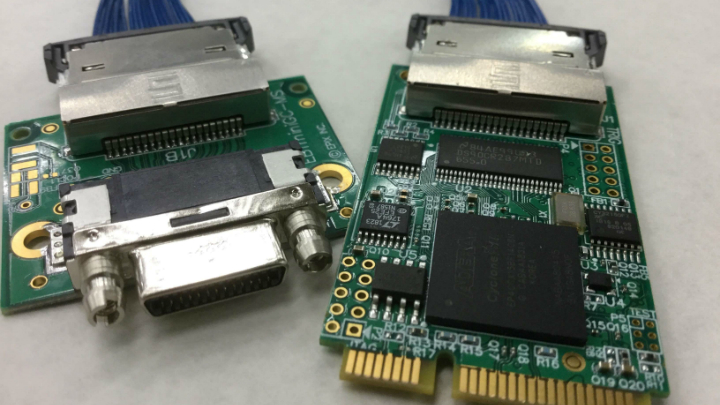 EPIX - Booth 4939
PIXCI EB1miniGC frame grabber
The PIXCI EB1miniGC frame grabber from EPIX has a flexible cable for SDR or MDR camera connector PBCs, meant to make installation easier within small, embedded device chassis. Inputs are available for Trigger and Frame Enable, with two general interest inputs. Outputs are available for Strobe and Frame Out, with two general interest outputs. The frame grabber fits full length mini PCIe slots. Capture, display and save software is included. Linux and Windows drivers are available, along with ARM support. Programmer libraries are optional.