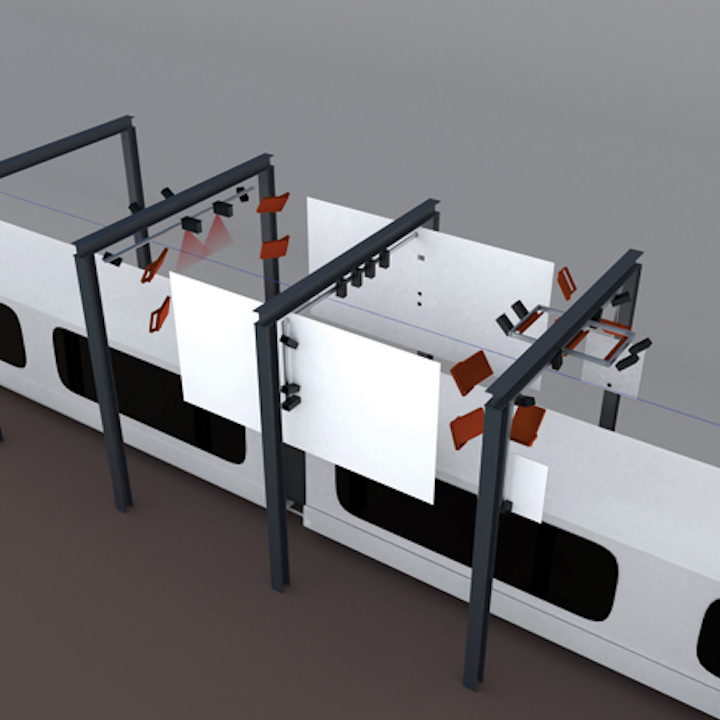 Modern rail vehicles like multiple-unit, high-speed trains require regular and dependable maintenance to ensure the longest possible service life and minimize wear on thetrains.
Traditionally, qualified technicians who undergo special visual training performed these tasks, but this is a time-intensive process. To perform inspections, technicians climb up onto a train roof after the train and overhead line are grounded for safety precautions. This process is laborious, and the inspection engineers must cover a distance of 200 m.
Seeing a way to reduce the overall time and work involved in the process, PSI Technics (Urmitz, Germany; www.psi-technics.com/EN/index.php) developed an automated inspection system based on cameras and light section sensors (laser sensors) that automates grounding, diagnosis, tests, and inspections. Known as DA-MI-KA, the roof vision inspection system records damage to the roof structure of a rail vehicle as it passes by and sends the collected data directly to the system's Inspect image analysis software, which is based on HALCON machine vision software from MVTec (Munich, Germany; www.mvtec.com).
PSI Technics' system captures images of the rail vehicle from multiple angles.
System setup includes 20 GigE Vision monochrome cameras with 2.2 MPixel image sensors, 4 GigE Vision monochrome cameras with 5.1 MPixel image sensors, 2 GigE Vision light section sensors with 1,024-pixel profile resolution, and 2 GigE Vision light section sensors with 1,536 pixel-profile resolution.
Before the system is installed and commissioned, the feasibility of the roof-inspection is assessed on-site, identifying processes, workflows, and requirements. After selecting specific test components, appropriate diagnostic methods are determined.
Inspections include measuring the pantograph wearing strip, checking the surface of the roof, inspecting the pantograph, checking insulators, antennas, and screw connections, analyzing cables and conductor lines, as well as inspecting climate covers and any additional coverings.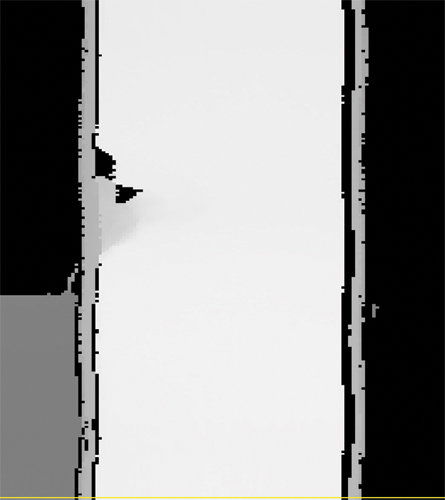 In HALCON, this strip of abrasive metal is shown to have significant wear, and is thus unsafe for operation.
Side-mounted and overhead cameras capture images of the train surface as it passes by, and the information is sent via GigE cable to a Windows-based PC running HALCON. Relevant roof surface image information is selected and possible damage to the surface is detected and classified in subsequent processing steps. Classified defects are then marked as such and made available to train inspection personnel, making it possible to reliably detect and locate many different types of damage and defects on the roof structure including indentations, spalling, cracks, single fiber or strand breakage, deformation, displacement, loose bolt connections, contact burns, and missing components.
After the images have been processed and analyzed by software, the inspection results are delivered within 10 minutes and displayed via web interface. The system is trained to inspect each type of rail vehicle, and data identified by DA-MI-KA can be used for purposes including statistics generation, creeping wear and tear detection, train and location networking, and condition-based maintenance. Additionally, train inspection personnel can train the system on additional multiple-unit trains within a series and evaluate data to optimize the process.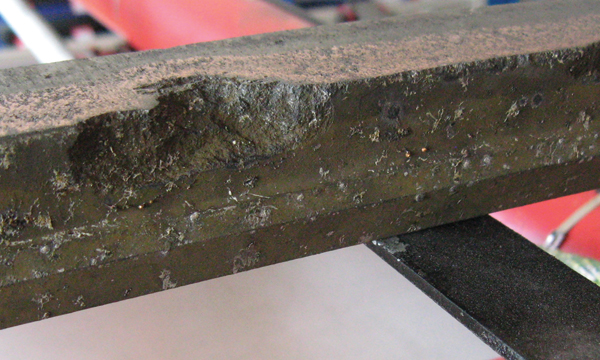 A section of metal inspected by the system is shown to be unsafe and in need of repair.
"With the end-to-end machine vision system, the inspection time can be shortened from 1.5 hours to as little as 10 minutes, while also improving the quality and reliability of inspection measures, reducing rail service downtimes, and guaranteeing safe operation," says Karl-Heinz Förderer, CEO, PSI Technics. "Additionally, with this system in place, there is no need for the train to take up space in the maintenance shop, since the inspection process can be carried out elsewhere.
He continues, "As a result, the railcar does not have to enter the shop and can remain in service throughout the inspection."