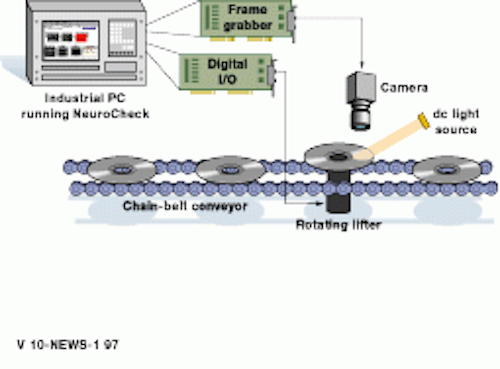 Off-the-shelf software inspects engraved digits
ANDREW WILSON
eading a sequence of engraved digits on scratch ed, spotted, or rusty sur faces of circular engine casings is typical of the challenges facing systems integrators of machine-vision systems. This was the task faced by DS GmbH (Remseck, Germany), which was called upon by a large car-part supplier in Southern Germany to install a machine-vision system capable of inspecting needle-engraved characters.
To do so, DS GmbH built a system consisting of off-the-shelf hardware and its own NeuroCheck image-processing software. The system consists of a 200-MHz Pentium PC with 16-Mbyte RAM, a 1.2-Gbyte hard disk, DT3157 digital frame grabber from Data Translation (Marlboro, MA), a CL-C3-1024-N digital linescan camera from Dalsa (Waterloo, Ontario, Canada), and a digital I/O board from Messcomp (Wasserburg, Germany) to control the complete system.
In operation, parts are separated and then lifted toward the camera on a rotating cylinder. Using flat, almost oblique, directional dark-field illumination reduces the lightly textured metal surface so that the needle pits of the digits stand out brightly.
To inspect the parts, DS GmbH used its NeuroCheck image-processing software, a package now available in the USA through Data Translation. In studying the application, Peter Waszkewitz, director of technical support at DS GmbH, realized that binary segmentation would not yield stable results, because needle- en graved characters are almost never contiguous. Because of this, DS GmbH used a pyramidal template-matching ap proach followed by a neural classification stage for identification of the digits.
Although template matching in NeuroCheck can compensate for differences in overall lighting, completely or partly inverted patterns pose insurmountable difficulties. To overcome this problem, a filter step was added before template matching to create an image of absolute contrast values. This results in dark holes and bright spots appearing equally bright in the result image.
"Though it is, in principle, possible to use the class of the template yielding the highest matching score in the template-matching process directly to identify the digit, applying a neural-network classifier to the segmented digit objects results in improved reliability and robustness," says Waszkewitz.
Also, depending on the angle, a "1" and a "7" may be confused by a correlation algorithm. Because of this, a new pattern set was created, preclassified, and used to train the existing neural network. The optimized classifier is then automatically used by NeuroCheck. In the completed system, new characters that have not been identified with absolute certainty can be automatically added to the training data set, reducing the rate of false alarms that may be high during the initial operational period.
Using off-the-shelf hardware and software, DS GmbH built a machine-vision system capable of inspecting needle-engraved characters on circular parts. Contrast filtering highlights engraved digits before recognition (see upper right).