With the need to detect increasingly smaller surface error sizes of PCBs and liquid-crystal displays, manufacturers are demanding vision systems that can resolve defects without reducing throughput. As a result, manufacturers of linescan cameras have begun to produce cameras with increasingly smaller pixels and higher line rates.
Of course, as this line rate increases, the available exposure time is decreased, requiring system developers to increase illumination intensity. "However," says Yasuo Seto, president of Takenaka Systems (Kyoto, Japan; www.takex-system.co.jp), "illumination intensity cannot be increased indefinitely requiring sensor manufacturers to improve the sensitivity and the electrical noise of their imagers."
In addition to these requirements, most linescan cameras used for PCB or LCD inspection are configured in arrays, in some cases up to 4 m wide. For this reason, the housing dimensions of individual cameras should not significantly exceed the length of the line sensor used so large areas can be more efficiently examined.
Takenaka Systems has developed its TL-16000CL camera, a 16k × 1-pixel, 35-kHz camera based on the Dragster linescan CMOS imager from Awaiba (Madeira, Portugal; www.awaiba.com) (see figure). To provide smear-free images at these rates, Awaiba has integrated a proprietary charge-amplifier-based global shutter pixel in the sensor. By clocking 8-bit/pixel data from the 12-bit/pixel image sensor at 35 kHz, the maximum output bandwidth of 640 Mbytes/s of the Camera Link Full specification is achieved.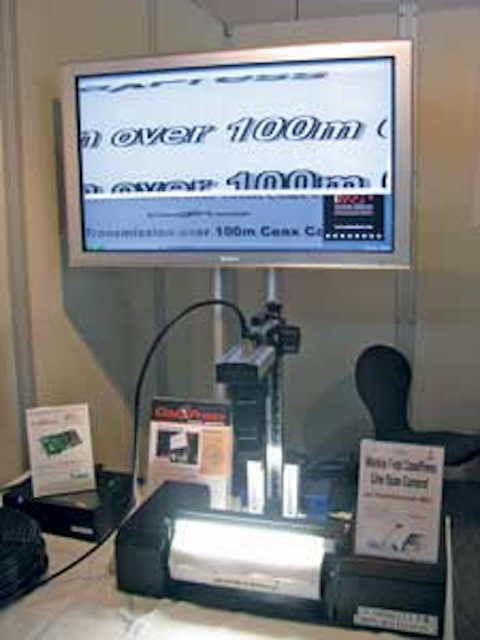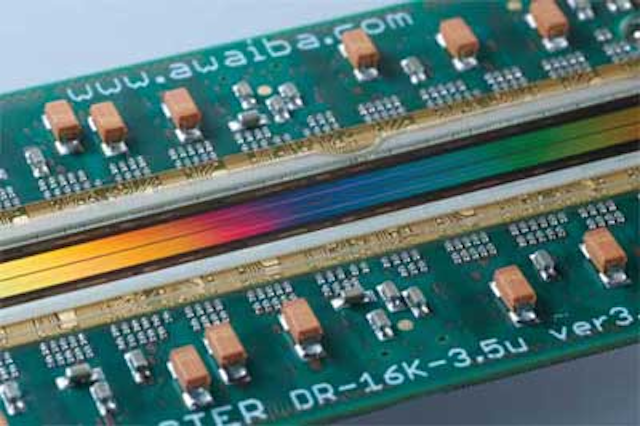 Takenaka Systems' TL-16000CL linescan camera (top) is the first in a series of cameras to use Awaiba's 16k × 1-pixel, 80-kHz Dragster linescan CMOS imager (bottom).
"Because Awaiba's Dragster series of linescan imagers comprises a number of sensor variations all with identical interface, a single hardware interface design can be used in multiple camera variations. This will allow Takenaka to offer a scalable monochrome and color camera range, with CMOS imagers ranging from 2k × 1 pixels to 16k × 1 pixels," says Seto.
However, many high-speed inspection systems demand higher bandwidth and dynamic range from linescan cameras. With this in mind, Takenaka Systems is looking to implement linescan rates of 40 kHz and bit depth resolutions of 10 bits in its next generation of cameras.
"Currently such data rates are not supported by standard camera interfaces," says Seto, "although standards committees at the JIAA, AIA, and EMVA are currently considering proposals such as HSLINK—the next-generation Camera Link standard—and CoaXPress.
"To meet these demands," says Seto, "we are currently working with frame grabber manufacturers that offer double Camera Link Full interfaces to provide bandwidths as high as 1.2 Gbytes/s."
Today, a number of companies offer products that allow dual Full Camera Link units to be interfaced to PCs. For example, two microEnable IV-Full Camera Link frame grabbers from Silicon Software (Mannheim, Germany; www.silicon-software.com) could be employed to transfer image data to the host PC.
Alternatively, BitFlow (Woburn, MA; www.bitflow.com) offers a dual-slot configuration for its KBN-PCE-CL4-F frame grabber that can also be used to interface up to two Full Camera Link interfaces at speeds up to 85 MHz (see "Extendable Standards," Vision Systems Design, January 2009).
"Obviously," says Seto, "this is not the optimal solution since the camera must be connected to the host computer using four Camera Link cables. For this reason, Takenaka is also looking at other soon to be released interface standards such as HSLINK and CoaXPress to support these high-data rates."
Realizing this, DALSA (Waterloo, ON, Canada; www.dalsa.com) has already announced its own 16k × 1-pixel line-scan CMOS camera based on the HSLINK standard. The company's Piranha3 features a 3.5-µm pixel size and a 70-kHz line rate delivering 1.146-Gpixel/s throughput over the interface. Announced at the International Technical Exhibition on Image Technology and Equipment in Yokohama, Japan in December 2010, the camera is supported by DALSA's Xcelera-HS PX8 frame grabber.
More Vision Systems Issue Articles
Vision Systems Articles Archives