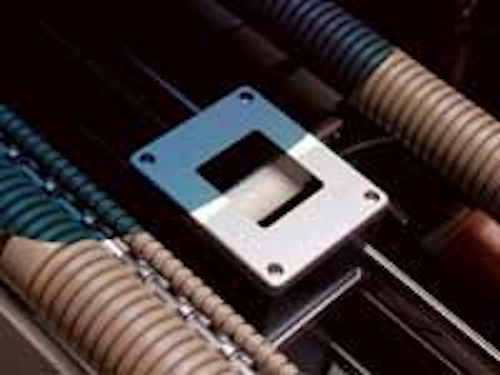 To ensure that semiconductor wafers move seamlessly though the fabrication process, they must be kept in correct orientation. A number of semiconductor-equipment vendors offer wafer-notch-alignment systems that rotate the wafers vertically across pressure-sensitive rollers. Controlled by microprocessors, these systems align single or multiple wafers by detecting the difference in pressure on the roller between the curved surface of the wafer and the notch. Such alignment capability ensures compatibility between wafer-handling systems of different manufacturers.
Wafers are often marked with both alphanumeric and data-matrix codes to allow them to be traced as they move through the fabrication processes. Laser marking systems place these characters and codes on each side of the wafer. Following standards developed by Semiconductor Equipment and Materials International (SEMI; San Jose, CA, USA; www.semi.org), specified as SEMI T7 and SEMI M1.15, both alphanumeric characters and data-matrix code are scribed at a specific distance from the notch of each wafer.
In many semiconductor-handling systems, it is necessary to check if a wafer lot is in the correct process step. To accomplish this, each individual wafer must first be aligned, and then markings on either side of the wafer must be automatically read.
null
Founded in 1995 to develop and manufacture semiconductor equipment, TB-Ploner (Dobriach, Austria; www.buero-ploner.com) offers a number of wafer handlers, wafer mappers, and notch finders. As a stand-alone system for 12-in. wafers, its TBP Notchfinder can be integrated into complex wafer-handling systems and features an integrated microcontroller and an RS232 interface for remote communication. Recognizing that many OEMs wish to incorporate both a notch finder and data-matrix reader into a single unit, TB-Ploner approached Intelligente Optische Sensoren and Systeme (IOSS; Radolfzell, Germany; www.ioss.de) to retrofit an embedded machine-vision system into the unit.
In operation, an operator loads a wafer cassette on the system that then aligns the wafers and reads one of the wafers in the cassette. Then the lot number or wafer ID is sent to a host PC over an RS232 interface. After each side of each wafer has been read, the system advances the wafer cassette to the next stage and a new wafer is read in a similar manner.
"The Wafer-ID reader in the TB-Ploner system enables it to identify data-matrix and OCR semi norm codes on the wafer at the same time on both sides," says Joachim Gassler, managing director of IOSS. "This allows the notch-finding and wafer-ID system to remain in a permanent position and avoid any handling of the wafers that may result in scratching or destroying the wafers."
To permit both sides of each wafer to be imaged simultaneously, IOSS uses a VCSBC38 smart-camera module from Vision Components (Ettlingen, Germany; www.vision-components.de). The VCSBC38 640 × 480-pixel progressive-scan monochrome camera module incorporates a 50-MHz on-board ADSP2183 digital-signal processor from Analog Devices (Norwood, MA, USA; www.analogdevices.com), 80-kbytes RAM, and EPROM memory. With its 120 × 70 × 80-mm form factor, it was possible to embed the smart camera directly into the notch finder.
To image both sides of the wafer simultaneously, IOSS uses proprietary optics that split images from the front and rear sides of the wafer onto the field of view of the camera. The Wafer-ID-Software was developed by IOSS on the base of software for optical character recognition and data-matrix reading, which are used by IOSS for various other standard applications.
To develop the PC-based user interface, IOSS used a Visual C-based development environment. The completed system, which embeds the VCSBC38 into the TB-Ploner notch finder, is a PC-based driven system that finds the notches of each wafer but can image, read, and put into a database alphanumeric odes located on both sides of each wafer.