Business News
AeroSense show sees infrared ; Management Moves
Jun 1st, 2003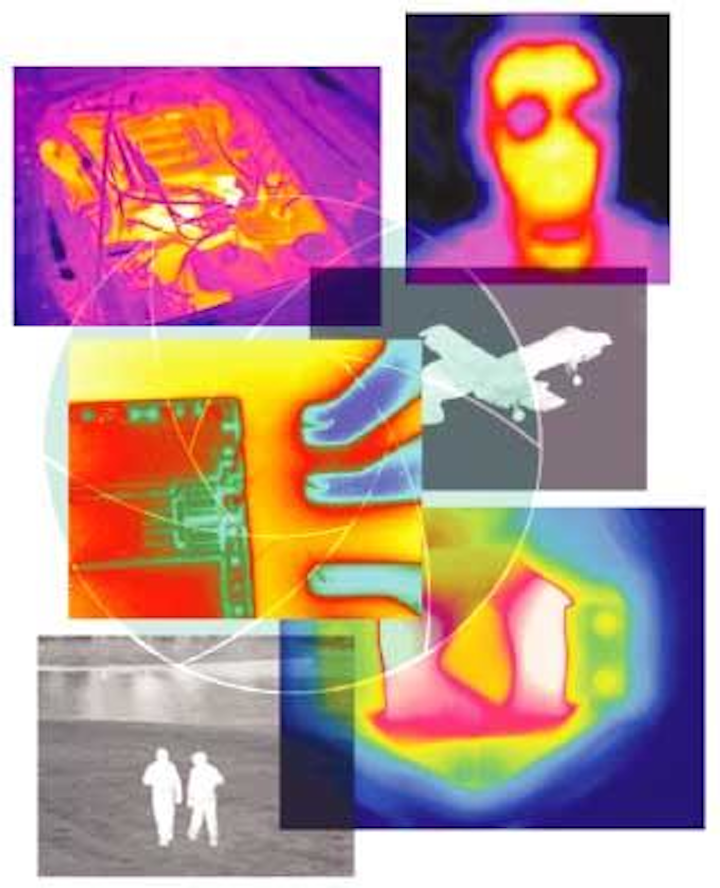 George Kotelly, Editor in Chief
georgek@pennwell.com
AeroSense show sees infrared
Following on the excitement of the infrared (IR) and night-vision technology successes of the war in Iraq permeating the Gaylord Palms Resort and Convention Center in Orlando, FL, USA, last April, AeroSense 2003 Technologies and Systems for Defense & Security set several new attendance records. According to the show's sponsor, the International Society for Optical Engineering—SPIE, more than 4100 attendees, up 18% from last year, filled the exhibition floor for three show days. The number of exhibitors also increased to more than 200, up 30% from last year.
Most likely spurred by the enlarged biometrics, military, and security markets, the positive mood of attendees buoyed the convention center with an aura of optimism. Moreover, the quality and interest of the attendees exceeded the expectations of exhibitors. Floor traffic was periodically busy, and attendees flocked to the larger booths that featured many interesting products.
Some of the more interesting conference sessions covered terahertz technology for military and security applications, passive millimeter-wave imaging technology, cockpit displays, and 3-D laser-based imaging. They all attracted large numbers of visitors.
Targeting the industrial and scientific markets, as well, new IR cameras and sensors, electronic imaging devices, microscopes, and optical components attracted widespread interest. For example, FLIR Systems (N. Billerica, MA; www.flir.com) presented the ThermoVision A20M IR imaging camera for measuring temperature from –20°C to +1200°C; the ThermoVision A20V IR imaging camera for measuring thermal characteristic of products and processes to 0.12°C; and the hand-held ThermoCAM E2 IR camera for finding hot spots in electrical and mechanical systems from –20°C to +250°C and displaying thermal images on a 2.5-in. LCD.
Sarcon Microsystems (Knoxville, TN, USA; www.sarcon.com) demonstrated its uncooled, 320 × 240-pixel IR microcantilever sensor with a spectral response of 7.5 to 14 µm. The company's proprietary microcantilever technology uses mechanical bending to provide a well-defined conversion of IR scene radiation to movement.
Indigo Systems (Goleta, CA, USA; www.indigosystems.com) showed its line of Phoenix, Merlin, and Alpha NIR cameras and RTools and IRvista software. The RTools toolkit helps to radiometrically calibrate, process, analyze, and acquire data from various digital IR camera systems. The IRvista data-acquisition and digital image-data display supports all company IR cameras.
ThermoAnalytics Inc. (Calumet, MI, USA; www.thermoanalytics.com) demonstated its MuSES 7.0 3-D transient IR signature-prediction software. This program and interface allow users to perform thermal analysis, IR signature prediction, multiband prediction, and target backgrounds.
Wuhan Guide Optical Electronic Co. Ltd. (Wuhan Hubei, China; www.guide-infrared.com) unveiled a series of IR cameras that use an uncooled, 320 × 240-pixel microbolometer FPA covering 8 to 14 µm.
The DSP-based IR108 imaging module is built for integration into OEM IR systems. The IR220 camera targets on-line material-process-control temperature-measurement and analysis applications. The IR913+ IR thermal camera suits industrial, medical, and security applications with a 4-in. color LCD.
INO (Ste-Foy, Canada; www.ino.com) presented its modular MIMIC 2 IR camera based on a vanadium oxide, 160 × 120-pixel, uncooled bolometric FPA that covers the spectral range from 8 to 12 µm. It comprises four PCBs that fit in a 3-in. cube for integration into a variety of applications. The company also featured its OC-VGA 12000 optical correlator that can process live or still 640 × 480-pixel images with 256 gray levels at 120 frames/s.
InfraRed Integrated Systems Ltd. (Towcester, UK; www.irisys.co.uk) offered its IRI 1011 universal thermal imager for one- or two-handed operation. This imager can measure temperatures from 15°F to 570°F over a 20° × 20° field of view with a 16 × 16-pixel detector at 8 Hz.
Billed as the smallest InGaAs camera available at 26 cm3, Sensors Unlimited Inc. (Princeton, NJ; www.sensorsinc.com) unveiled its SU320US-1.7RT near-IR snapshot microcamera that images in short-wavelength IR (900 to 1700 nm) using a 320 × 256-pixel matrix.
Raytheon Vision Systems (Goleta, CA, USA; www.raytheoninfrared.com) featured its Pro400D hand-held thermal-imaging camera with a reflective TFT color LCD-based PDA. This uncooled, ferroelectric, 320 × 240-pixel, 12-bit-digital unit covers the 7- to 14-µm spectral range and stores more than 150 images.
QWIP Technologies LLC (Altadena, CA, USA; www.qwip.com) exhibited its QWIPCHIP 1024 × 1024-pixel LWIR focal-plane array. This array delivers an NTSC or PAL video output; four, eight, or 16 outputs at frame rates of 30, 60, or 120 Hz, respectively; a >85% fill factor; and a spectral band center of 8.6 ±0.1 µm.
Diversified Optical Products Inc. (DiOP; Salem, NH, USA; www.DiOP.com) introduced the Cadet 75 hand-held long-wavelength IR camera with a motorized 75-mm lens, the LANScout series of mid- and long-wavelength uncooled thermal-imaging cameras, and the Pro series of mid- and long-range thermal-imaging systems for the 3- to 5-µm spectral range.
SPIE AeroSense officials announced a planned transition to a symposium name that better reflects the meeting's agenda. It will begin phasing in a new name, SPIE Defense and Security Symposium, for the 2004 meeting
Management Moves
National Instruments (NI; Austin, TX, USA; www.ni.com/matrix) has acquired the MATRIXx product line, an integrated set of software tools for control design and simulation of dynamic systems. MATRIXx contains differentiated technology in control design, system modeling, and automatic code generation. NI plans to develop these engineering development tools for automated measurement and control applications and is establishing an R&D facility in Mountain View, CA.
Peritek Corp. (San Diego, CA, USA; www.peritek.com), a provider of mezzanine graphics boards, is offering free PCI Test/Debug software called Peritool. This suite of software utilities can analyze PC functionality, such as PCI (probe, map, access config registers), memory (read, write, test, etc.), and I/O (read, write). Peritool can be downloaded from http://www.peritek.com/software_peritool.html.
Photon Dynamics (San Jose, CA, USA; www.photondynamics.com), a flat-panel-display supplier, has promoted Elwood Spedden to president and chief executive officer and Jeffrey A. Hawthorne to senior vice president of flat-panel-display business.
VMEbus International Trade Association (VITA; Fountain Hills, AZ, USA; www.vita.com) has ratified the VMEbus Switched Serial Standard (VXS), or VITA 41. This standard provides OEMs with up to 50 times more bandwidth than the VME64 parallel bus on individual board-to-board transfers for a total of up to 900 times more aggregate bandwidth in a maximum VXS configuration.