New Products
Microscope targets modern materials; Digital camera focuses on microscopy; Digital camera targets x-ray imaging; MORE...
Oct 1st, 2003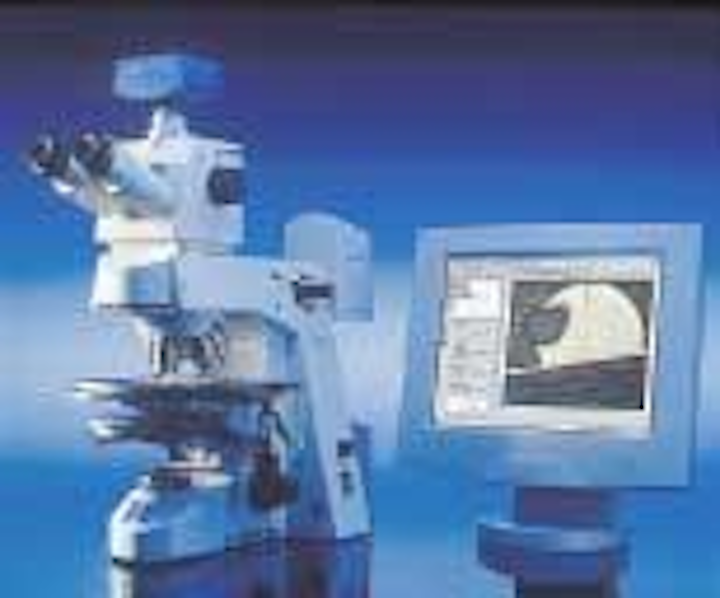 Microscope targets modern materials
Targeting materials-microscopy research, quality assurance, and failure analysis, the Axioskop 2 MAT microscope has an improved reflected-light beam path. In the motorized version, the reflector turret, z-drive, brightness control, and switching mirror are automated. The trinocular Ergo TV tube with a viewing angle of 20° permits the viewing height to be varied by 50 mm. The Axioskop 2 MAT is available in manual or motorized versions for reflected and transmitted light. Using the Zeiss exclusive C-DIC interference contrast and TIC dual-beam interferometer allows the display of structures and defects and step heights and layer thickness to be measured. Motorized microscope models permit automated processes such as digital image acquisition.
Carl Zeiss
Thornwood, NY, USA
www.zeiss.com/micro
Digital camera focuses on microscopy
The Cascade:512B uses a back-illuminated CCD with dual amplifiers for applications such as GFP-based single-molecule fluorescence that demand high sensitivity. The Cascade:512B signal-boosting technology enables multiplication of photon-generated charge on the CCD, offering an alternative to traditional image intensifiers for many nongated, low-light applications. The device features square, 16-µm pixels in a 512 × 512 frame-transfer format. Thermoelectric cooling is used to suppress system noise. The camera can be operated at 10 MHz for high-speed image visualization or more slowly for photometry.
Roper Scientific
Tucson, AZ, USA
www.roperscientific.com
Digital camera targets x-ray imaging
HiRes-X(S) is a digital x-ray camera designed for nondestructive testing and medical x-ray diagnostic applications. With a 2/3-in CCD sensor and C-mount, the camera can be used with continuous and pulsed x-ray sources. Features include maximum 12-bit gray levels and RS 644, Camera Link, and analog video output. Camera parameters can be controlled and saved using the RS232 interface. Integrated image-processing functions guarantee an optimum image reproduction of x-ray scenes.
KAPPA opto-electronics GmbH
Gleichen, Germany
www.kappa.de
IR camera is ruggedly enclosed
The Omega thermal imager is now offered in a rugged enclosure for extreme environmental conditions. This IR camera measures 1.35 × 1.45 × 1.90 in. and weighs less than 120 grams. The device is manu-factured with Indigo's uncooled vanadium oxide microbolometer detector and proprietary on-focal-plane signal processing. The ruggedized Omega is also available with a FireWire option. Featuring both analog RS-170A (CCIR) and 14-bit digital output, the Omega has an automatic function to switch into extended-temperature-range mode, allowing scenes to be imaged in temperatures up to 400°C.
Indigo Systems
Goleta, CA, USA
www.indigosystems.com
Video goes wireless
Model 2412SYS is a complete video-over-IP streaming solution packaged for outdoor use. In operation, the system converts PAL or NTSC into an 802.11b stream using the UDP or RTP Ethernet protocol. A built-in directional antenna ensures a unit-to-unit outdoor range of up to one mile. Optional amplifiers, antennas, and a pole-mounting kit can extend its range to more than two miles. The 2412SYS accepts 10 to 36 Vdc and draws 6 W for one video channel. The bit rate from its MPEG-2 CODEC can be reduced to as low as 500 kbits/s to minimize bandwidth. The 2412SYS's serial port can relay PZT commands to a camera. A low-latency stream player for Windows is available for nearly real-time viewing.
Sensoray
Tigard, OR, USA
www.sensoray.com
Flat-panel display saves space
Designed for industrial-automation applications, 17-in. rack-mount flat-panel LCD is an integrated display that features 0.264-mm dot pitch, 250-nits luminance, and a contrast ratio of 500:1. Measuring 1.75 × 19 × 24 in., the display ..is available with or without a full keyboard. Interfaces for the display include DVI, NTSC/PAL, and S-Video. The system is available in three versions: LCD integrated with PS/2 keyboard in a 1U rack drawer, LCD integrated with a USB keyboard in a 1U rack drawer, and LCD in a 1U drawer without keyboard.
Three-Five Systems
Marlboro, MA, USA
www.threefive.com
X-ray imaging system uses CCDs
The Advision XCAM range of x-ray cameras use CCDs coupled with columnar CsI scintillators to increase sensitivity. Currently there are two cameras in the Advision range: one with 40-mm and one with 100-mm FOV. Both cameras can be used with x-ray sources up to 100 kV and are offered as a digital image-acquisition package with the Matrix Vision MV Sigma frame grabber and MV Impact S data-acquisition and processing software.
Alrad Imaging
Newbury, Berkshire, UK
www.alrad.co.uk
CCD offers high sensitivity
Back-thinned CCD image sensor, the CCD97 is available in a 512 × 512 frame-transfer format. Using an electron multiplier output circuit that can operate with read noise of less than one photoelectron at pixel rates of 11 MHz, the imager is designed for scientific applications at low-illumination levels.
e2v technologies
Chelmsford, Essex, UK
e2vtechnologies.com
SBC gets more power
EP1A, a communications-orientated single-board 6U VME computer, now offers the PowerPC 8245 running at up to 400 MHz. The board also offers async/sync serial channels and a MIL-STD1553 interface on a standard 6U VME card. EP1A also offers a choice of plug-on options through its CompactFLASH site and its two PMC sites. Operating-system support includes a BSP/ESP for VxWorks and LynxOS and a Green Hill Integrity port.
Radstone Technology
Towcester, Northants, UK
radstone.co.uk
Thermal imager is hand-held
ThermoView Ti30 provides thermal imaging and precision temperature measurement simultaneously, using the point-shoot-and-read operation of an infrared thermometer. The unit can scan a measurement range of 0°C to 250°C. The unit also provides single-point laser sighting, reflected temperature compensation, and adjustable emissivity for accurate measurements of a variety of materials. ..Thermoview Ti30 shows the thermal image with temperature, time, date, and location information on an LCD screen. Up to 100 images and temperature data can be stored in the unit and downloaded either to a laptop in the field using a USB connection or to a PC using the docking station provided with the unit. InsideIR software is provided for thermal analysis and reporting.
Raytek GmbH
Berlin, Germany
www.raytek.de
DAC runs at 600 MSPS
With a conversion rate of 600 MSPS, the AD9726 features –161 dBm/Hz for output frequencies between 100 and 300 MHz and –169 dBm/Hz at 20-MHz output. The AD9726 is the flagship member of a AD972x family of 10-, 12-, 14-, and 16-bit TxDAC+ converters that sample at 600 MSPS and provide a low-voltage-differential-signaling input interface. The 16-bit AD9726 LVDS receivers support single- or double-data-rate ..modes. A full-scale current adjustment span of 2 to 20 mA allows the AD9726 to operate at reduced power levels. The current outputs of the part can be configured for various single-ended or differential circuit topologies. The device is available in 80-lead thermally enhanced thin quad flat packages.
Analog Devices
Norwood, MA, USA
www.analog.com
Lenses have extended ranges
The TVR1016DC is an extended-range varifocal with a focal length of 10 to 120 mm for 1/2- and 1/3-in. CCD cameras. The C-mount lens has a maximum aperture of f/1.6–2.2, an aperture range of f/1.6–360, and a back focus length of 12.658–21.732 mm. The lens will also be offered in a dc autoiris version.
Tokina
Medford, NY, USA
www. tokina-usa.com
Camera is FireWire-compatible
TELI CS8550DiF is an IEEE 1394-compatible camera that features 60 frames/s at VGA resolution (640 × 480 pixel) with 8 bits/pixel. Uncompressed video stream is transferred with a data rate of 400 Mbits/s across the FireWire interface. The shutter can be timed and controlled by an external asynchronous trigger, allowing images to be taken at any given time and setting the exposure time (random trigger shutter). A programmable partial scan mode allows random access of rectangular regions of interest with an increased frame rate. The CS 8550DiF is targeted at machine-vision applications.
NET New Electronic Technology
Finning, Germany
www.net-gmbh.com
Nose piece eliminates rotation
Mille Luce is a fiberoptic illuminator that delivers a minimum of 1000 hours of cool illumination. By redesigning the fiberoptic nosepiece/fiberoptic port with a positive hex stop, any rotational motion when using any fiberoptic component, especially goosenecks, is eliminated. Although this requires the use of the company's goosenecks for optimum performance, fiberoptic port adapters are available to accommodate any fiberoptic components. A slide potentiometer allows the lamp intensity to be adjusted from 0% to 100%, and optional iris dimming is available when a constant color temperature is required. The unit also features base mounting, multiunit stacking capabilities, a separate on/off switch, an integrated handle, and an internal IR filter.
StockerYale Inc.
Salem, NH, USA
www.stockeryale.com
Linear cameras feature multiple outputs
Eight digital linescan cameras, with resolution from 2048 to 7500 pixels, each feature four different output formats: 16-bit RS422, 8-bit RS-422, LVDS, and Camera Link. All the cameras feature a 10- to 24-V power supply, programming of gain, offset, and filtering via RS232 serial line, 16-bit digitization, electronic shutter, and antiblooming. Available lens mounts include F-Nikon, Mamiya 645, Leica 39, M42, and C mount.
LORD Ingènierie
Corbreuse, France
www.lord-ing.com
Machine-vision lighting uses fiber
Using a mixture of fiberoptic layers to achieve multicolored lighting effects and ..different degrees of brightness from neon-like glow to diffuse illumination, the OptiLine of fiberoptic lines allow lines of light to be placed in multiple areas using a single light source. Available in a range of colors, styles, and sizes, the OptiLine series uses LED technology as a light source, yielding a lifetime of greater than 50,000 hours. Consuming 30 mA, the light lines can be designed in a range of configurations.
Poly-Optical Products
Irvine, CA, USA
www.poly-optical.com
FPGA modules add off-chip memory
Suitable for applications such as image processing and fast transient analysis, Heron-FPGA modules combine Virtex-II FPGAs with SDRAM. A hardware interface layer VHDL performs SDRAM management while presenting a VHDL interface to the user's VHDL. The standard ..Heron-FPGA5 has a Xilinx Virtex II and 256 Mbytes SDRAM. Other modules offer a choice of 1, 3, 6, or 8-M FPGA gates with a choice of 256 or 512 Mbytes SDRAM capable of transferring data at 500 Mbytes/s.
Hunt Engineering
Somerset, UK
www.hunteng.co.uk
Simulate, translate, and repeat
CLS-201 Camera Link simulator is a flexible video test-pattern generator whose programmable video timing can mimic camera characteristics. The CLT-301R/L/M Camera Link translators enable use of RS-422 and LVDS digital cameras with Camera Link frame grabbers and feature an AIA-standard 68-pin camera interface to maximize use of existing and standard cables. Conversely, CLT-351R/L Camera Link translators enable use of Camera Link cameras with frame grabbers incorporating RS-422 and LVDS digital interfaces. Finally, the CLR-101 Camera Link Repeater increases the distance between camera and frame grabber using standard Camera Link cables.
Vivid Engineering
Shrewsbury, MA, USA
www.vividengineering.com
CCD sensors turn blue
Blue Plus CCD image sensors that contain microlens technology include the KAF-3200ME, KAF-0402ME, KAF-1402ME, KAF-1603ME, and KAF-5101CE devices. Monochrome sensitivity is increased 50% across the visible and near-IR wavelengths compared to the company's Blue Plus image sensors. Microlens technology offers a significant increase in a CCD's ability to convert incident light into electrical energy, increasing the quantum efficiency of the sensor. By forming small microlenses over each pixel, a technique normally used in interline imagers, the light can be redirected away from the polysilicon electrode and onto a transparent ITO electrode for increased QE.
Kodak Image Sensor Solutions
Rochester, NY, USA
www.kodak.com/go/imagers
LCD display rack-mounts in 2U
GFA 15H Foldaway, a 1800-nit TFT LCD 15-in. display that rack-mounts in 2U, features a built-in keyboard and senses ambient light and adjusts screen brightness to compensate. The backlight turns ..off automatically when the display is folded down. The display accepts standard VGA input, and resolution is adjustable from 640 × 350 to 1024 × 768 and can operate up to 10 ft from the host PC. To communicate across longer distances, monitor/keyboard/ mouse extenders are also available. Optional AutoView KVM switches allow a single Foldaway to be shared up to 64 remote PCs.
CyberResearch
Branford, CT, USA
www.cyberresearch.com
MCM targets small boards
UC1394a-1 is a multichip module (MCM) in a general-purpose embedded DSP configuration with supporting EVM-Kits for DSP and embedded image-processing applications. It provides developers with a programmable DSP processor, FPGA, and 400-MBit/s FireWire communications and I/O capabilities in a 30 × 36-mm, 116-pin surface-mount PLCC package. It can be integrated within small-form-factor board designs and provides I/O capabilities for integrating application-specific hardware with the on-board TMS320C5509 DSP processor (up to 400 MIPS) and 50k gate Spartan-II FPGA. The on-board FireWire interface can stream data at up to 32 Mbytes/s and can establish a serial communications link with PCs or other embedded equipment. Optional FireWire camera software allows image data to be captured and processed by the on-board DSP and FPGA.
Traquair Data Systems
Ithaca, NY, USA
www.traquair.com
Monitors provide interactivity
The 15-, 17-, and 19-in. PT models are designed for a range of interactive applications. The PT150MU features a 15-in. (diagonal) screen, USB driver, seven-wire resistive touch system, and 400:1 contrast ratio. The PT170MU has a 17-in. (diagonal) screen, USB driver, resistive touch, and 500:1 contrast ratio. PT191MU has a 19-in. (diagonal) screen, USB driver, capacitive touch, and 500:1 contrast ratio.
Planar Systems
Beaverton, OR, USA
www.planar.com
Photo sensors go long range
W.9 Laser series of photoelectric sensors are offered in a miniature, plastic housing and are designed for long-distance object detection, positioning, and verification of small objects. The W.9 Laser sensor can be used for wafer positioning and wafer handling in the semiconductor industry and for small parts and presence verification applications in the packaging industry. An ABS plastic housing provides a water-resistant enclosure rating of IP 67, while each piece weighs less than an ounce. The modulated Class 2 laser is focused to provide a light spot of 0.019 in. (0.5 mm), allowing for detection of the small objects.
Sick
Minneapolis, MN, USA
www.sick.com
Stepper motor controller is PCI-based
This PCI-based stepper motor controller controls a motorized microscope stage, joystick, focus motor, filter wheels, and shutters. With a communication response time of less than 250 ns, the card is capable of 0.01-µm step size for x, y ..and 0.002-µm step size for z movement. The card is supplied with a DLL that is compatible with existing company products, including its ProScan and OptiScan motorized stages. The Prior PCI also can accept encoder inputs.
Prior Scientific
Rockland, MA, USA
www.prior.com.
PMC board adds Camera Link
Leonardo PMC64-CL is a PMC add-on board that acquires Camera Link Base digital video at 200 Mbyte/s maximum that can be stored in 128-Mbyte SDRAM memory or streamed to the computer host system via a PCI 2.2-compatible computer bus interface. The PCI bus interface supports maximum 64-bit data at 66-MHz, resulting in a data-transfer rate of 528 Mbyte/s. For preprocessing such as contrast stretching, mosaic color restoration, or 2-D convolutions, the board uses a Xilinx FPGA. The Leonardo board operates under Windows, Linux, RealTime Linux, Solaris, and QNX. It is also available for standard PCI and Compact PCI.
ARVOO Imaging Products
Woerden, The Netherlands
www.arvoo.com
X-ray linear detectors are modular
The f2-series module X-Scan detectors allow customers to specify mechanical, electrical, and imaging characteristics to optimize the performance of their application. The detectors are housed in aluminum frame and operate with x-ray settings from 20 to 160 kVp. They can be customized to work with x-ray generators up to 450 kVp. Available pixel pitches include 0.4 and 0.8 mm, but 1.5- and 2.5-mm pixel sizes are also available. Maximum scanning speeds for 0.4- and 0.8-mm pixels are 1.33 m/s (262 ft/min) and 2.0 m/s (393 ft/min), respectively, which translates into 0.3- and 0.4-ms minimum line-integration time. The detectors are supplied with an optional Coreco or I2S frame-grabber board.
Detection Technology
Micropolis, Finland
www.x-scan.com